Close2You Sinfonia - G-spot vibrator from Close2You

Product Details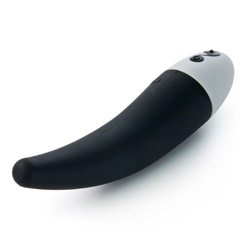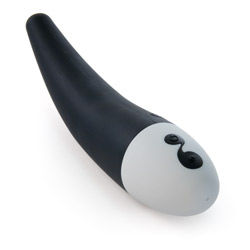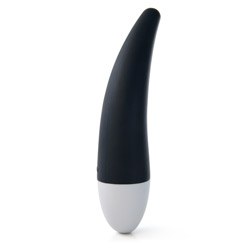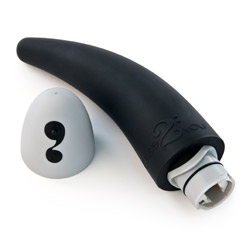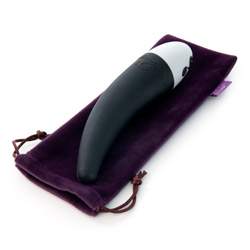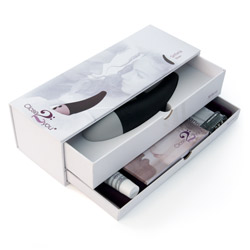 Summary:
I love the Sinfonia! It combines my two favorite things in a g-spot toy! Firm flexibility and vibration. The tapered body and curved tip are perfect for g-spot stimulation whether you require fast thrusting or pinpoint vibration. Its overall length of 7 1/2" should satisfy a wide range of users too! With three speeds of steady vibration and five different patterns to offer, Sinfonia is sure to bring you to a standing O! You may even find yourself requesting an encore!
Pros:
Flexible, quiet, silicone and easy to clean.
Cons:
The battery cap could be a bit more secure.
Best use:
There's brilliance in simplicity and the Sinfonia traditional vibrator by Close2You is no exception! It's graduated body and curved tip are simple but perfectly brilliant! Especially if you've been searching for the perfect g-spot vibrator that can offer you a slender, pinpoint tip resting upon a wider base. This provides you the perfect combination for fast thrusting against your g-spot with the added stimulation of a thicker base gliding across your labia. It's like a double whammy!

The Sinfonia has the potential to produce many orgasmic symphonies but those who are not familiar with their g-spot location could potentially have problems locating it. That's because the tip is only about 1/2" in diameter. While this is great if you know where you're g-spot is, it's not so great for someone who is attempting to locate it. However, the Sinfonia is a non-threatening and inconspicuous toy that is sure to make your journey a fun one!

A great point worth mentioning about the Sinfonia is that it works well for partner play. It's firm flexibility is comfortable even in the hands of your lover. It's even waterproof for some water or temperature play too!
Material / Texture:

The silky, smooth medical grade silicone of my Sinfonia is an odorless, matte black. It's almost completely smooth except for a seam running the entire length on both sides. It's barely noticeable and is completely unobtrusive on mine but worth mentioning.

There really are no textures to this vibe other than its graduated body and curved tip. It's flexible yet firm from the tip about half way down where it transitions into inflexible silicone over plastic. Not only does this allow you ease of maneuverability but it also allows you to apply pressure to the tip for a more intense sensation on your g-spot.

Material:

Silicone

Material safety

Texture:

Smooth

Safety features:

Hypo-allergenic / Latex free / Non-porous / Phthalates free

Design / Shape / Size:

The Sinfonia has a sleek and classy design that graduates in size from about a 1/2" tip up to about a 1 4/5" at its base. Its a non-phallic design that is not only inconspicuous but non-intimidating as well. There is a seam running the entire length on both sides but it's only barely noticeable if at all. As a matter of fact, even the seam where the battery cap twist locks onto the bottom is very minimal and there's no reason you couldn't use the entire 7 1/2" of this toy rather than the 5 3/4" comprised of silicone. The only really noticeable areas would be the Close2You emblem molded into the silicone near the base and the silicone covered buttons. These two areas are just smooth bumpy places that aren't sharp in any way.

One thing I really enjoy in a g-spot toy is the ability to quickly thrust it against my g-spot. That's completely possible with the Sinfonia! There's no extra textures or clitoral attachments to confuse the senses. It lets you just enjoy your g-spot being stimulated without giving you a sensory overload. Whether it's fast thrusting or vibration, Sinfonia can do them both! Of course it works great for other areas as well like your nipples or clitoris. The two AAA's required for use even provide a surprising amount of power that I honestly didn't expect. It's also surprisingly quiet so I could see this one becoming a new travel friend too!

Length:

7 1/2"

Insertable length:

5 1/2"

Circumference:

5"

Diameter:

1 5/8"

Weight:

1.5 lb

Functions / Performance / Controls:

Battery installation is easy on this one. You just untwist the velvety plastic base and pop in your two AAA's before replacing the cap. It has a twist lock type of closure rather than being threaded to screw it on. The cap closes securely and I experienced no problems with it coming off during use.

The controls are also easy. There's an "on" button that has to be pressed in order for the vibe to come on, then there is another button to cycle through the three speeds of steady vibration and five different patterns. The patterns consist of an escalating vroom then pause then repeat pattern, the next pattern is just a pulse then pause and repeat. The next pattern transitions through three speeds before pausing and that's followed by a pulse then it repeats. The fourth patten fluctuates between two speeds, then pauses, then repeats. The fifth and last pattern is a random series of pulses and pauses.

The vibrations on this one originate from about the middle of the vibe but are the most intense at the curved tip. The silicone transfers the vibrations marvelously and doesn't seam to muffle them at all. They have a buzzy yet intense quality to them that does way more than just buzz your skin. While it's not Hitachi powerful, it is a lot more powerful than I had expected from two AAA's. Compared to my other toys that take the same batteries, this one out powers them. It's also very quiet and only produces about as much noise as a cell phone on vibrate.

The Sinfonia is wonderfully waterproof too! I tested mine in a sink full of warm water and the battery compartment stayed dry. Also, that battery cap end tried to float but the silicone end sank. That means this vibe kind of skimmed across the bottom of the sink rather than just laying at the bottom. It doesn't float though.

Functions:

Escalating / Pulsating / Vibrating

Special Features:

Batteries included
Free samples
Multifunction
Pulsating
Waterproof

Control type:

Built in control pad

Powered By:

Aaa-2

Care and Maintenance:

It's a breeze to take care of the Sinfonia! It's waterproof so just wash it off in the sink with antibacterial soap and water or use your favorite toy cleaner. It can also be wiped down with a 10% bleach solution if sterilization is required.

It comes in a wonderful box, perfect for storage but also includes a velvet drawstring bag for storage too. Either one should work perfectly to keep your toy safe. This also helps protect the Sinfonia from collecting any lint that may stick to it.

Only water based lubes are recommended for silicone toys. You'll find a small, sample tube of a water based lube called Glissando included. Of course you're favorite water based lube should work just fine too!

Care and cleaning:

Soap and water / Toy cleaner

Packaging:

The packaging for the Sinfonia is really top notch! There was definitely a lot of thought went into its creation. It sort of reminds me of a stationary set I had one time that was comprised of a cardboard box with drawers. The Sinfonia's packaging is made sort of the same way except the top of the box has a flap that can be lifted up in order to view the Sinfonia resting inside its drawer. This flap is held down by a magnet so that it stays shut rather than not staying closed properly.

There are two drawers on this box. The top drawer is bigger than the bottom drawer and contains the Sinfonia itself. The bottom drawer is an accessory drawer that contains a multilingual instruction booklet, 2 AAA batteries, a velvety drawstring storage pouch, a sample tube of Glissando lubricant, a silicone cock ring, and a toy cleaner wipe sample. Everything you could possibly need to get things started! Great for gifting and storage too!

Personal comments:

It's been a challenge for me to find a firm yet flexible g-spot vibrator, and I had practically given up on one even existing until I had the opportunity to review the Sinfonia! Don't get me wrong, I have some great g-spot toys that vibrate, and some that don't, but I always wanted to combine what I loved about the two types. Something with firm flexibility that vibrated. This is as close as it gets and it worked out fantastic for me!

The only thing that bothers me about it is the battery cap. That's simply because it's a waterproof toy. Don't get me wrong, I had no problems with it coming off but I probably won't be using it in the tub regularly. That's because the cap just twists a small amount. When I tested it out in the water, the battery compartment stayed dry but I'll admit, I had some fears. That's really my only concern with this toy and other than that, I love it! It's a winning combination for me!