JoyDivision Sweety Giraffe - G-spot vibrator from JoyDivision

Product Details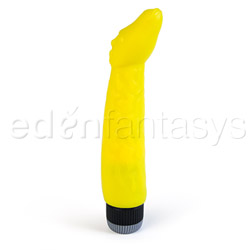 Summary:
The Sweety is a ridiculously cute vibrator shaped like the head and neck of a giraffe. A neon yellow giraffe. With a strong little motor, and all sorts of interesting textures all over its head. While its larger size means that it may not be the best choice for beginners, it's a cute, non-threatening, non-phallic vibrator that will follow you to play on land or sea.
Pros:
Silicone, waterproof, brightly colored, unique shape.
Cons:
Some may not enjoy the rather realistic animal shape.
Best use:
The Sweety Giraffe is rather unique in the vibrator world. It's a waterproof toy made of neon yellow silicone. And it's shaped like a Giraffe. A rather realistic giraffe head, complete with big lips.

Suffice it to say, this is not a toy for those who dislike cutesy animal sex toys. With a neck tapering up to just over 1.75 inches in diameter, this toy gets girthy. The head is large, unusually shaped, and textured. It features a motor with deep, thrumming vibrations. While not a good choice for newcomers to the toy world, the Giraffe is a fun option for those looking for a really unique toy that really works.
Material / Texture:

The Giraffe is made of pure (neon yellow) silicone. It has a soft, grippy feel to it, and it is very dense. While the silicone bends easily, it doesn't squish much at all. Like most silicone, it is odorless and taste-free.

The texture of the toy comes from the design itself. The head of the toy is the head of the giraffe, complete with raised lips, nostrils, eyes (and eyelashes), ears, and head-bumps. The shaft of the neck is covered in amorphous shapes that vaguely resemble giraffe spots, and a smooth ridge runs down the back of its neck. The textures of the head are very noticeable whether used externally or internally, and the forehead bumps are especially noticeable during insertion. The texture of the neck is all but unnoticeable once the toy is lubed up.

Material:

Silicone

Material safety

Texture:

Nubbed / Ribbed / Smooth

Safety features:

Food-grade material / Hypo-allergenic / Latex free / Non-porous / Phthalates free

Design / Shape / Size:

The unique design of this toy, the head and neck of a giraffe, will be cute and appealing to some users. Other users may find it slightly disturbing.

Because of the tapering of the head and neck, insertion and working up to the full 1.75 inches of diameter is easier than with straight toys. The angle of the head suggests that it was designed for g-spot stimulation, but in this it fails: because of how flexible the silicone is, the slightest pressure bends the toy nearly straight. Once inserted, it feels more like a toy with gentle curves than an angled shaft. Due to its girth, this toy may not be suitable for beginners.

Due to the lack of a flared base, this is an external and vaginal toy only.

While it is oddly shaped, this is not a discrete vibrator. Anyone who sees this neon yellow giraffe lying around is going to start asking questions.

Color:

Yellow

Length:

8 1/2"

Insertable length:

7 1/2"

Circumference:

5 1/2"

Diameter:

1 3/4"

Weight:

11 oz

Functions / Performance / Controls:

The motor is located in the base of the toy, directly attached to the controls. The dense silicone allows the strong, deep vibrations to travel well through the whole toy. While strong, the toy is also quiet - it's louder than a cell phone, but it's not loud enough to be heard through a closed door or over a loud shower. The controls are a simple dial: turn clockwise to turn on and increase power, turn counterclockwise to turn down and turn off. The vibrations are simple, steady vibrations. The ridged texture of the dial makes it easy to change the setting one-handed, no matter how slippery and lubey things get.

This toy is marketed as a waterproof toy, and it certainly has no trouble handling water. Whether a simple shower or a prolonged soak in a bowl of water, nothing got into the toy's battery compartment as long as it was closed tightly.

Functions:

Vibrating

Special Features:

Free samples
Multispeed
Powerful
Quiet
Splashproof
Texturized

Control type:

Dial-base

Powered By:

Aa-2

Care and Maintenance:

Being made of silicone and plastic, the Giraffe is easy to care for. Soap and water will take care of day-to-day cleaning easily, while a 10% bleach solution can be wiped across the whole toy to sanitize.

Because it is made of silicone, this toy should generally not be used with silicone lubricants. If you really want to use it with your silicone lube of choice, make sure to do a spot test before you slather the whole toy up.

Both the silicone and the plastic of this toy are inert, so it is safe to store it loose in your toy collection. (note that less stable toys may deform or discolor or otherwise change from contact with anything, including this toy or the bag they're stored in) It comes with a satin drawstring bag for storage to help keep it clean between uses.

Experience:

To be honest, this toy just didn't do much for me. While it worked well externally, it never managed to get me off once inserted. Maybe it was the shape. Maybe it was the lack of the g-spot stimulation I've come to love. Maybe it was the fact that I was unable to stop thinking about how I was forcing what looked like a baby giraffe's head into the deepest reaches of my vagina.

When I showed it to him, my partner in crime nearly died laughing. I think he managed to say something along the lines of "That goes... where?! Really?"