NMC Ltd Mini dual - G-spot and clitoral vibrator from NMC Ltd

Product Details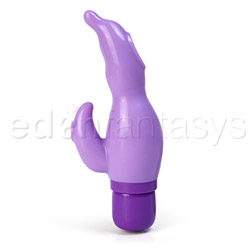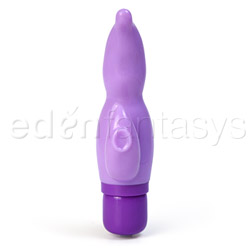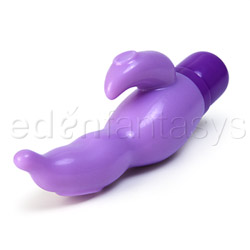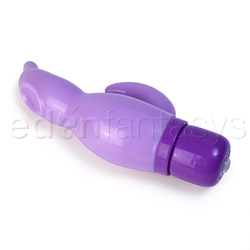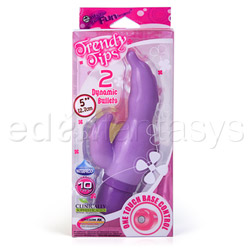 Summary:
This is a good quality rabbit-styled vibrator with varied vibration patterns and intensity. The material is smooth and glossy, yet it's got a bit of drag to it. It's light weight and tiny, so it might be a great choice for a beginner.
Pros:
Strong vibrations and various patterns, easy to clean.
Cons:
Pleasure from this toy is heavily dependent on your anatomy, so it won't work for everyone.
Best use:
Trendy Tips is a non-animal styled rabbit-style vibrator. Meaning it's got an internal stimulator and an external stimulator. Rabbit-style vibrators don't work for everyone, and even the people who are able to enjoy them don't always enjoy the same ones. Your enjoyment is heavily dependent on your anatomy. This is particularly true with this particular toy.

The clitoral attachment is quite firm and kind of pokey. It's a bit difficult to thrust with, due to the pokey clitoral thing. You kind of need to pull it back and lay it on your clit. Plus, the insertable portion is very flexible, so you don't get much g-spot stimulation from rocking. It does have dual bullets, so you get some pretty strong vibrations from both sections of the toy. It's also guaranteed to be waterproof, which is a lovely plus for any toy.
Material / Texture:

The Trendy Tips is made from TPR and plastic. The TPR being the majority of the toy, including the insertable portion and the plastic being the base/handle. It's got a very smooth, glossy texture. It's very squishy and flexible. For me, the flexibility wasn't quite right. The clitoral stimulator is kind of stiff and unforgiving, while the insertable part is very bendable. This is probably due to where it's jointed. It's like there's a mini-vibe in the base and the top is a sleeve. The material is kind of thin near where the bullet ends and it flexes easily there. The clitoral stimulator is very firm. It can be flexed back, but it takes a bit more effort and is kind of difficult to maneuver when you're trying to use it.

Even though it's smooth and shiny, it's got a matte feeling to it so you will get a drag if you don't use much lube.

Material:

Plastic

/

TPR

Material safety

Texture:

Bulged / Smooth

Safety features:

Food-grade material / Hypo-allergenic / Latex free / Phthalates free

Design / Shape / Size:

It isn't quite shaped for me anatomically. The insertable portion is short and slender and the clitoral portion is firm and stabby. I would have preferred the toy to be about the thickness of the part you can't insert because of the clit attachment. I suppose it could be a nice option for a beginner or someone who doesn't enjoy much girth. It was just a bit awkward in shape for me. The handle is very short and I kept accidentally pressing the button on the base while I was trying to use it. It does have these indentions that are about the size of a finger tip. You can kind of use those, if you turn the toy upside down, to put more pressure on your clit.

It is one of the smallest rabbit-style vibrators I've seen, so it may be easier to wield for a beginner. Also more convenient for storage and travel. I'm sure that some will find the fact that it doesn't actually have any crazy animals on it appealing. Sometimes I tire of the whimsical butterflies, bunnies, dolphins and other wild life they turn into vibrators.

Color:

Purple

Length:

6 1/4"

Insertable length:

3 1/2"

Circumference:

5"

Diameter:

1 5/8"

Clitoral attachment shape:

Non-animal

Weight:

7 oz

Functions / Performance / Controls:

The controls are very simple to use. It's just a single button on the very base of the toy. Pressing it down will cycle you through the 10 functions available. Each function is listed on the back of the packaging with a heart monitor style drawing to give you an example of it. It starts with low, medium, and high on steady vibrations. Followed by an even pulse, a slow surge, a fast surge, "Intermittent" (which is kind of like a roller coaster), "Escalate Step" (which is a roller coaster, pulse, roller coaster, pulse), "Roller Coaster Spurt" and "Gradient Burst". The last three are pretty intense.

Most of the vibrations can be felt, well, in the clitoral portion. The insertable portion isn't as strong. That bullet seems to be located in the base of the toy and the vibrations don't travel evenly to the end. The handle, as I mentioned before, is kind of short and awkward. You may find yourself unintentionally cycling through the functions due to the controls. On the plus side, it's very quiet.

Functions:

Escalating / Pulsating / Vibrating

Special Features:

Multifunction
Multispeed
Waterproof

Control type:

Push button

Powered By:

Aaa-3

Care and Maintenance:

It's very easy to care for. TPR can be used with any lubricant and cleaned with antibacterial soap and warm water or a commercial toy cleaner. The glossy texture can be a bit sticky, which may attract stray hairs and lint, but it's not as bad as most toys. There's a small, plastic battery compartment that can be removed completely for easier storage. You aren't suppose to store your toys with the batteries inside of them, so this is kinda neat. It's waterproof, so you won't have to worry about damaging it during cleaning. Just dry it off before you store it and remove the battery compartment. TPR isn't non-porous, so you'll want to use a condom if you intend to share it with anyone.

Experience:

Overall I just wasn't all that impressed with this toy. I'm sure this is mostly due to my anatomy. The way the clitoral attachment doesn't flex reminds me of how reviewers have described the Ina. It was just very uncomfortable to use because of the firmness and pointy-ness. I was so distracted with the pain from the clitoral stimulator that I wasn't really able to notice the insertable portion. I like my toys a little thicker and longer than this one. As far as quality goes, it's a pretty good toy. It's just the normal woes that go along with this particular styled vibrator that made it such a flop for me.