NMC Ltd Weenie G's pressure point - G-spot vibrator from NMC Ltd

Weenie G's pressure point videos
Product Details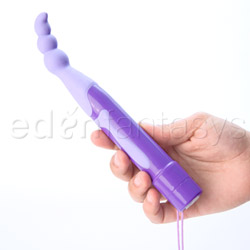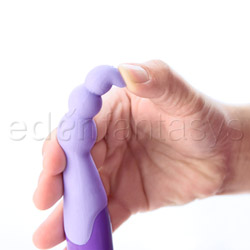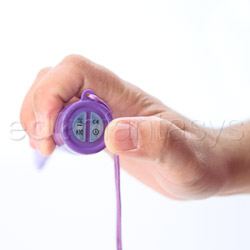 Summary:
The Weenie G is a firm, uniquely shaped toy that gives pleasure directly to your aching G spot. It is made of satiny TPR that is clinically sophisticated. Non-toxic, Phthalate Free, and waterproof! What more could a girl want? The Weenie G is waterproof and features a variety in function to feed your driving appetite!
Pros:
Whimsical, 3 Colors, Waterproof, Clinically Sophisticated, Pin Point Stimulation.
Cons:
Plastic Battery Compartment does rattle, but produce some noise from vibrations.
Best use:
The Weenie G's Pressure Point is a great G spot toy that has a firm, curved tip that gives direct G spot stimulation. It has the added fun of a large variety of function and is waterproof as well. It's small, uniquely designed shape places a direct target on your G spot. The Weenie G can be adored by both beginners and more advanced users. For added fun, the Weenie G can also be used for clitoral or nipple stimulation. Do not use anally. Take the Weenie G anywhere! In the shower, on the floor, in a bed! This cute, whimsical toy is meant to be enjoyed!
Material / Texture:

The insertable part of the toy is made of TPR. It isn't the soft, sticky surfaced TPR that I am used to. It feels hard like rubber but soft and satiny like silicone. It does have a bit of drag to it, but a little lubricant can take care of that. The toy is completely odorless and tasteless. The hard, stiff material and the tip of the toy is not flexible and is very firm. It provides hard pin-point pressure to the G Spot. If you are used to soft, flexing toys... the Weenie G may not be for you. It was comfortable for me as an advanced user and I think it would be suitable for beginners with care. I don't recommend using this as your first toy and thrusting away. It does have a hard tip and could damage your cervix. Do take care when using a toy like this for the first time. The lower end of the shaft is made up of plastic. It does have TPR grippers on each side for easy handling during use. I thought the overall mix of materials and design of it worked very well. It was easy to hold onto and was comfortable for G spot stimulation. Always use a lubricant for the best satisfaction.

Material:

Plastic

/

TPR

Material safety

Texture:

Bulged / Smooth

Safety features:

Food-grade material / Hypo-allergenic / Latex free / Phthalates free

Design / Shape / Size:

The Weenie G's Pressure Point is designed in a hook shape. From the bottom, plastic battery compartment, it follows up to a plastic shaft that has TPR hand grips for easy handling. About 2 1/2" from the top the shaft switches to all TPR material and extends up about an 1" before the size get smaller. At that point, there are 3 round bulges that end in a small hook or curve at the tip of the toy. The tip has a very solid point to allow direct pressure for G spot stimulation. Add that with the curve of the toy for the ultimate, pin pointed G orgasm experience.

Length: 8 1/2" Insertable length: 7" Circumference: 3 1/2" Diameter: 1" Weight: 0.5 lb

The size of the Weenie G is non-intimidating and is great for beginners in search of G spot stimulation. It is also great for experienced users because its size and design allows fast, direct pressure to the G spot to allow climax almost instantly. I have used many G spot toys including the G-Ki, Harmony Divine, Plain G, and more. The Weenie G was a great toy to experience because its total circumference is smaller, which allows the curved tip to pinpoint more easily because it isn't so big that it misses my G Spot. The toy also has an adorable pink wrist strap with a diamond heart accent charm to make handling for comfortable. The TPR grip spots on the shaft also make a slippery play session easier to handle.

Length:

8 1/2"

Insertable length:

7"

Circumference:

3 1/2"

Diameter:

1"

Weight:

0.5 lb

Functions / Performance / Controls:

The Weenie G is powered by 2 Aaa batteries (not included). The battery compartment is at the base of the toy and is easy to use. It twists open for battery insertion and then can be replaced. There are two buttons on the control pad at the base of the toy as well. One button turns the toy on and off, the second button controls the functions. When turned on the toy starts at a medium-low speed. Pressing the function button will take you through the following phases: high vibration, medium vibration, low vibration, step, hi-low, dip, high pulse, high steeplecase, low steeplechase, and low pulse. There is a large variety of options and the toy can be used for warm up, teasing, and/or climax.

The vibrations are a little noisy and if you have hollow walls it could be heard, but the sound is covered a little while inserted. I would just drown it out with a little music. The TPR does conceal it well, but the plastic battery compartment does rattle a little from the vibrations.

The Weenie G is guaranteed waterproof and performs well in the water. The vibrations do feel a little decreased under water, but not enough to make it less enjoyable.

Functions:

Pulsating / Rollercoaster / Vibrating

Special Features:

Multifunction
Multispeed
Waterproof

Control type:

Built in control pad

Powered By:

Aaa-2

Care and Maintenance:

The toy does have plastic and TPR but they can be cleaned together the same way. Wash the toy in warm sudsy water and take care to get in between the bulges to remove any bacteria. Rinse well and allow to air dry. The toy does not have any sticky material and can be stored practically anywhere that is at least 9" long. Compatible with water and silicone based lubricants.

Packaging:

The Weenie G's packaging is clean and sleek. It comes in a plastic throw-away container that has white and pink splashed on it. The package includes detailed information about the product and does so in 11 languages. The back also includes a graph that show how each individual pulse gives off varying functions. The packaging is not discrete, so if giving as a gift, I recommend gift wrapping it first. The inner part of the package slides out smoothly and reveals the toy in a pull apart plastic sleeve. The package is easy to get into and can be used for restoring if that is your preference.