Best use: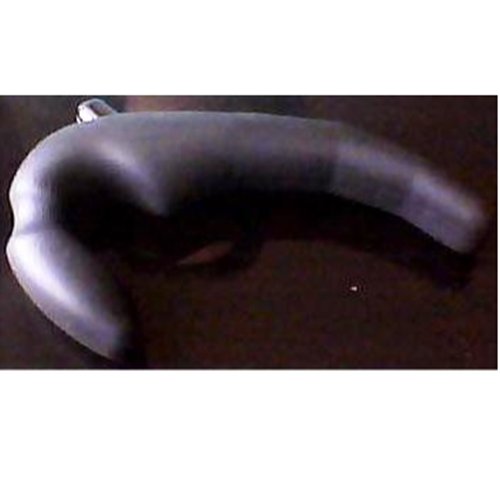 The Toy Four by Wet For Her is a really great take on the harness-less dildo. It helps build strong PC muscles and can be a fun way to get your 30 minutes a day exercise! Not having to deal with a harness can free a couple to decide at the last minute to peg, or to have some penetrative sex without having to stop and struggle your way into the harness. Just lube up this baby and off you go.
This is the dual play dildo for people like me who don't want graphic, phallic shaped toys. I am not always completely careful to keep my toys put away from the prying eyes of my children, so having blunt ended and oddly shaped ones means I don't have to worry that I am inappropriately educating my young girls!
While this toy may not scream penis, it is obvious to the adult eye that it is meant for sex, so it's not terribly discreet. It is also a larger toy, which means that you might have to grin and bear the leers while traveling, or find a creative way to hide it in your luggage.
The Four stimulates both the giver and receiver pretty near equally. It is great for G spotting for both partners if they happen to be female bodied, and for stimulating the prostate of a male bodied partner. It is also great for solo play, both vaginal and anal. In short, this is a toy that seems to have it all!
Shallow or deep penetration is not problem, as well as thicker or thinner girth: this toy has something for everyone.
It is a pricy toy, but it could replace scores of cheaper toys with its high quality silicone and versatility. It comes with a bullet that fits snugly inside the vibe and transmits the vibrations to both ends of the toy; like I said, this toy seems to do it all!
Material / Texture:

The Toy Four is composed of food-grade silicone that is hypo-allergenic, latex free, non-porous, and phthalates free. It is high quality, and has a lot of give to it without being floppy.

As you can see it will curl up easily, but I had to use some force, so it's not difficult to manage during play.

As with most silicone there is no smell or foul taste to the product, for those kinksters who want to emulate a blow job during a scene.

The entire toy has a smooth texture that makes a touch of lube go a long way. For thrusting, this means there is nothing to irritate sensitive vaginas or anal passages.

The insertable area for holding the toy inside the vagina has a rim that allows the muscles to clamp down, and gives a measure of added control.

The two finger design adds a bit of texture where the seams of the fingers are located. This is not a rough area, just a different feeling one. Internally, it adds a bit of interest that smooth barreled toys can't, but it doesn't cause irritation or hook up under the pelvic bone. There is a bump that allows for clitoral contact for the receiver and, if you can angle it, for the giver. It doesn't have any seams to gather gunk or irritate skin.

Honestly, this toy's high quality materials and body friendly textures are good for any level of experience. This isn't a toy that screams 'beginner' or 'experienced user'; to me it screams, "Get over here and try this!"

Material:

Silicone

Material safety

Texture:

Smooth

Safety features:

Food-grade material / Hypo-allergenic / Latex free / Non-porous / Phthalates free

Design / Shape / Size:

This toy has an ingenious design. It is curled to allow G spot contact for both giver and receiver, and it has such a lot of give that it doesn't cause bruising of the vaginal walls or anal walls, even with vigorous thrusting. The tip of the toy is blunt and nearly bisected to resemble two fingers.

As you can see, the fingers are also curved so that they actually resemble fingers in both look and feel.

The other end of the toy has a bulb that is great for the vaginal or anal muscles of the giver to grab hold of, and a bump that allows for clitoral stimulation for both the giver and receiver depending on how the toy is angled.

You can see that the angle is somewhat steep, but that helps the muscles to hold the toy secure, angles it for easier insertion, and gives the PC muscles quite a workout. It is also tapered and molded to be very comfortable to hold inside the vagina or anus, causing less fatigue than other toys of this type that are straight bulbs. The angling also allows the giver to receive some good pressure to her own G spot, and the stroking motion provided by thrusting the toy can lead to some pretty shattering orgasms, if you are adept at G spot play.
I found that this end can be amazing for working the PC muscles if you allow the 'finger' end to be unsupported, and then you 'lift' the fingers upward by flexing the muscles. If you do this while on your knees, you get both the squeezing and holding muscles a workout, as well as the flexing, shifting muscles. I guarantee you WILL feel like you have worked out if you try this!

The toy weighs in at 1.3 pounds, so it's not one that will get lost easily. I found that this weight was enough that I knew where the handle of the toy was while using it on a partner, but not so heavy that I got fatigued before my partner was 'finished'. From tip to tip the length is 8.25 inches with a full 5 inches (finger portion) being insertable. The 'handle' is about 4 inches insertable, which is plenty of room to get a good grip on and stimulate most G spots. The finger portion measures about 4.5 inches around at its widest point, and it tapers to 4 inches at its thinnest point. Now, at the widest point of my index and middle finger I measure only 3.25 inches, so this is a bit more substantial but not at all frighteningly or uncomfortably wide. Size-wise, this toy is substantial but not overwhelming, either in looks or in function.

One of the real drawbacks to the toy's shape and size is the fact that it looks like a sex toy! It is too big to be hidden in plain sight, and will require being kept in its original box or a custom built one.

This toy comes with a three speed bullet of moderate size. It slides very snugly into the toy, and I recommend dusting it with cornstarch before sliding it inside. The bullet is easily damaged, so care should be taken when tightening the toy lest you crack the plastic lid. The bullet's vibrations travel easily throughout the length of the toy, and are concentrated in the 'clitoral' bump. The vibrations are high pitched, buzzy, and most easily felt on the surface of the toy.

It takes 3 watch batteries; the first set are included with the toy. The battery housing is tight, so you might be tempted to bang it on a firm surface to remove the batteries, but I caution against doing this as it actually broke the first bullet I received with the toy. It is a fairly ubiquitous bullet and can be replaced fairly easily.

Length:

8 1/4"

Insertable length:

5"

Circumference:

4 1/2"

Diameter:

1 3/8"

Weight:

1.3 lb

Functions / Performance / Controls:

The Toy Four functions exactly as it is supposed to. It allows for pegging or vaginal play, it can be great as a solo toy, but really shines when used with a partner. The bullet is removable which means you can tease your partner while you are thrusting into them, or they can tease themselves!

This is the sort of toy that one could show a shy partner, let them touch and handle it, and then introduce them to partnered toying gently and much more naturally than you can with a full harness and dildo. The drawback is it takes much more muscle control on the part of the giver to hold the toy and thrust. Personally that makes it much more enjoyable, as I feel like I am really doing this myself, not using a surrogate if that makes sense. This toy can create a sense of intimacy that I find lacking when I wear a harness.

In use this toy is amazing. It has some heft to it, so you may have to build up your muscles or have shorter sessions at first to avoid fatigue. One trick I used when getting used to a harness-less toy was to start thrusting and then, when I got tired, release the toy and continue using my hand. When 'performing' for my guys with another woman, it allowed me to titillate them further when I began to suck on the end I had been holding with my vagina.
This is a great toy for double penetration if you are a male bodied giver.

The vibrations travel fully through the toy and can be easily felt by the G spot of both giver and receiver. It is also easily felt on the P spot of both giver and receiver. The clitoral bump was enough to get me off, but my clit is a more easy to please gal: clits of steel may not be totally happy with the vibrational strength even at high speed.

The bullet is very quiet, especially when loaded into the toy. It cannot be heard outside the door, even when it is just lying on the bedclothes. It is also waterproof, so shower fun is definitely on the menu! Be sure to cap the lid tightly, but not too tightly lest it crack on you.
The vibrator pocket is located in an easily accessible area during play, but you won't be accidentally hitting it by mistake during play unlss you are way more gymnastic than I am!

Functions:

Pulsating / Vibrating

Special Features:

Harness compatible
Lubricant included
Multifunction
Multispeed
Removable bullet
Waterproof

Control type:

Push button

Powered By:

3 watch batteries

Care and Maintenance:

The Toy Four is simple to care for as it can be boiled, washed in the top rack of the dishwasher, sprayed with a 10% bleach to water solution, cleaned with a commercial toy cleaner, or simply washed with soap and hot water. Be sure to remove the bullet before cleaning, and really pay attention to the molding seams along the toy. These seams are visually noticeable but cannot be felt during play. They do not catch and hold lube or 'dirt', but it makes sense to pay some attention to being sure they are thoroughly cleaned.

If you really prefer silicone lube, just spot test a small inconspicuous area prior to slathering it on. This toy is very smooth, meaning that a small amount of lube will go a long way. Waterbased lube is always a good option if you are concerned about ruining the finish on your toy.

Store the Toy Four in its original packaging for easiest storage. It is a harder silicone toy, so toy interaction should be minimal even under the worst conditions. I keep mine out of direct sunlight, but I haven't noticed any problems if I forget and leave it on the nightstand.

Care and cleaning:

Soap and water

Packaging:

The Toy Four arrives in a light cardboard box that, unfortunately, my son destroyed before I could get a picture of it. I did, however, manage to get a picture of the amazingly thick foam padding the toy comes packaged in.

You can see the foam protects the toy fully and keeps the bullet safe as well. It is perfect for storing the toy, and I plan to use it to store mine.

The box is fairly discreet, but there is a cutout on the box to showcase the whole toy. so if you are gifting the toy it might be better to give the gift in a setting where it would be appropriate!