Best use:
Wands are vibrators that are intended to be used by everyone, and their uses limited only by the imagination. The Miracle Massager by California Exotics is no exception, but it does have a couple extra features that give it an edge up on its counterparts.
This wand is lightweight and smaller than other typical wand-style vibes, but packs the same powerful punch. It's ideal for those with arthritis or weak joints, or just those who are sick of trying to accommodate oversized toys in their lovemaking.
Similar to the legendary Hitachi Wand, the Miracle Massage has a rounded head that massages broad areas, such as the neck and back. On the side is a neck that protrudes and holds one of the two attachments that come with the wand. One is a rounded cap, similar to what comes with the Wahl. It works great for deep tissue massage and more pin-point stimulation. The other is a long, flat, flexible tongue-like attachment that is perfect for diffuse stimulation, or teasing of any sensitive areas, like the nipples, scrotum and penis, or clit. Or, of course, you could use the base for broad surface stimulation.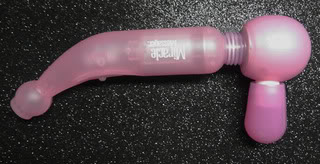 Material / Texture:

The entire toy is made with a transparent, light pink PVC. PVC being a type of plastic that is known for being lightweight and long-lasting. The "tongue" attachment is made of TPE, another common sex-toy material. It is a combination of rubber polymer that is known for its strength and ability to produce anywhere from a soft, to solid, feeling material. Both types of material are compatible with both silicone and water-based lubes.

Neither material elicited any notable scent or taste. For the most part, every surface was completely smooth, save for the "tongue", which had a slightly bumpy texture. Not so much that it felt bumpy in use, but so that it created more drag against the skin and made it feel slightly more tongue-like. The "cap" was completely smooth and glided easily over the skin, making it ideal for multiple uses like back massages or erotic exploration.

Compared to the Hitachi, the head of the Miracle Massager is definitely harder. It has barely any squeeze to it, but is still very comfortable to use. The tongue is the softest part of the toy, with just a mild amount of squeeze and flexibility, more notable over the tip than the thicker part which connects to the toy. While it may have some flex, it is not at all floppy.

Material:

Polypropylene

/

Pvc

/

TPE

Material safety

Texture:

Smooth

Safety features:

Hypo-allergenic / Latex free / Phthalates free

Design / Shape / Size:

No matter how you look at it, this toy is clearly designed with ease of use and comfort in mind. The entire toy is only 8" in total length and weights only 5.6 oz! The handle of the Miracle is the ideal size to grasp, and balanced to hold effortlessly. The end of the handle curves a bit with a bulb on the end that the palm curls around perfectly, making it easy to wield the toy when using it on yourself or someone else. The neck is flexible and will bend approximately 45° in any direction when moderate pressure is applied.

Besides being smaller and more wieldy, the 1 ¾" diameter head has a large knob on the side of it that the one of its two attachments slide onto. They don't twist on or lock down, but they stay firmly in place. The knob does not come off, so in order to help keep it clean, it's best to keep the cap on so lubes or other fluids don't get caught up in it. When you want to use the head directly, simply flip the toy so that the knob side points the opposite way of the skin. This is perfect for general body massage or direct stimulation of the clit or scrotum.



Though the attachments may look a little strange, once you start experimenting with their uses, you will fall in love with the unconventional design. First off is the cap… it's 1 ½" long and slightly bulbous with a tapered tip. The tip does have a pen-size hole in it, the purpose of which is unclear. The best use for the cap is application of pressure during massage of sore muscles and direct stimulation of the clit and nipples.




The second attachment is a tongue-shaped 3 ½ by 1 ¾ inch extension that starts fatter and gets thinner and more flexible as it gets to the tip. If you use it up/down, with the tip just barely touching the clit, the vibrations are very powerful and direct. Use it on the flat side and stimulates broadly and diffuses the vibrations. With a flick of the wrist it becomes a lapping tongue. This one isn't the most suitable for body massages, but it works great on the genitals… clit, penis, scrotum… any place vibrations feel good and sexy.

Color:

Pink

Length:

1 3/4" / 3 1/2" / 7 3/4"

Insertable length:

1 1/2" / 3 1/2"

Circumference:

4"

Diameter:

1 1/2" / 1 3/4" / 1"

Weight:

19 oz

Functions / Performance / Controls:

Seems like the goal of the Miracle Massager was to take the best parts of the Hitachi and Wahl, as well as a fun tongue-like attachment, and make an affordable, powerful, multi-use electric-powered wand vibrator that has a little something for everyone. The cord is 6 feet long, which can be a bit short, but if you don't have a power socket near-by, it will plug into a regular extension cord. In use, this wand is much lighter-weight than its counterparts, and smaller as well. However, that does not seem to affect the power-level at all.



The vibrations are a bit deeper and more throbbing than Hitachi, yet not as deep as the Wahl, so it manages to stay almost perfectly in the middle… but does seem to favor the Hitachi's buzziness. The wand on high is slightly more powerful than the Hitachi on low. The vibrations are focused on the entire head, and travel very well onto the attachments. So well, in fact, that it is nearly impossible to detect and decrease in power or diffuseness. Very little vibrations travel down the handle.

It has two speeds, low and high. Changing the speeds does not change the pitch of the vibrations, it just increases their intensity. This is controlled via the slider on the side of the toy, which makes it easy to make adjustments or shut-off quickly, but is well placed so that it is not accidentally bumped during use.

The Miracle Massager is a bit on the louder side, and could probably even be heard through a closed door if there is no other noise to drown it out.

Functions:

Vibrating

Special Features:

Attachments
Multispeed
Powerful
Travel kit

Control type:

Built in control pad

Powered By:

Electric

Care and Maintenance:

The Miracle Massager disconnects from the plug via jack-pin, making it easier to clean. Though this may seem obvious, never attempt to clean the toy while plugged in. Remove the attachments from the toy and wash thoroughly with soap and warm water. Use a damp washcloth and soap to clean the unit itself, taking care not to get water where the cord plugs in. Alternately, toy cleaners can be used as well.

There are no special storage considerations; although, it may be wise to consider that anything left plugged in draws electricity, even when not turned on. Also, anything left plugged in can be ruined should there be a power surge.

As far as wand-style massagers go, if you are looking for one to travel with, this is absolutely ideal. While the material should hold up pretty good without a toy pouch, it's still a good idea to wrap in something just to keep the pieces together and keep help protect it from being banged around.

Care and cleaning:

Soap and water

Packaging:

The packaging is minimal, but cute and feminine. It arrives in a clear plastic box with a pink flowery-letter design, and is held in a clear plastic tray. Only minimal directions are included on the side of the box, although most users will not require any instructions for use. The box is recyclable, but probably not suitable for long-term storage or gift-giving.