California Exotic My mini miracle massager electro power kit - Wand massager from California Exotic

My mini miracle massager electro power kit videos
Product Details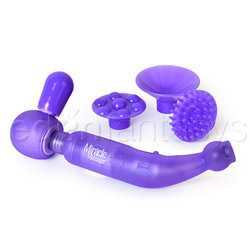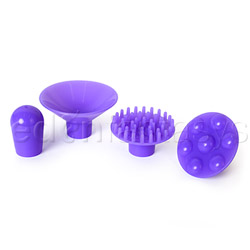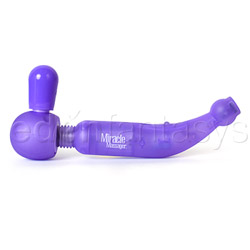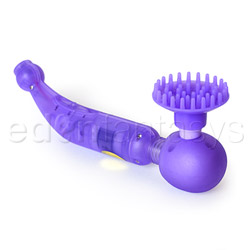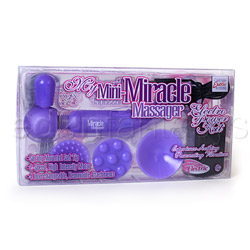 Summary:
This massager is a good deal for the price. I liked the different attachments for massage and sex play. This massager is light and easy to use. I would not recommend this for extended massage or long play sessions though, it vibrates too much and gets hard to hold.
Pros:
Feels great for massage, 4 different attachments, Discreet Looking, No Batteries just plug in and go
Cons:
Attachments come off easily during play, Vibrates at the handle, Flimsy power cord
Material / Texture:

The Mini Miracle Massager has no smell or taste out of the box. The attachments are made of slick phthalate-free PVC and come off easily for cleaning. The head itself is also made of PVC, but is much more tacky feeling. So far it does not appear to be a lint magnet, but it does have a bit of drag. The head is flexible to almost a 30 degree angle very easily. The handle is made of polypropelyne plastic. This type of plastic is hard. The attachments add much to the use of this massager.

The attachments include one that has 1/4" raised bumps. This attachment feels great on the erogenous zones; back, neck, nipples, thighs, or feet, it can be used just about anywhere.

Another of the attachments looks like round comb. I was scared of this one at first, until I used it on my scalp. This attachment is wonderful for head massage!

The third attachment is the cap for the side of the head. it is slick and can be used for pin-point stimulation. This is perfect for clitoral play or massaging a small specific area.

The last attachment is somewhat like a suction cup. I haven't really found a use for this myself, but I did notice that it also fits on the base and could be used to hold the massager upright. Unfortunately, the plug goes into the same area so it was clearly not designed for holding it up during use.

Material:

Polypropylene

/

Pvc

Material safety

Texture:

Nubbed / Smooth / Studded

Safety features:

Food-grade material / Hypo-allergenic / Latex free / Phthalates free

Design / Shape / Size:

The body of the Mini Miracle is angled for comfort and easy use. The size is perfect for travel. It could all fit into a small pouch and could easily be taken with you. It powers on 120 volt AC, so some car charger adapters could make this even more travel friendly. The Mini Miracle Massager is light weight and not cumbersome to use. The cord is a bit thin and I fear it may not last long with too much abuse. The plug comes easily out of the base of the body. This may help it during storage.

The whole massager is 8" from top to bottom.
5 1/2" of that is the handle.
1/2" is the connecting shaft.
2" is the head.
The head is 5 1/2" in diameter with a 3/4" accessory connector.

The massager is pretty small and fits easily into my hand.

Color:

Purple

Length:

7 3/4"

Diameter:

1 3/4"

Width:

3 1/4"

Weight:

19.5 oz

Functions / Performance / Controls:

The Mini Miracle Massager has a bit of power to it! It has two different levels of vibrations that are easy to adjust on the handle via a slide control button. I would have loved the vibrations a whole lot more if the handle didn't vibrate so much. I could not imagine using this on any body part more than a few minutes due to the handle vibrating my hand to the point of numbness. The vibrations are primarily in the head , but they vibrate down the handle so well it almost vibrates the plug out of the massager! Worse than that, is the fact that the attachments vibrate off during use. When I used the flat/bumpy piece on Hubby's back I failed to produce enough direct pressure to keep the attachment from coming off. The head is very easy to tilt, so a bit of a curve and the piece falls off. When using the cap attachment, this was less of a problem. Direct pressure is a bit easier to apply on the small head of the cap and it didn't come off once during use.

The Mini Miracle Massager sounds like a massager and will be heard through a door. It is a massager so what it is being used for may be less obvious. The Mini Miracle Massager is not loud and annoying, it has a solid buzzy sound that only goes up slightly when put on it's highest setting. The sound is not high pitched and did not hurt my ears, even when I used it on my scalp.


Functions:

Multispeed / Vibrating

Special Features:

Control type:

Touch slide

Powered By:

Electric

Care and Maintenance:

To care for this toy, just wipe it down with an antibacterial cloth toy wipe or carefully wash it with soap and water. It is not waterproof so you will need to be careful to keep water away from the control panel and the connector shaft. The head is covered with a plastic purple stretchy cap that looks easy to come off but the attachment tip keeps it in place. The attachment cap can be removed with a screwdriver, but it would still have a hole so I do not recommend that at all. The head would have holes in it if this plastic piece were not covering it.
The attachments are easy to clean since they come off so easily. They are made of PVC. The PVC attachments should be cleaned with warm water and antibacterial soap. You may also use an absolutely universal solution - a sex toy cleaner or wipe.
The Mini Miracle Massager can be used with both silicone and water based lubrication. I store this toy in a box with my other toys. It is easy to store since the plug comes off. It could also be stored in the box it came in depending on your storage space.

Packaging:

The packaging for his massager was nice and discreet. It does not look like a sex toy and would make a good gift package. The wand and all the attachments are clearly visible through the box. The box is plastic listing the features of this toy. A sleeve of thin plastic keeps them in place. The plug and some low key instructions on giving the massager power were included in the package.
The packaging also included a warning not to use the massager on inflamed or swollen areas.I sure wish they would have said what the dome suction cup attachment could be used for!

Personal comments:

In general I really liked this massager. Although the attachments gave me trouble, it felt really nice when we used it and did not look like a sex toy. We leave this toy out alot and my inquisitive kids have never asked about it. I could not use it for very long due to the vibrations but it really gets me off quick. The scalp massager is really something special and I like the way it feels. For the price, this is a great little massager with many uses.