Pipedream Wanachi maxi - Wand massager from Pipedream

Product Details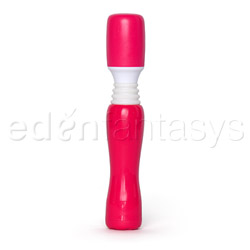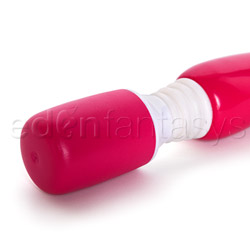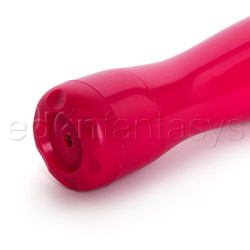 Summary:
This is a fairly basic no frills massager/wand style vibrator. It's simple to use, features strong vibrations for clitoral stimulation, and has adjustable vibration intensity. It's great for people wanting to experiment with a wand style vibe before committing to a larger and more expensive one like the Fairy or Hitachi. A very serviceable addition to any toy box.
Pros:
Cheap, strong vibrations, variety of colors, variety of vibration intensities, well placed controls.
Cons:
Buzzy, flexible neck makes it hard to apply pressure, not all silicone, only one vibration pattern.
Material / Texture:

This is made of a variety of things. The head is silicone-coated plastic, the white flexible "neck" is made of TPR, and the handle is made of hard plastic. The texture of the part of the vibrator you will be using is smooth, odorless and tasteless. The neck is ribbed, and the handle is again smooth. None of it has much in the way of odor or scent and it should all be fine for anyone from a beginner to an advanced user.

Material:

Plastic

/

Silicone

Material safety

Texture:

Smooth

Safety features:

Food-grade material / Hypo-allergenic / Latex free / Non-porous / Phthalates free

Design / Shape / Size:

The design is that of a fairly basic wand: a long hard plastic handle, a flexible TPR "neck" and a bulbous silicone head. The top of the handle features a turning wheel with which one adjusts vibration level, and it comes off to insert batteries. The cap for the batteries is of the "push down and turn to lock in place" style, which I think is inferior to the screw on lid of the smaller Wanachi wands. It's a fairly large toy (not as big as the Hitachi, but... big), and the head is very large so you're probably not going to use this toy internally. It's somewhat heavy, but not excessively so. As to the appearance, it's a very simple toy with clean lines and not a lot of excess detail. The controls are very simple and are easy to operate while in use. They're also well placed at the top of the handle so that the user can easily use the toy without having to worry about accidentally switching the vibration level.

Length:

9"

Circumference:

6 1/4"

Diameter:

2"

Functions / Performance / Controls:

This toy has fairly decent, strong vibrations in the head (which is exactly where you want them), and easy-to-adjust vibration levels from "very mild" to "very intense". It features only one vibration pattern (constant) and is somewhat noisy. Again the vibrations are definitely on the buzzy side which is rather disappointing, as its cousin the regular Wanachi mini is quite rumbly and nice. It's not horribly buzzy, but enough that I found it slightly irritating with extended use. The buzziness of the vibrations is less noticeable when you have the vibrator turned to lower levels, but as soon as you get up high it begins to sound like a swarm of angry bees.

The flexible neck is something I didn't like on the regular Wanachi mini and I don't like here. It makes the toy less sturdy and significantly reduces the amount of pressure one can apply (though this can be rectified by placing the tip of the head downward and pressing down like that). Not only this, but I don't see the point of the flexible neck: it doesn't help reach hard to reach spots as it doesn't stay flexed without pressure, and obviously if one wants less pressure one can always just ease up on the toy.

I was also somewhat disappointed in the power level. I assumed that because it takes big powerful C batteries that this would be a very strong, very rumbly toy, and while the vibrations are fairly strong they aren't significantly more intense than I've gotten with toys that take A batteries and are again buzzy.

Functions:

Vibrating

Special Features:

Multispeed
Powerful
Quiet
Travel
Waterproof

Control type:

Dial-base

Powered By:

C-2

Care and Maintenance:

Because this is made of a variety of materials it's not as easy to clean as a pure silicone toy, but the head is non-porous so I really can't complain. I find that the easiest way to clean it is to wipe it down with an anti-bacterial wipe. If you really needed to sterilize it I suppose you could hold it so the head (and only the head) was soaked in a bleach bath (10% bleach, 90% water) for a while, but that's a bit of a pain.

Packaging:

This comes in a very simple cardboard box with a picture of the Wanachi on the front. The background is purple fading to white in the center around the image of the Wanachi. On the back the background fades from dark purple at the top to pink on the bottom. At the top there is a text box containing some text detailing the good points of the Wanachi. Below that is another picture of the Wanachi which diagrams its features including: "flexible head" (which I don't see the point of) "Silicone luv touch" (which is just a silly way of saying its silicone), "waterproof" (which it most certainly is not), "multispeed" and "phthalates free". Inside the box are two small plastic inserts to keep the Wanachi in place.