Pipedream Wanachi multi with attachments - Wand massager from Pipedream

Wanachi multi with attachments videos
Product Details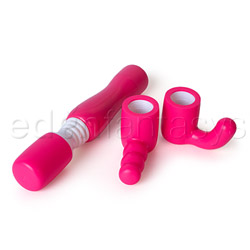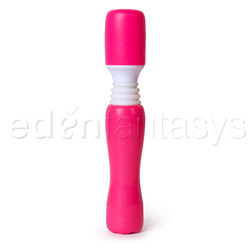 Summary:
All in all the Wanachi multi is an affordable, portable alternative to corded powerhouses and expensive rechargeable toys. You don't get all the bells and whistles, but you do get a body safe, basic wand capable of thrilling your nether regions and easing sore muscles.
Pros:
Silicone screw on head and attachments, fairly quiet, price. no cord/portable.
Cons:
Attachments are too small to be effective vaginally, very hard to turn off quickly.
Best use:
No matter if you have a kink in your neck or an urge to get off, the Wanachi multi has you covered. Portable and fairly powerful, this mid size massager can ease painful muscles and provide sexual pleasure at home or on the go. I found external applications are where the Wanachi multi shines. This handy wand would be great for camping, road trips or really any place you care to take it.

Externally, the Wanachi is really great for sore muscles as well as stimulating the nipples, clit and anus. Internally, this wand's attachments fall short both figuratively and literally. You see, the attachments are barely bigger than two and a quarter inches long, making it hard to stimulate anything internally.
Material / Texture:

This particular Wanachi comes equipped with a silicone head and two attachments that screw on and stay put. The screw on feature makes changing the heads a breeze. The silicone is smooth but feels slightly tacky, and has a sticky drag on bare skin. The silicone is very firm and has very little flex to it and very little squish as well. There is an odor to the heads and it has me a little puzzled as to why silicone would smell. I do have to say it is not an overbearing odor, I have to put my nose right up to it to smell it. The smell is a faint, plastic/some other substance smell.

All three heads are different shapes. It comes with the following:

1) A marshmallow shaped, traditional wand head.

2) A graduating stack of three small beads.

3) A small G-spot finger.

The handle/Vibrator is made of hard, smooth, ABS plastic and becomes slick if lube happens to get on it.

Material:

Plastic

/

Silicone

Material safety

Texture:

Bulged / Smooth

Safety features:

Food-grade material / Hypo-allergenic / Latex free / Non-porous / Phthalates free

Design / Shape / Size:

The entire length of the wand is nine and a quarter inches and is comfortable in use. I found the handle portion is comfortable in the hand. I had the biggest problem with the size and shape of the two attachments intended for internal use. Below you'll find the good and bad points as per each attachment in my experience.

The marshmallow shaped head is good for sore muscles and broad surface stimulation. I found it difficult to get pinpoint stimulation in an area with this head.

The stacked ball head is good for pinpoint external stimulation, such as clitoral stimulation. As an insertable object it falls short! The diameter is around an inch and the length is just a hair over two and a quarter inches. The Wanachi's vibrations are powerful so you do get pretty intense vibration on the surface and just inside whatever orifice you choose to use this in (yes the Wanachi is anal safe). Sadly, though, this is not going to give you a full feeling or a popping sensation.

Last but not least, is the G-spot finger as I call it. This attachment sadly was of no use to me. I tried to insert it, I really did, but the design is such that I couldn't get it inside. The curved portion is just two and a quarter inches long and there is only an inch of space between the side of the head and the finger. It was an impossible feat to insert this, let alone hit a G-spot with it. I failed at both.

Color:

Pink

Length:

9 1/4"

Insertable length:

2 1/4"

Circumference:

3 1/2" / 3" / 5 1/4"

Diameter:

1 5/8" / 2"

Weight:

18.5 oz

Functions / Performance / Controls:

The Wanachi is easy to operate: simply depress the button at the end of the wand and you can cycle through nine vibration modes. There is "NO" instant on and off button, you do have to scroll through all nine modes to get back to off. The vibration is deep in strength, not so buzzy, and can be felt deeply in the tissue. This wand is powered by two C batteries that are simply inserted in the base with a half twist of the cap. I would say the power range is about a three and a half to a four.

Vibrating along...
Speeds 1-3 are steady vibration: Low, Medium and High

The following are vibration patterns:

4)Four fast pulses

5)Three long pulses

6)Three short pulses followed by a long pulse

7)Long outdrawn pulses

8)Six quick pulses

9)Four Buzzing pulses

While the vibrations the Wanachi offers up are not Hitachi strength they were enough to provide a strong deep orgasm. Speaking of the Hitachi, the Wanachi is nowhere near as loud and a lot more water friendly. It does come with a waterproof gasket in the base and I've had no problems in the shower. The Wanachi is supposed to be submersible but I'm not totally sure it would hold a tight enough seal around the battery compartment.

Functions:

Pulsating / Vibrating

Special Features:

Bendable
Multifunction
Multispeed
Powerful
Quiet
Waterproof
Wireless
Attachments

Control type:

Push button

Powered By:

C-2

Care and Maintenance:

Cleaning the Wanachi is simple, just wash with soap and water and store without the batteries. Toy cleaner or a bleach solution could also be used to clean the Wanachi. Silicone lube should be avoided to prevent damage to the silicone attachments.

Packaging:

The Wanachi multi comes in a white cardboard box with a plastic sleeve inside holding the wand and attachments. Most instructional text is on the box. Inside the box are instructions for battery insertion and a cautionary note regarding the flexible neck. It warns that flexing the neck to more than a 45 degree angle could damage the wand.