Doc Johnson Black magic pocket rocket - Pocket rocket from Doc Johnson

Black magic pocket rocket videos
Product Details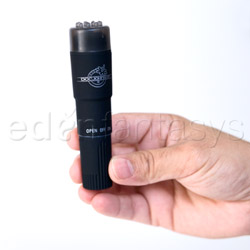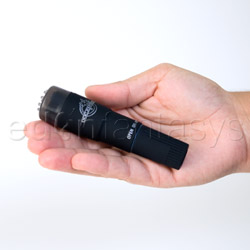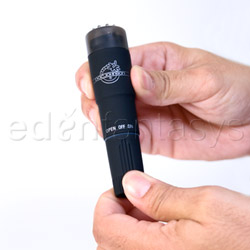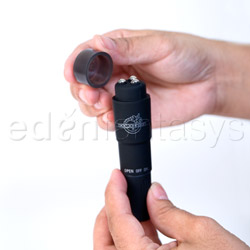 Summary:
The Doc Johnson Black Magic Pocket Rocket is the spell you've been waiting for! Super small and ultra quiet, it's the best for travel and discreet enough to use almost anywhere. As if that wasn't enough, it is also 100% waterproof, so you can take your adventures anywhere you fancy! If you're looking to try a Pocket Rocket for the first time or to replace your previous toy with something new, the Black Magic and its Velvet Touch coating is just the thing to charm your life.
Pros:
Small, Discreet, Silent, Velvety Smooth, and Very Powerful!
Cons:
Multiple speeds would have been a nice touch.
Best use:
This little pocket rocket does exactly what it was made for: delivering intense vibrations right where you want them. As this is my first pocket rocket toy, I wasn't too sure what to expect from it. From the start, its small size had me very interested. And I won't lie that the packaging lured me in, too! The real thing that caught me for this toy, however, was the Velvet Touch coating it boasted. I have owned two other toys with this luxurious coating and I am in love with it, so the moment I saw those two words, I was sold.

I am glad to say I was not let down! I enjoy intense vibrations most times, and this toy lived up to my standards. The vibrations were not the strongest I've ever experienced, but they were right up there on the buzz scale. As is to be expected with most pocket toys, this one is best used for pin-pointed stimulation, specifically the clitoral area, though it does give an enjoyable tingle when applied to the nipples. My girl found that this toy wasn't strong enough for her tastes, but was also using a slightly older battery. If you want them strong, use a brand new one.

As this baby is so tiny (it's no bigger than my cell phone!) it's perfect for travel use, hides very well in the zippered pocket of a purse or overnight bag, and the velvety coating protects it from picking up a lot of fuzz or lint, if you like to carry it alone. There is also a removable plastic tip cover (which is not Velvet Touch, to my dismay) that helps to protect the base, though the cover also features many small nubs for a different experience. I have to say that I enjoy using this one with the cover off, though it does not lose any intensity when used with the cap on.
Material / Texture:

Right from the box, this baby has no scent at all! Covered with the rich Velvet Touch coating, the Black Magic Pocket Rocket is a treat for your fingertips. The tip cover has 12 tiny hard nubs for extra stimulation, and when removed, the inner base has three metal points, which deliver intense solid vibrations right where you want them. As this is a very small toy, it is great for beginners and those of us who need to be a little more private with our toys. Best of all, it hardly makes any noise at all! It is much quieter than my last bullet toy, and can easily be disguised by the hum of a fan or a radio or TV. Even using it under covers can drown out most of the sound, but be warned; it will vibrate anything it touches, so don't be alarmed if your cushioned chair or bed starts humming softly if you happen to touch the two together. I tried this out in the car just yesterday, and my whole seat seemed to buzz at me when I touched it with the Black Magic.

Material:

Plastic

Material safety

Texture:

Smooth

Safety features:

Food-grade material / Hypo-allergenic / Latex free / Phthalates free

Design / Shape / Size:

I love the design of this toy, as it is built to simply be compact and quiet, delivering strong vibrations without any fancy complications or extras. The dial base it uses has one speed; it is impossible to turn the base to 'off' with one hand, so there is no chance that it may slip and turn off at the wrong moment--or turn on when in storage! The cap helps to keep it clean and clear of collecting any gross dusty particles while in transit or storage, and can also be used for a different sensation.

Size is one of the main allures of a Pocket Rocket, in my opinion, and this little puppy is just the right size! It is no longer than my hand, and is actually about the same length as my cell phone, which means I can easily slip it into any small pocket or pouch. By itself, it is very plain and resembles a flashlight at first glance, though it does sport the 'Doc Johnson' logo on the front. This is a wonderful travel companion, for any girl, and it's strong vibrations are well suited for most users. If the vibrations are a little strong, try setting it on it's side against the area you wish to stimulate; the entire toy vibrates when in use, so move it around and try different things to find the angle and position right for you.

Color:

Black

Length:

4"

Circumference:

3 1/4"

Diameter:

1"

Clitoral attachment shape:

Non-animal

Weight:

2.5 oz

Functions / Performance / Controls:

This rocket toy uses a very simple dial base control. It is labeled with three points on the side of the base; "Open" "Off" and "On" are the only options. Turning it to the left pops the dial off and you can remove the single AA battery. Turn it to the right, and the toy turns on. There is only one speed, no matter where you point the arrow on the base. It is somewhat tough to turn, though this is a good thing, as it prevents accidental turn on's or turn off's.

The vibrations are located in the top of the toy, though they are strong enough that it vibrates the entire toy, so both ends could be used theoretically. The best part of this toy is that it is waterproof! There is a small rubber ring around the battery compartment which does the job of keeping water out. I have not had the pleasure of trying this toy in the shower or bathtub as of yet, but it's vibrations are so strong, I would imagine it would be wonderful for the tub!

Functions:

Vibrating

Special Features:

Control type:

Dial-base

Powered By:

Aa-1

Care and Maintenance:

Clean up and storage are a snap with this toy; a few quick swipes with a toy cleaner or a quick soap and water rinse in the sink (it's waterproof, so don't be shy!) are all you need before you can pop the cap top back on and toss it into a little pouch or back into it's packaging for storage. The Velvet Touch coating seems to do a great job at fending off dust and other icky things no matter what type of storage is used. I toss mine into a little drawstring pouch for added privacy, but I have been leaving this one in my desk drawer or beside table drawer because it is so small. As for lubricants, I really didn't feel that any was needed with this, though my lube of choice is always water-based, the safest for all toys.