Orion Sexy decision - Pocket rocket from Orion

Product Details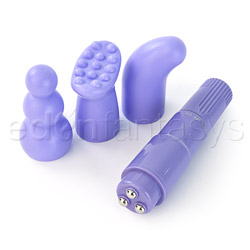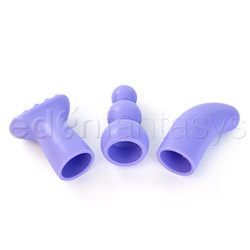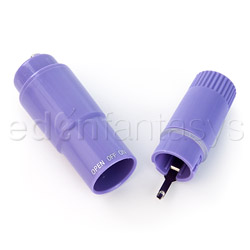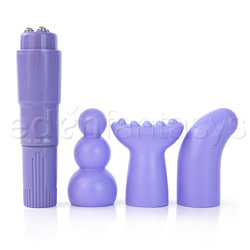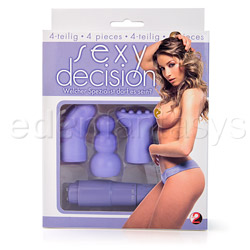 Summary:
The Sexy Decisions Pocket Rocket is a feminine and modern variation on an old, reliable classic. Made of hard plastic and semi-porous TPR silicone, this vibrator is a body-safe choice for vaginal stimulation. Coming with three pliant attachments there is no shortage of possibilities for those that desire options. This single-setting vibrator only needs one AA battery before it's ready to go: into your purse or your pocket, it's easy to travel with and plenty discreet!
Pros:
Compact, easy to travel with, attachments are made from soft TPR, feminine color and design.
Cons:
Control and battery compartment are poorly constructed, only one setting, attachment impractical.
Best use:
This toy is intended both for clitoral and vaginal use, coming with three different TPR attachments that are each designed to stimulate different parts in unique ways. These attachments include a curved G-spot stimulate that provides shallow stimulation to the vagina, a nubbed clitoral massager and a stack of three small, round bulbs that can be used either for internal or external use.

This pocket rocket is best not to share because TPR is a porous material; if you do decide to share use dental dams or condoms as is appropriate. I would also not recommend this toy for anal use because of the porosity and also because it lacks a flanged end. Without a flange it is possible for the rectal muscles to draw this petite toy into the anus completely, so anal use with this would be very unsafe. Stimulation of the perineum is safe, however, as is stimulation of just about any other part of the body.
Material / Texture:

As mentioned above, this pocket rocket features a hard plastic handle and three attachments made of TPR which is a soft, semi-porous silicone composite. The violet hard plastic handle is smooth with a ridged pattern circling the dial at the base. This is one of the more thought out features of this vibe's design; the ridges make turning of the dial much easier than it might be with the ultra-smooth plastic.

The attachments, made of a lighter violet that doesn't blend very nicely with the rest of the toy, is slightly more textured. It yields to some pressure, and the attachments will bend when flexed between a thumb and middle finger. Neither the plastic nor the TPR have any real scent other than a very faint plastic-y one.

Material:

Plastic

/

TPR

Material safety

Texture:

Beaded / Nubbed / Smooth

Safety features:

Food-grade material / Hypo-allergenic / Latex free / Phthalates free

Design / Shape / Size:

This tiny toy is barely an inch at its widest point, and just makes 6 inches with its tallest attachment on. Without an attachment this toy is only about 4 inches tall making it quite literally pocket sized and tremendously easy to slip into an itty bitty purse or clutch for travel and stashing around the house if you have prying eyes about. Unfortunately the size of the toy and its attachments is a weakness as well as a strong point, and the size causes this toy to fall short in terms of its functionality.

The curved G-spotter as well as the bulbed attachment are in fact *too* short for any meaningful penetrative stimulation. All but the shallowest of G spots will likely be evaded by these tiny attachments. The clitoral stimulator is, on the other hand, not negatively impacted by its size, so if your decision rests with the clitoral factor then you may still be satisfied with this one. The clitoral stimulator features a little "cradle" with three rows of nubbed protrusions that provides some interesting sensation in addition to the vibration.

The penetrating attachments are also difficult to use in that they slip off easily when inserted. The curved G spotter attachment is particularly problematic for this reason. As we all know, the G spot is located behind the vaginal tissue toward the top of the vagina. For a short and very slightly curved probe like this some twisting and turning is necessary before most people can actually hit their G spots, and then a little MORE twisting and turning is necessary before firm pressure can be applied. In the process of turning, poking and all the typical G spot stimulating fare, this attachment has a tendency to pop right off the shaft. The stacked bulb probe is even more likely to slip off because it is completely straight and must be maneuvered a bit more aggressively in order to hit the G spot.

Color:

Lavender

Length:

6"

Circumference:

3 1/4"

Diameter:

1"

Clitoral attachment shape:

Non-animal

Weight:

0.3 lb

Functions / Performance / Controls:

This toy has a lot to offer in its size, material and aesthetic but it falls short when it comes to functionality. One of its biggest issues of function is described above in the 'Design' section, but it also runs into performance problems with its battery compartment and controls. The battery compartment is comprised of a twist off cap that is about the size of an AA battery. In order to replace the battery cap you must put the battery into the cap first, then twist it into the rest of the toy, which is very difficult. The battery compartments of most toys are designed to have the battery inserted into the toy first, following by the cap. This toy's is designed for the opposite and is very inconvenient.

This vibrator's controls are also tricky. First, the controls themselves: in order they settings are as follows "OPEN - OFF - ON". The 'on' setting is a single low, constant buzz. The buzz is very quiet which is very nice if you share living quarters; it can be heard through a blanket but definitely not through a door. This vibration is not very strong so if you require intense vibrations then this rocket may not be for you. When you are done using the vibrator, or if you need to turn it off in the middle of a session for any reason, it is VERY difficult to turn the toy into the 'off' setting without passing it completely and going into the 'open' setting.

The 'open' setting pops the battery compartment open, which knowing the difficult nature of replacing the battery cap, is very inconvenient if you only want to turn the toy off momentarily. All of the settings are VERY close together and the slightest turn of the dial will change the setting. It is easy to turn off or open when using it, and it's also very easy to accidentally turn on when you're not using it.

Functions:

Vibrating

Special Features:

Control type:

Dial-base

Powered By:

Aa-1

Care and Maintenance:

The Sexy Decisions Pocket Rocket is very easy to care for. Unfortunately it cannot be sterilized because both the plastic of its handle and the TPR of its attachments are porous. This toy can be cleaned, however, with toy cleaner or anti-bacterial soap and warm water and a damp wash cloth. The hard plastic shaft of this toy is NOT waterproof so do not put it under water; it should be cleaned with the wash cloth. The TPR attachments can be removed and submerged to clean. This toy can be used with water, silicone and oil based lubricants and can be stored openly with toys of all other materials.