Doc Johnson Velvet pocket rocket - Pocket rocket from Doc Johnson

Product Details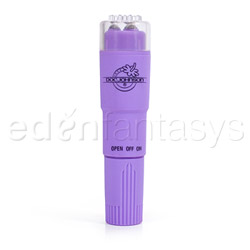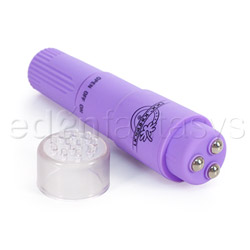 Summary:
If you don't need extremely strong vibrations, this might be the toy for you. It's cute, small, has a delightful nubby texture, and is very quiet. If you have this toy under a blanket, no one should hear it at all. It's not the strongest toy, but this little guy makes up for that by being cute, and keeping his noise level down!
Pros:
Nubby texture, Easy to use, Only takes 1 AA battery, Quiet
Cons:
Might not be strong enough for some, Not very "multispeed"
Best use:
This toy is used for clitoral stimulation. It has several nubs at the top which give it a little extra texture on the clitoris. The toy is labeled as "multispeed", but the difference in speed is almost unnoticeable. The vibrations are not very strong at all, so this toy is best for people who don't need a lot of speed or a very intense vibration. It's also good for people who like texture, because of the nubby top.

It's also really quiet, so if you can't have loud toys where you live, this might be a good one to try out.

This toy can used internally, but it isn't built to feel as good internally, so it's best if you just use this for clit stimulation.

This toy can be used solo, or you can have a partner help you out with it.
Material / Texture:

This toy is made of plastic. This means there is no flexibility to it at all. If you prefer clitoral stimulators with a little flexibility to them, or softness, then this isn't what you're looking for. If you like a more rigid toy, this would work.

The very top of the toy is the part you would use on your clit. It's a little circular, plastic cap. There are several hard plastic nubs all over the top of this cap. These add a little to the stimulation, so if you're a fan of texture, this might be perfect!

The bottom of the vibrator has a little texture as well, but it's more to provide easy grip. It has a series of ditches in the plastic along the control dial. They really don't provide any kind of sexual stimulation though.

Material:

Plastic

Material safety

Texture:

Beaded / Nubbed / Velvety

Safety features:

Food-grade material / Hypo-allergenic / Latex free / Phthalates free

Design / Shape / Size:

This is just a small, cylindrical toy. The bottom is slightly thinner than the top, but this is for distinguishing the control dial from the rest of the toy. The control dial has small ditches in the plastic, that give it a nice grip. This makes it easier to turn the dial.

The top part of the vibrator has the "Doc Johnson" logo on it. The very top has a clear plastic cap. This cap cannot be removed. There are small nubs all over the top to add extra stimulation to the clit while using it.

This isn't a very big toy. It's only four inches long, so it's fairly discreet. You could keep it in a purse or something. It's not discreet enough to leave out somewhere though.

This toy could be good for a beginner since it is so small, and since it's not very strong. However, some more advanced users may like it as well.

Not very big...


Nubby top...



Length:

4"

Circumference:

3 1/4"

Diameter:

1"

Weight:

0.2 lb

Functions / Performance / Controls:

This toy only takes one AA battery. This is good for people who don't stock up on a ton of batteries. You just unscrew the bottom and pop it right in. It has a dial base, so to turn it on, you just turn the toy to the word "on", then there are also "off" and "open" options.

The toy isn't very strong at all. It says it's multispeed, but I almost can't tell any kind of difference at all when I twist the dial. Even turned all the way up, it's fairly weak. If you don't need strong vibrations, this would be the perfect toy. If you need very strong vibrations though, you should keep looking.

What it lacks in strength, it gains in a lack of noise though. This is one of the quietest toys I own. If you can't have loud toys where you live, or are worried about someone hearing, then this might be the toy you're looking for. It's almost unheard if you have it under a blanket.

Functions:

Vibrating

Special Features:

Control type:

Dial-base

Powered By:

Aaa-1

Care and Maintenance:

This is a plastic toy, so to clean it you can use warm water and mild soap. You can also just use a toy cleaner or wipe to clean it off. You can also wipe it down with rubbing alcohol. It might be a little harder for some to clean because of the nubs, but I didn't have any problems with that.

You can use either water, silicone, or oil lubes with this toy.

You can store this toy just about anywhere. I personally keep it in my toybox.

Care and cleaning:

Soap and water

Personal comments:

I'm not a huge fan of this toy, just because it's so weak. I need very strong vibrations to be able to get off, and this toy just doesn't do it for me. I really like the nubby texture, and it would be perfect for me if it was just a little stronger. If you're someone who likes weak vibrations though, this would be a great toy. The only downfall other than the strength issue might be that it isn't waterproof.