Best use:
Odeco Apollo is a rabbit-style vibrator that will be best enjoyed by those who enjoy average intensity vibrations. This toy is intended to be inserted vaginally, with the rose-shaped attachment pressed against the clitoris. Though this vibrator is intended for vaginal use, it is also safe for anal use, since the total length plus the clitoral attachment would prevent the toy from slipping entirely inside of the body and getting lost in the rectum.
This vibrator can also be used for foreplay to stimulate other sensitive areas of the body, such as nipples, perineum, testicles, or whatever you prefer.
This toy is splash-proof but not submersible, and the battery compartment does not seal, so I would be very careful with this one around water.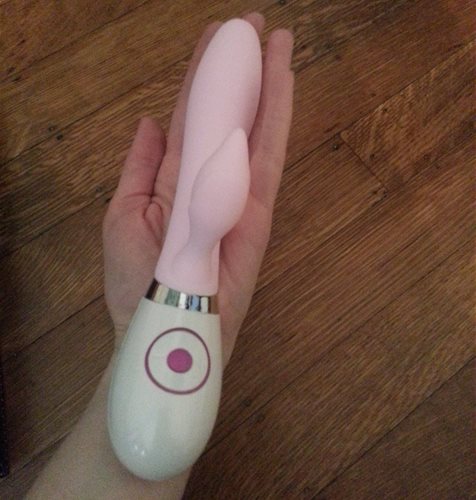 Material / Texture:

This toy is made of a light pink matte silicone, which is totally smooth. The texture has the slightest bit of drag, which I find to be pleasant, but if you don't care for it, a dab of water-based lube will make this toy glide very smoothly. I did not notice any smell from the toy and don't make it a habit to taste my toys, but as long as you wash it first, the silicone should be tasteless. The silicone has a plush feeling and is slightly squishy.

The shaft of the toy has a rigid spine, meaning it really does not bend or move at all. The clitoral attachment, on the other hand, is very flexible in both directions, meaning you can easily reposition it to your liking.



The handle is made from white plastic, with a silver band connecting the white plastic and the pink silicone (just for decorative purposes).

Material:

Silicone

Material safety

Texture:

Smooth

Safety features:

Food-grade material / Hypo-allergenic / Latex free / Non-porous / Phthalates free

Design / Shape / Size:

Overall, this toy is 8" long, with 4-1/2" insertable. The clitoral arm is approximately 2-1/2" long. At the widest point, this toy is about 1-1/4" in diameter. This makes the toy suitable for beginners or for advanced users, but size queens may want to look elsewhere.

I enjoyed the slightly tapered shaft on this toy, which is smaller at the end for easy insertion and then flares slightly out and back in again. The shaft is also very slightly curved. I was able to get G-spot stimulation from this shape, because I have a very accessible, easy to stimulate G-spot, but those who need more severely curved toys may find that this does not stimulate their G-spot.

Like is the case with all rabbit vibrators, the clitoral arm will not work for everyone. Because it is so flexible, it is difficult to get a lot of pressure from it. The rose design will hit different women in different places, depending on anatomy. For me, when the shaft was fully inserted, the tip of the rose was against my clit, giving pinpointed stimulation. Others may find that the curved part below the tip hits their clitoris.

I was able to get off with this toy fairly easily, though this seems to be one that most people will really love or really hate, depending on whether the design is compatible with their anatomy.


Color:

Pink / White

Length:

8"

Insertable length:

4 1/4"

Circumference:

4"

Diameter:

1"

Clitoral attachment shape:

Other

Weight:

1.4 oz

Functions / Performance / Controls:

This control panel for this toy is located on the plastic handle. There is a center push button that turns the toy on and off, and there are + and - buttons located on a circular panel around the power button, which allow you to scroll through the different settings this toy has.

The control panel lights up when the toy is in use, and the light brightens at higher speeds and flashes with the pulsation settings.

This vibrator has four speeds and three patterns of vibrations. In the clitoral arm, the vibrations can be felt the best in the pointed tip, which is great for those who like pinpoint stimulation. In the shaft, the vibrations can be felt throughout, but they can be felt the strongest in the tip.

The settings for this vibrator are:

1. Low intensity vibrations (1.5 vrooms)
2. Mid-low intensity vibrations (2 vrooms)
3. Moderate/average vibrations (3.5 vrooms)
4. Moderately high vibrations (3.5-3.75 vrooms)
5. Slow pulses
6. Mixture of short and long pulses (reminds me of Jingle Bells rhythm)
7. Quick pulses

You hold the push button down for approximately two seconds to turn the toy on or off. When you shut the toy off, it resets to the first vibration speed. The toy has no mechanism to remember what your last used pattern was. It is powered by two AAA batteries, which fit into the battery compartment located on the back of the toy. The toy does tend to go through batteries fairly quickly, and I recommend storing without the batteries inside to prevent draining. On a side note, I tried rechargeable batteries in this toy, which tend to be slightly larger in size than regular batteries, and I could not get them to fit.

The sound on this toy is relatively quiet and, even on the highest setting, should not be able to be heard through closed doors.

Functions:

Vibrating

Special Features:

Multispeed
Splashproof
Two motors

Control type:

Built in control pad

Powered By:

Aaa-2

Care and Maintenance:

This toy is pretty simple to care for. Because it is silicone, it is nonporous and can be cleaned with warm water and soap, toy cleaner, or toy wipes. It is compatible with water-based lubes, and you should not use silicone-containing lubes with this toy because they may damage it. For storage, be sure not to store next to silicone-composites, which will break down next to pure silicone.

Care and cleaning:

Soap and water

Packaging:

The packaging was pretty simplistic. There was a cardboard box with a molded plastic sleeve, an outer cardboard sleeve, and a thin piece of foam. The foam can be discarded, and all the other pieces can be recycled. The box could also be kept if you wanted to store other items, since the product markings are all on the sleeve.