California Exotic Body and Soul love bunny - Rabbit vibrator from California Exotic

Product Details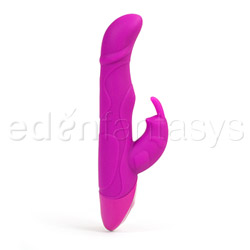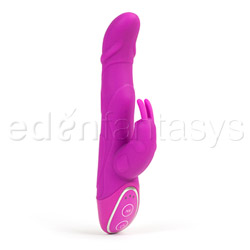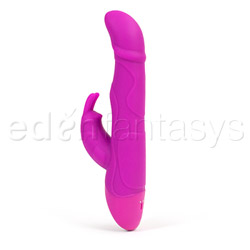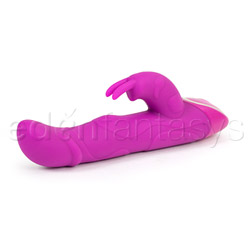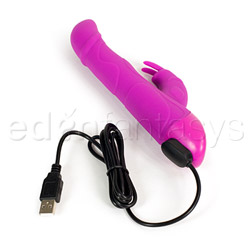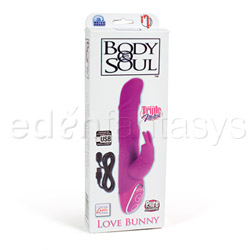 Summary:
Aside from the cons of buzzy vibrations and the charger not wanting to stay in place when needed I am pleased with the Love Bunny. I love the feel of the silicone and the texture that is provided as well. With the powerful vibrations even though they are buzzy I enjoyed this and had a good time in the shower!
Pros:
Silicone
Powerful
Rechargeable
Cons:
Magnetic Charger Doesn't Stay Connected
Buzzy Vibrations
Material / Texture:

Love Bunny is made out of silicone and ABS plastic both are body safe, latex free, hypoallergenic, nonporous and phthalates free. Being nonporous is a priority for many when it comes to shopping for toys, being nonporous means this bunny isn't going to soak in your bodily fluids, lubricants or soaps/cleaners when it comes in contact with them. Silicone is one of the best materials to use when it comes to toys because it can be sterilized when many other materials cannot be.

Silicone is scent free which is great because who wants a toy that is going to have horrible off putting smells to it? I know I wouldn't. The silicone used to make the Love Bunny has some plushness to it and is flexible so you can maneuver it how you need to. Not only is the shaft flexible the clitoral attachment is flexible as well. Being flexible the Love Bunny can work for more people.

When it comes to silicone material some of them have a drag which is pretty common among toys made out of silicone and well you guessed it, Love Bunny has some drag to him. If you experience a toy having drag like Love Bunny using a water based lubricant will get rid of that. You will find that the shaft does have some texture on it but it isn't rigid nor does it cause discomfort. Texture can help add stimulation adding extra pleasure. There is a raised bump in the middle of the shaft as well as ridge under the shaft before the curve all adding great stimulation.

The control panel is made out of ABS Plastic which is also nonporous an won't absorb bodily fluids, lubricants or cleaners. The controls are smooth and sleek looking.

Since the texture isn't over powering it would work great for anyone unless you enjoy rigid textures.

Material:

Silicone

Material safety

Texture:

Smooth

Safety features:

Food-grade material / Hypo-allergenic / Latex free / Non-porous / Phthalates free

Design / Shape / Size:

When it comes to the design I am pleased with it when I first saw it in the new products I knew it was something I had to have. Everything about it spoke to me from the texture to the design of the shaft. The Love Bunny came with everything most people look for when it comes to a rabbit style vibrator.

The shaft has some design/texture and a curve in the tip for G-Spot stimulation which worked great. The shaft is pretty slender according to Eden and the product page the Love Bunny has a girth of 1.5 inches when it is really a diameter of 1.25 inches. So it is a little more slender then the website here states. The clitoral attachment is around 3 inches long. Since there is about an inch to two inches that isn't insertable it works well for a handle, making it easier to move around where you need your stimulation to be.

The clitoral attachment is the traditional rabbit attachment with the 2 bunny ears to stimulate the clitoris and the little bunny nose.

Love Bunny is in no way discreet if you leave it out in the open whoever finds it unless it is a child will know its purpose. Easy to hide? I would say yes as you can slip it into a drawer inside a toy pouch an it would be hidden from people you don't want to see it. As for travel friendly depends on how you are traveling an if you care that it might get found. Being that is is almost 8 inches long it could easily be discovered in your luggage. If you are traveling by yourself in the car you shouldn't have an issue putting it in your luggage and going. Note though there is no travel lock so if your Love Bunny is charged it can accidentally get turned on if something pushes against its power button.





Length:

7 3/4"

Insertable length:

5"

Circumference:

6"

Diameter:

1 1/2"

Clitoral attachment shape:

Rabbit

The set includes:

Rabbit vibrator
USB cable

Weight:

8.25 oz

Functions / Performance / Controls:

Where oh where do we begin on this one?!

Let's start with the Love Bunny is power packed with not one or two but three motors and has 7 different functions. The placement of the motors is pretty awesome if you ask me motor 1 is placed in the tip, motor 2 is placed in the center of the shaft and motor 3 is placed in the clitoral attachment.

When it comes to powering the Love Bunny you won't have to worry about looking for batteries that fit, he is rechargeable! How awesome is that the charger is included with the Love Bunny it is a USB charger. With USB chargers you can either plug them into your computer, laptop or a USB wall adapter for charging, I usually just plug mine into my computer while I am working on it so it is ready to go when I am done doing work. The charger has magnetic connectors that connect to the little metal dots on the back of the control panel. Love Bunny has a super long charge time according to the CalExotics Website coming in at 8 hours to get a full charge. I found the charge to be shorter then that but then again time flies when you are busy. When charging you will see 3 led lights flashing in red, when you have reached a complete charge they will stop flashing and become solid red. Typically a full charge can get you an hour and a half on the highest speed worth of playtime. If you are one who enjoys lower speeds that extends your playtime before you will need to recharge which is a 3 hour window. Note that if you move around a lot when on your laptop you might not want to charge your Love Bunny while working since the connection comes apart easily. The Love Bunny cannot be used while charging as it doesn't power on.


Love Bunny's controls are pretty simple to use there are two control the On/Off button and the pattern button. These 2 buttons control all 3 motors inside the Love Bunny. With one simple push of a button you can power the toy on and with a simple push of the button again will turn him right off. If you have to turn off your Love Bunny in a hurry an plan to go right back to playing know that there is no setting that saves the last setting you used. You will have to scroll back through all settings to get to the one you were on. Reaching the controls while in use isn't hard just making sure you push the right button you need is the problem. It is very possible to hit the WRONG button in the heat of the moment.

If you like patterns this bunny is for you, there are 7 functions from steady vibrations to pulsation. Below is a list of the patterns.

1.)Lowest Setting of Steady Vibration is a 3/5
2.)Highest Setting of Steady Vibration is 4/5
3.)Pulsation Between All 3 Motors-Starts in clitoral attachment then goes to the middle motor to the motor in the tip
4.)Long Pulsation-Using all motors at once
5.)Pulsation-Short pulsations with a rotate pattern one motor pulsating at a time
6.)Pulsating between motors this happens randomly usually having 2 motors vibrating at the same time
7.)Fast Pulsation-all motors as once

There is some rattle and strong vibrations that could possibly be heard through a closed door so I would recommend making sure you had a radio on or some type of background noise. I don't believe it would be heard over the shower if you were to use it in there. Love Bunny's vibrations are on the buzzy side an could cause numbing if used too long on the highest or even the lowest speed. For something so small it does pack a good punch though. I would say overall it has about a 4/5 in the Vroom department and a 2/5 in the Buzz department.

As it is listed on the box and the product page Love Bunny is waterproof!! First time I used it was in the shower with no issues an he is still up an running strong. Most know I don't like water testing my toys but had to take one for the team and it passed thankfully because I like this bunny!!!




Functions:

Escalating / Multispeed / Pulsating / Three motors / Vibrating

Special Features:

Light indicators
Waterproof

Control type:

Built in control pad

Powered By:

Rechargeable / USB

Care and Maintenance:

Love your Love Bunny take good care of it and it will take good care of you!! Since silicone is one of the easiest materials to care for it won't be hard at all to care for this bunny! There are a few ways you can clean him up before and after each play session I will list them below. I will put an * by the ways you can sterilize your bunny.

1.)Antibacterial Toy Cleaner-Doc Johnson Antibacterial Toy Cleaner is my favorite toy cleaner to use. It smells amazing an leaves a clean scent behind.
2.)Antibacterial Soap & Warm Water-Rinse thoroughly and dry before storing
3.)Toy Wipes or Baby Wipes
4.)*10% Bleach Solution-Wipe down or soak your Love Bunny in a 10% bleach solution for a few minutes then rinse it thoroughly and dry before storing.

When it comes to the Love Bunny the 10% bleach solution is the ONLY way to sterilize it for sharing. I am sure you have read on here or other sites that you can boil silicone or toss it in the dishwasher which is true but you don't want to do that with the bunny. Why don't you want to boil or dishwasher your Love Bunny you might be asking, well there are motors inside an high temperatures can damage these motors thus killing your bunny. What good is a dead bunny? NONE so don't boil or toss your bunny in the dishwasher.

Lubricants that can be used with the Love Bunny varies I used Sliquid Water Based Lubricant. If you want to use a silicone lubricant which isn't really recommended make sure to spot test on a apart of the toy that won't be inserted into the body in case damage does occur.

Storing your Love Bunny is pretty simple you can use the box it came in if you wish but it won't hold up long. I would recommend putting your bunny and charger in a Ziploc bag or a toy pouch.

Care and cleaning:

Dishwasher safe / Soap and water / Toy cleaner

Packaging:

Packaging for the Love Bunny isn't what I expected from CalExotics since they usually use plastic boxes or clam shell packing. The Love Bunny comes packaged in a cardboard box, inside it is wrapped in a small thin pouch. The box has pictures of the Love Bunny on it so it isn't discreet at all. However, there is tons of information on the box itself on the back you will find how many patterns it has, how long it takes to charge and how long it will last on one charge. Without the box I would NOT have known how long this took to charge.

There is absolutely no instructions inside the box to let you know how long to charge, if it is possible to overcharge your bunny. Since I am unsure if you can overcharge this particular toy I would make sure not to leave it on the charger any longer then the 8 hours that it states it takes to charge.





When charging this toy and any of my other rechargeable toys I do like to know how long they are suppose to take to charge. When I don't know how long they are suppose to charge or how long they have already been charging I just check the indicator lights. When the Love Bunny is fully charged the LED lights will be solid so you will know for sure.

The box that the bunny arrives in isn't good for gift giving like I said it isn't discreet and will fall apart easily. Since the box is made of cardboard you can recycle it instead on throwing it in the garbage.

Experience:

For once I actually enjoyed toys in the shower, since there isn't much girth to the Love Bunny I was able to use my own natural lubricant for insertion. In the room I used a water based lubricant to help with the ease of things. Knowing I had no worries of water getting under battery caps or worrying something wasn't screwed on tight I hoped in the shower to play. I love the placement of all 3 motors just wish I was able to control them individually but I know that would mean tons more buttons which would make it not so very user friendly. Honestly I didn't expect it to pack that much power as I have been let down by a lot of toys from the CalExotic Collections. This is one of my fave bunnies in my collection of bunnies an well I have a lot of bunnies!!

I absolutely love that the Love Bunny is rechargeable because I don't always have batteries on hand. While I could always run out to the store to buy some it isn't always convenient to do so especially in the heat of the moment.

I was able to reach orgasm in no time even with buzzy vibrations, my clit prefers rumbly vibrations. I was able to feel the internal vibrations with no issues as well. One good thing about this bunny even though I can squeeze it with my hands an there are some thin parts the motors still keep going. I like that since my vaginal muscles tighten up a lot upon orgasm and some toys the motors stop til muscles let go!