NMC Ltd Bunny breeze - Rabbit vibrator from NMC Ltd

Product Details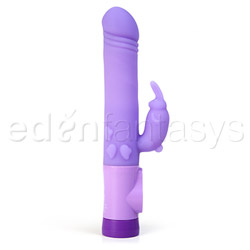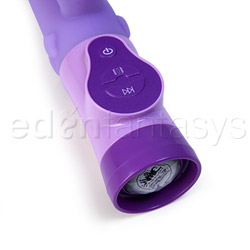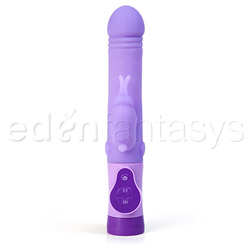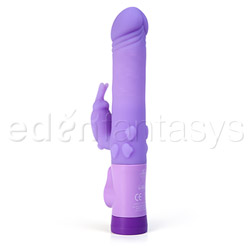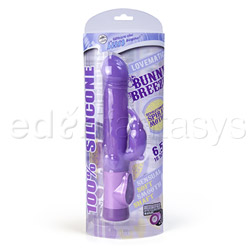 Summary:
A beautiful sleek rabbit vibrator, that can be positioned and used hands free, with embedded components that spiral will, at the least, bring you to a happy state of arousal with it's spiraling shaft, it may well even bring you to orgasm with added clitoral stimulation. Perfect foreplay toy but not mind blowing.
Pros:
A fun rabbit vibe with a unique spiraling motion in the shaft will have you squirming with pleasure.
Cons:
Just not strong enough in the vibe or the rabbit.
Best use:
This toy was as slow as a turtle, it's not on the high end of powerful rabbit vibrators. However, this toy has something going for it, the unique spiraling motions the vibrator offers are indeed an interesting experience. You can feel the duel motions and combined clitoral teasing makes for a nice build up of arousal. Perfect for those that like different sensations and great for beginners wanting to explore a rabbit vibrator, for more experienced players it may not be powerful enough. For those who do not need a large amount of stimulation to bring themselves to orgasm this may well be perfect.

It is not particularly suited for thrusting if you want to enjoy the sensations the vibrator provides and more suited to settling into a comfortable position and letting it do it's magic, thrusting tends to dissipate the intensity of the spiraling motions. It is shower friendly but not fully submergable so its not bath friendly.
Material / Texture:

The Bunny Breeze is three shades of purple, the base a dark purple where the battery compartment unscrews, a lighter shade of purple where the controls lie and a hard plastic area and the shaft section which is a lovely lavender color which is a soft velvety texture consisting of 100% silicone. It is non porous, phthalates free, hypo-allergenic food grade material and latex free. The texture of the shaft makes for easy insertion and has a gorgeous soft, velvety feel to it. It did not have any form of odor and according to the packaging information, which had a very small list about silicone, should not have any form of smell, it should be odorless. This toy passes the test.

Material:

Plastic

/

Silicone

Material safety

Texture:

Ribbed / Velvety

Safety features:

Food-grade material / Hypo-allergenic / Latex free / Non-porous / Phthalates free

Design / Shape / Size:

This vibrator is a decent size, nine inches in length, five inches insertable and 1 3/8 in width. The design of the vibrator is sleek and contemporary. There are a group of nubs down on the backside of the shaft near the clitoral area which I wasn't too sure about and they really has no use or were a part of the sensation fest so I am not quite sure what these were intended for except aesthetic purposes. It boasts a beautifully sculpted penis tip and has a ribbed area just under the head section. The shaft is straight and smooth, embedded in the shaft are stimulators which move in a spiral motion when running. If you squeeze this area with your hand you can feel the inside components that are designed to spiral but they are not intrusive if you decide to use this as a dildo without the vibrations running. The bunny also has a small rabbit that is simple in design, it looks like a bunny, even sports a small nub as a tail and has two ears protruding from the head of the clitoral section and houses a bullet which will run individually from the other controls.

Because of the way the toy works when the vibrator controls are in play it's more suited for positioning and lying there and enjoying the sensations the Bunny provides rather than thrusting.

There is also reference to a 'diamond encrusted base' which was a total hoot as there are no diamonds hiding in this toy just a pretty sparkly base where the bottom screws off for the batteries.

Color:

Purple

Length:

9"

Insertable length:

5"

Circumference:

4 1/4"

Diameter:

1 3/8"

Clitoral attachment shape:

Rabbit

Weight:

11.5 oz

Functions / Performance / Controls:

The bunny takes 4 AAA batteries and the compartment is at the base of the toy, easy to unscrew, slip out the battery compartment, and pop it in and ta-dah, a working vibrator. It works totally fine with rechargeable batteries as well.

The shaft functions are designed to give an internal sensation like waves rolling through your vagina, which it does but it is more subtle than mind blowing. It has an on/off button which switches the toy off straight away, a three setting vibration/spiral function, one spiraling motion is slow, the second faster and the third it stops and starts with spiral motions in between rests. The clitoral part has it's own separate buttons and has two speeds, high and low.

It is not an overly strong vibe internally. If you relax and position it, you can have it in positions where it has a nice vibrating effect and heightens arousal. The clitoral vibe is not overly strong either and just really didn't have the extra ooompph it could perhaps have.

The controls are easy to use and I didn't have any issues with accidental knocking them whilst playing. It's relatively quiet which is a bonus as a lot of rabbits tend to have loud motor noise, this wee darling didn't.

It is shower proof but does not sport a rubber ring that is common on 100% waterproof toys that can be used in the bath. It works fine in the shower and is safe to be washed under running water just do not submerge.

Functions:

Rotating / Vibrating

Special Features:

Control type:

Built in control pad

Powered By:

Aaa-4

Care and Maintenance:

This vibrator is simple and easy to care for, wash with hot soapy water to clean after use or use a toy cleaner. you can place this in the top section of the dishwasher as well. Use water based lubricants only not silicone based as the shaft is silicone. It is not a problem in regards to being a lint bunny and you can store it in the packaging it came in or invest in a pouch of your choosing for the vibrator.

Care and cleaning:

Dishwasher safe

Packaging:

The Bunny Breeze comes set inside a plastic insert which encases the vibrator and then it is slipped inside an outer plastic container on which houses the relative marketing material, the name and sparse information on the actual vibe. There are no instructions with the vibrator but there is a small image on the bottom backside of the packaging that shows the batteries required. Each end of the outer casing is open so it can easily be slid in and out of its shell. It comes with no storage pouch, so basically you have to get one for it or use the packaging as a storage container which is quite bulky. The packaging is clear, transparent plastic so there is no being discreet with this toy.

Experience:

The design is great, easy to use BUT it's just not strong enough which is disappointing as I do like the general design and concept of the vibrator. It would actually be a damn interesting bath toy IF it was 100% waterproof and submersible but it's not. Even though it didn't bring me to screaming orgasms it did push me into a high state of arousal and left me needing to finish myself off with other nearby toys. Perfect beside toy for those cold nights... or hot, when you are alone and want to settle down into the sheets for a hands free romp whilst reading hot and steamy erotica.

The batteries have lasted an extended session as I was determined to see if it could bring me to orgasm but no joy. I would recommend fully charged batteries to get the most out of the shafts components.