California Exotic Calla lily - Rabbit vibrator from California Exotic

Product Details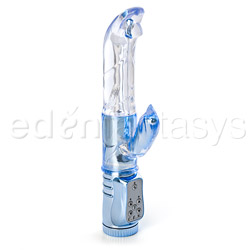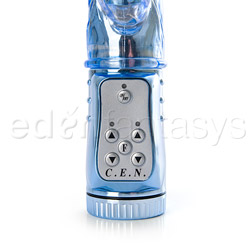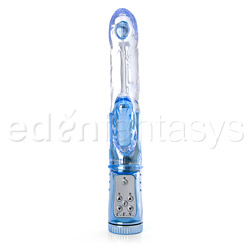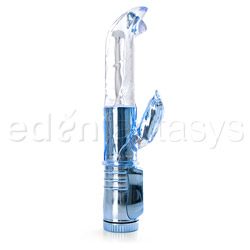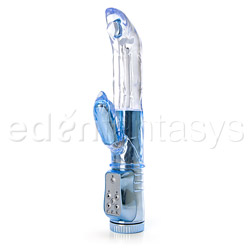 Summary:
Does the idea of putting toys shaped like smiley-faced animals near your genitalia kill your girl-boner? The Calla Lily is a beautiful alternative to the plethora of cutesy creature-shaped rabbit vibrators out there. It has 8 speeds each of vibration and rotation, and 2 additional pulsation functions. It is waterproof, so don't be afraid to take the Lily in the shower or bath. With its soft, pthalate-free TPR and strong vibrations this vibe is sure to put the smile on *your* face.
Pros:
Soft material, strong clitoral vibrator, controls are easy to use.
Cons:
Weak rotation, indicator light is blindingly bright.
Best use:
The Calla Lily is a rabbit-style vibrator, meaning that it is designed for simultaneous internal and external stimulation. It has a strong bullet vibrator embedded within a soft clitoral stimulator, and a rotating shaft that has a tiny bullet in the tip. It can be pleasurable while stationary, or you can use it to thrust or rock your way to orgasm.

With a bit of lube (and perhaps a bit of warm-up with the clitoral stimulator alone), this vibrator slips right in. The controls are easy to use when enjoying this toy solo as the buttons are slightly raised. Use the variable-speed shaft rotation and pre-programmed patterns for internal stimulation, and the multi-speed bullet on your clit. The shaft is slightly curved for g-spot stimulation. If your partner wants to get involved, it's plenty of fun to hand it over and thrust against it.
Material / Texture:

The Calla Lily is made out of thermoplastic rubber (TPR) and has a very slight smell that is somewhat fruity, and somewhat chemical. It is only noticeable when the vibe is held up to your nose, and fades with washes and time.

The TPR is soft and pliable, and while it does have slight texture in the form of calla lilies on the shaft, it is not noticeable during insertion. Both the shaft and clitoral stimulator have pointy-looking nubs at their tips, but because of the softness of the material they aren't actually uncomfortable. The nubs at the tip of the shaft seem to reach out for the g-spot.

Without lube, the TPR material is sticky, so the use of TPR-safe lube is recommended to make insertion easy. It may also be advisable to use a small amount of lube on the clitoral stimulator for your comfort.

Material:

TPR

Material safety

Texture:

Smooth

Safety features:

Hypo-allergenic / Latex free / Phthalates free

Design / Shape / Size:

This is a big toy. It has an overall length of 10", making it difficult to store discreetly.

The plastic base has ridges to make it easy to grip, even when your fingers are covered in lube.

The shaft is large without being too thick for most users. It is also very long, and could be too long for those who find that they have a shallower vagina. This can be a problem not only because the tip misses the g-spot while the clitoral stimulator is in use, but for some women the shaft may not make it in far enough for them to use the clitoral stimulator at all.

The good news is that the clitoral stimulator is very flexible, and that it is cupped at the area of contact, meaning that it should work at any angle as long as you can make contact with it.

The battery pack is well-designed as it comes out of the base completely, making it ridiculously easy to change the batteries. The very bottom of the base screws on and is sealed by a black o-ring, meaning that this toy is suitable for use in the shower if not in the bath.

Color:

Blue / Clear

Length:

10"

Insertable length:

5 1/2"

Circumference:

4"

Diameter:

1 1/2"

Clitoral attachment shape:

Non-animal

Weight:

9.5 oz

Functions / Performance / Controls:

Maybe I mentioned once or twice that the vibrations were strong. This needs to be repeated. The vibrations are STRONG. At least the ones coming from the clitoral stimulator. There are 8 speeds, and the control for the clitoral stimulator also controls the tiny bullet in the tip of the shaft. Each speed causes the tip of the clitoral stimulator to flicker back and forth so fast it looks like a blur.

The shaft rotates at 8 different speeds, none of them terribly strong. The tip of the shaft simply wobbles in a roughly circular motion.

There are six buttons on the control pad: an on/off button, two pairs of unlabeled up/down buttons, and a button simply marked "F". Yes, "F". The on/off button turns the whole toy on and off. One of the pairs of up/down buttons controls the vibrations, while the other controls rotation. The "F" on the F-button stands for "function", and pressing it while the vibrations are on will cycle you through the two pulse settings (one slow, one fast) and then back to constant vibration. Pressing the F-button while the rotation is on will cycle you through the rotation patterns (two rotations and then reverse directions, half rotation then reverse directions) and back to constant rotation.

The on/off button and both pairs of up/down buttons have lights to let you know which functions of the toy are currently on. The lights are red and BLINDING. It's like they put lasers in there. They may be a little bit difficult to look at straight on, so be careful not to hurt your eyes.

Functions:

Escalating / Pulsating / Rotating / Vibrating

Special Features:

Multifunction
Multispeed
Pulsating
Waterproof

Control type:

Built in control pad / LED indicators

Powered By:

Aa-3

Care and Maintenance:

TPR is porous, so please be sure to wash this toy between uses with soap and warm water. You can also use a toy cleaner, but it is still a smart idea to rinse it off afterward (do you really want toy cleaner chemicals in your vagina?). It can never be completely sterilized, so please don't share it with anyone without covering it with a condom first. Don't try to boil it as it will melt!

TPR can be a finicky material, so store the Calla Lily away from other toys, and keep it put away to make sure that it won't get covered in lint. It is generally a good idea to remove the batteries from all vibrators between uses as it prolongs the lives of both the batteries and the toy.