Evolved Dream maker heavenly dolphin - Rabbit vibrator from Evolved

Dream maker heavenly dolphin videos
Product Details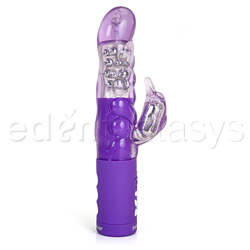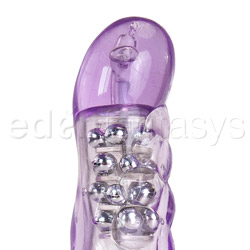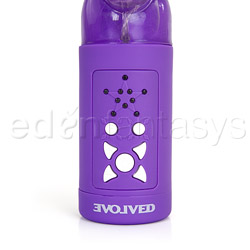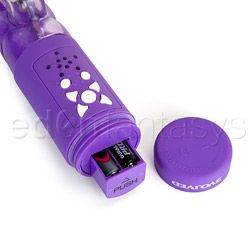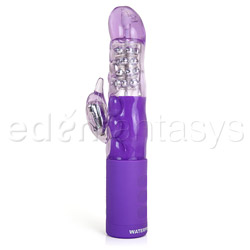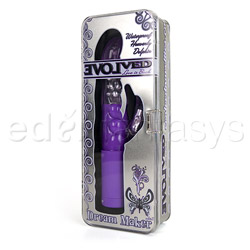 Summary:
This dual action vibe offers not only clitoral vibrations but a thick shaft that houses four rows of non-stick, rotating beads. The Dream Maker Heavenly Dolphin is a fun vibrator that will fulfill the needs of women looking for mild vibrations and continuous rotations, all the while providing a fun LED light show.
Pros:
Variety of features and functions.
Cons:
Does not offer powerful vibrations or rotations that massage the vaginal muscles.
Material / Texture:

Made out of squishy, odorless tpr, this vibrator fulfills a variety of material roles and wishes. TPR is compatible with both water-based and silicone lubricant, it is also fairly hygienic as it's pthalates-free but unfortunately, it is a semi-porous material so condoms are recommended if you are sharing this toy between partners.

The shaft of the toy offers a shaft comprised of one slick, smooth side whereas the opposite side (the one facing toward you in use) is comprised of large bubbles that start at the base of the clitoral stimulation and continue up past the rotating metal beads. This "bubbling" creates a toy that feels much larger than its 5 1/4" circumference.

Material:

TPR

Material safety

Texture:

Bulged / Smooth

Safety features:

Hypo-allergenic / Latex free / Phthalates free

Design / Shape / Size:

The Heavenly Dolphin offers a 5 1/4" circumference as well as a 1 3/4" diameter that is not for the feint of heart.

The tip of this vibrator is designed with an upwards curve intended to partially stimulate the g-spot when inserted and thrusted. Following this curved 1" tip, are 4 rows of beads which take up a total 3" of the shaft. Once past the beads, the shaft expands a little due to the bulging of TPR as it travels another 1" down toward the clitoral stimulator.

A 5" insertable length is not overwhelming and many users may appreciate a toy that doesn't hit their cervix or just comes close to it. However, the total 9 3/4" length may feel too cumbersome, too bulky, or too heavy for some.

Color:

Purple

Length:

9 3/4"

Insertable length:

5"

Circumference:

5 1/4"

Diameter:

1 3/4"

Clitoral attachment shape:

Dolphin

Weight:

0.5 lb

Functions / Performance / Controls:

Promising 600 combinations of speed and function, the Dream Maker Heavenly Dolphin yields positive results for those not requiring powerful vibrations or powerhouse rotations. However, for those seeking a Hitachi-like motor will find this to be a vibrator that is hard to orgasm with.

Besides the lack of vibrations, this dual action vibrator falls short on a lot of counts.

First, the rotating beads are hard to feel unless you squeeze your vaginal muscles as tightly as possible. While in a clenched fist the rotations present power and a true ability to massage muscles, once the vibe is inserted they become incredibly lackluster. The positive is that the beads never stick or stop rotating, so for those who have tight vagina's with "iron man" like strength will notice that the rotations have the ability to keep spinning, even during orgasm. The beads also have the ability to rotate in a variety of directions and patterns as well as have their level of intensity increased or decreased.

Second, the mini-bullet clitoral stimulator working well is dependent upon each user's anatomy. Some users may note that it does not sit well against the clitoris or cover a fair majority of it. Others may notice that the flickering nose of the dolphin is not beneficial unless they position the vibrator so that it is not fully inserted.

And while these negatives will outweigh the positives for some users, there is still much good to be had with this thick and dreamy vibe.

Thankfully, the Heavenly Dolphin is virtually silent. With both the clitoral vibrations and shaft vibrations, this 4 AA powered vibrator stays quiet throughout any and all masturbation activities.

This vibrator is also waterproof which is surprising seeing as it offers a very funky, star shaped LED light show. The fun blue light display is interesting to watch, however, many users won't be able to see is as the vibrator will be nestled between their thighs during use.

Best of all, this is a relatively easy vibrator to use. There is a center on/off button located conveniently on the front of the base as well as seperate function buttons for the rotations and clitoral vibrations as well as seperate + and - buttons to increase and decrease intensity levels for both functions.

Functions:

Escalating / Multispeed / Pulsating / Rotating / Two motors / Vibrating

Special Features:

Light indicators
Waterproof

Control type:

Built in control pad

Powered By:

Aaa-4

Care and Maintenance:

TPR cannot be boiled. Instead opt for soap/water or a toy cleaner to disinfect your toy before and after use. As it's waterproof, this not just splash-proof so it truly can get a good wash in your sink.

TPR is compatible with both silicone and water-based lubes so users will be able to use their favorite lubricant with this toy, no matter what it's made out of!

Packaging:

Evolved has packaged the Dream Maker Heavenly Dolphin in their classic metal tin but there's a twist! The front of the tin box is hard plastic which makes this a package that can be stored amongst or under other sex toy boxes. Some users may have experienced Evolved's classic tins bending or warping if dropped or stepped on, but this new packaging design eliminates any risk of damage towards the box or the toy.

Personal comments:

I really expected more. For the near $70 price tag, I was hoping to find a vibrator that was powerful and offered out of this world rotations that provided a deep, sensual massage for my vaginal muscles. Instead, what I found was a vibrator that could not bring me to orgasm, even after an hour of use. A good thing is, it never got hot during my extended session but I don't want a toy that I have to spend minute after minute using; I want something quick and easy to get off with!

I gave myself 4 weeks with this toy in hopes that it would change my negative opinion but use after use after use only left me feeling frustrated and wishing for different features and functions. I highly doubt this offers 600 different combinations as I seemed to encounter no more than a dozen. Yes, it offered a lot more variety than most toys on the market but it didn't blow me away.

I was impressed with the fact the rotations didn't go in just one direction but a multitude of them and I was also impressed that I could adjust their intensity, but a great toy is an ovreall culmination of features. And overall, this just wasn't a great toy for me. I highly believe it would be for sensitive users but at this point in time, I want vibrations over "a lower level intensity that provides light stimulation but can still be felt in most internal and external spots".