Best use: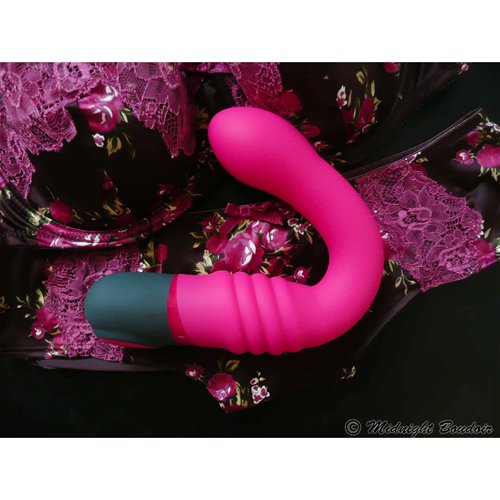 The Dorcel Joypad is a uniquely designed sextoy ideal for most women, as it has 2 powerful motors to stimulate the G-spot and clit simultaneously; it's ideal for women who enjoy rabbit style vibrators.
Many women complain that some rabbit style toys do not fit their bodies correctly. This is why Marc Dorcel, the famous French porn producer, has designed a glamorous range of sex toys, including this Joypad, to fit a woman's anatomy. The Joypad reaches both the G-spot and clit at the same time and, once inserted, it allows hands free play for other exciting things.
It will stimulate your whole vaginal area, and the vibrations are powerful enough to feel all through your pelvis. Even though I feel beginners will enjoy this toy, it may be a little on the girthy side for a first toy. So, it's maybe advisable to try a rabbit style toy first to see if you enjoy the double stimulation.
Girls who are new to G-spot stimulation may enjoy the Joypad, as it enables you to angle the head easier with the curved design, as well as giving full control over the type of vibrations that will be against the G-spot. This amazing toy gives you both internal and external stimulation at the same time; heaven in a toy, girls.
Material / Texture:

I loved this gorgeous cerise pink Joypad, which is made of 100% flexible, but firm, supple silicone (both latex and Phthalates free). It doesn't smell and is extremely silky smooth to touch.

Thanks to its flexibility, this toy can easily be adjusted to suit your body, while still giving that more solid fullness inside needed for your G-spot stimulation.

The whole shaft is silky smooth until you reach the clitoral area, where you have 4 deep, softly rounded ridges to give extra stimulation to your clit.

Material:

Silicone

Material safety

Texture:

Ribbed / Smooth

Safety features:

Food-grade material / Hypo-allergenic / Latex free / Non-porous / Phthalates free

Design / Shape / Size:


This unique design is a fantastic innovative idea. The Joypad is shaped like a bent vibrator: if you can, imagine a straight, standard vibrator that is semi realistic, with neck and head of a penis but without the detailing, which has then been bent into two...sorry guys, I felt you cringe then.

Measurements
If stretched out, this vibe would be 13.75 inches long, so you insert this toy as far as you are comfortable, and the Joypad bends round you till the ridges sit against the clit. The approximate insertable length is between 5.5 - 6 inches, and the circumference is 5 inches.

I loved the extra wide head, which has an above average width of 1.60 inches in diameter, meaning it could be a little wide for beginners. Once you have inserted it, the head sits snugly against your G-spot.

I found once the head is in, you get a slight popping feeling once you reach the neck. The shaft is then only 1.23 inches in diameter and feels really comfortable and full inside. The slightly larger head keeps it in situ well and, once you have found the mode you enjoy, you can then use this toy hands free, allowing you to play with other exciting things.

Color:

Pink

Length:

13"

Insertable length:

4 1/4"

Circumference:

5"

Diameter:

1 1/2"

Weight:

1 lb

Functions / Performance / Controls:


The amazing design of the firm curve means the control pad and buttons are easy to access, and I found I was actually holding this toy like a joystick of a plane. You can then angle it further into your G-spot, thrust a little if you wish, scroll through the modes easily to find your favourite, or pull the arm firmly against your clit if you want more pressure. It's so easy to use, and it has an incredible variety of patterns for both external and internal vibrations.

Vibrations
The Joypad has 10 patterns and 5 incremental speeds of each mode; quite impressive at having 50 choices.

The base gently unscrews with a firm twist, and inside you have battery cartridge which is removable, enabling you to snap 4 AAA batteries into the well explained diagrams of each partition. No one can get this wrong...no-one. Screw the ends back together firmly and off you go.

The control panel has 4 buttons. Press + to start and click it 4 more times for maximum speed. Then you can play with your patterns by pressing the upper teardrop to scroll through your modes to find the one you enjoy most. A neat touch you find on most luxury toys is that you can click the bottom teardrop to go backwards, rather than scrolling through all 10 modes to find the one you want. It's easier to go backwards and forwards.

10 vibrations
1. G-spot vibration only,
2. Alternate clit and G-spot 1 second pulses, (Transitions).
3. 1 second pulse on clit, 2 short 1 long pulse on G-spot (Transitions),
4. 123 short pulses in both, 1 long in G-spot, (Transitions),
5. Both motors pulsing 2 a second together,
6. 1 long, 3 short in both motors together,
7. 2 medium, 1 long, 2 short in both motors together,
8. Deep single pulse for your clit every second, 4 short 1/2 second pulses and 1 long in the G-spot, (Transitions),
9. Deep rumbly vibration in both, rumbliest vibration and so powerful you can feel it through your pelvis,
10. Higher frequency faster vibration in both motors together,

Press minus and hold for 3 seconds when you wish to stop.

Power
I can honestly say these vibrations are low frequency, rumbly and powerful, and you are spoiled with an incredible mix of transitions. I can guarantee there will be something for everyone. It feels like the pulses are dancing to a tune: one even feels like the tango. If you are very new to using sex toys, you can even choose to have just the G-spot vibrations on, starting gently, You can then add 5 increments of speed to each of the 10 patterns at the press of a button.

Noise
The Joypad is so discreet it cannot be heard through a wall or door.

Functions:

Pulsating / Vibrating

Special Features:

Control type:

Built in control pad

Powered By:

Aaa-4

Care and Maintenance:

The Joypad is easily cleaned as it splashproof, but cannot be submerged in the bath or shower. Simply wipe with an antibacterial wipe and spray with a sex toy cleaner, then store away in its own box or a wide enough make-up bag. Do not store directly against other silicone toys as they will degrade each other.

Use your favourite water-based lube, with this being a silicone toy.

Care and cleaning:

Soap and water

Packaging:


The Joypad arrives in a large white box with an excellent graphic of the Joypad on the front; nothing more is needed. On the back you have a diagram showing you where the motors are situated. You have to remember the first language is French, so you need to look for the English explanations. But the diagram is all you need initially.

It's a large box, but it has to be because of the shape of the Joypad. It is also ideal for storage if you have the room.

Inside you have the gorgeous Joypad and a leaflet explaining how to use it and how it works.

Personal comments:

The Joypad can be used over the body. It feels gorgeous on the nipples, and laid on the back of the neck and down your spine, because the vibrations are low frequency: they are similar to a massager and can be used as such quite easily.

The guys don't have to miss out either, as you can wrap the Joypad around the upper part of the penis so he can feel both motors back and front of the penis. Under the frenulum is ideal for this toy.

Anal
I haven't even attempted this for anal as I am NO size queen, and will not be trying it; but those who enjoy larger anal toys may find this ideal for them, as the ribbed area will sit between the labia in girls and testicles for guys. There is no way this toy would be lost either: it would sit secure.

Special care must be taken to thoroughly sterilise in-between using vaginally, though.

Experience:

I love this amazing unique toy. I adore the shape and extra girth of the head; the design is perfect for me as it sits snugly against my own G-spot, transferring the vibrations perfectly. I have to rave about the amazing transitions, which feel absolutely incredible. I have tried a few toys with transitions, but not with this variety of pulses, escalations and vibrations in one transition. These motors are excellent quality and have been made to combine flawlessly together as they pulse between your clit and G-spot, teasing and tingling you to orgasm; It really is something else.

It's one of those toys that you can have a quickie and whack the vibes on fast on both clit and G-spot, or enjoy a longer playtime ending with a more intense orgasm...ohhh yes!

I can lie back and enjoy the Joypad hands, free enabling me to play with my partner. But I have found the best way to really feel these vibes is to sit up on a cushion and virtually ride this Joypad. It allows you to angle and press the shaft in further, stimulating your G-spot, and then you can also grind yourself into the ridges, stimulating the clit. Then I just add my favorite transition vibrations, which are easy to find and adjust on the control panel, and I'm ready to rock!

Wow, this gives the most intense incredible orgasms that I couldn't walk straight for over an hour...what a toy.


I now have my own Joypad when my partner is playing with his!