Digital Playground Pirates Katsuni's revenge of the sea rabbit - G-spot and clitoral vibrator from Digital Playground

Product Details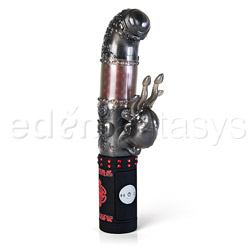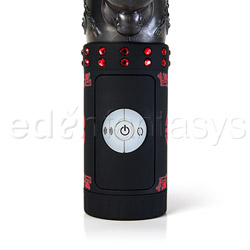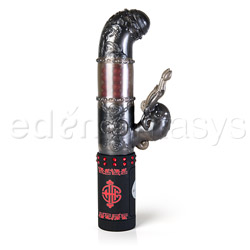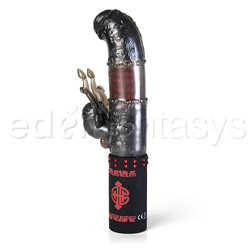 Summary:
Finding the perfect rabbit vibrator can be tough. It pays to know what you like when you're hunting for it. This is a great option for women who love girth, texture, firm g-spot pressure and a strong clitoral vibrator.
Pros:
Comes with satin storage bag, splash proof, pretty and intricate design.
Cons:
Function controls could be better, may be too thick or too strong for some.
Best use:
Katsuni's Revenge of the Sea Rabbit is a gorgeous version of the traditional rabbit styled, dual stimulating vibrators. It's got a great g-spot curve, rotating beads, a ton of texture and a very cool looking squid/cuttlefish/ Kraken/some aquatic animal with tentacles for clit stimulation. I'm going to assume it's suppose to be a Kraken because of the movie behind the toy. It's a lot cuter though.

The curved and textured shaft rotates against the g-spot while the four rows of beads continuously stimulate the sensitive vaginal walls and the Kraken's tentacles vibrate against the clitoris. The tentacles are split to provide a surround sound type stimulation around the clitoris and between the labia. You'll have to carefully position it or else you'll wind up having the tentacles slapping your clit, which may be painful for some. The vibrations are very strong and can cause numbing after a while, so you'll want to warm up a bit before you bring out this toy. Find a different toy for foreplay and use this for the main event.

This vibrator can be used alone or with a partner. It's a bit noisy so you might want to avoid it if you've got roommates or other privacy issues. It's splash proof, so it may work in the shower, but I wouldn't submerge it in a tub.
Material / Texture:

The shaft and clitoral stimulator are all made of TPE. I would say the texture is very similar to jelly, without having any of the nasty chemicals or cleaning issues associated with it. It's squishy and it warms up as you use it internally. There are a lot of intricate, raised designs all over the shaft of this vibrator that add tons of texture for increased stimulation. I did notice a slight odor, like new plastic, but it wasn't overwhelming or unpleasant. Just noticeable. It fades with each wash so I'm expecting it to be gone very soon. I think it was the plastic handle that had the odor, not the insertable portion of the shaft.

Material:

Plastic

/

TPE

Material safety

Texture:

Beaded / Nubbed / Ribbed / Smooth / Textured head

Safety features:

Food-grade material / Hypo-allergenic / Latex free / Phthalates free

Design / Shape / Size:

The tip of the toy has a sharp g-spot curve that is absolutely magnificent. The end is very firm and doesn't give or bend much when pressed, so you're getting plenty of firm g-spot stimulation while the shaft rotates. It's also got lots of texture, raised bumps and ridges that look like waves and other Pirate themed stuff. It adds a lot of wonderful sensation as it's spinning inside of your vagina. This is one of the thickest toys I own, at a 5 ½" circumference, so all the texture and rotation is very noticeable. You may find yourself needing to work up to the size.

Speaking of the vagina, the next part of the toy is designed to stimulate all of those sensitive nerves along the walls in the entrance to your lady bits. There are four rows of bright red beads inside of the center of the shaft that spin and pulse with the rotations. The rest of the shaft is decorated with raised skulls and crisscrossing chains. This is purely for aesthetic beauty because that portion of the toy can't be inserted due to the giant Kraken that's meant to vibrate against your clit. It juts out from the front of the shaft, in line with the g-spot curve. It's very, very flexible, wide and long, so it may be suitable for some women who have trouble enjoying other rabbit style vibrators.

The body of the Kraken is firm, round and contains a small buzzy bullet style vibrator. It has a cute little face and a symmetrical set of six tentacles reaching out to touch your clitoris. They're split down the center, so they're really meant to vibrate against either side of the clit. Like surround sound. Mine was a little bit off center so the tentacle kept uncomfortably slapping my clit. The vibrations in this thing are strong and my clit is sensitive.

Color:

Grey

Length:

9 3/4"

Insertable length:

5"

Circumference:

5 1/2"

Diameter:

1 5/8"

Clitoral attachment shape:

Other

Weight:

17 oz

Functions / Performance / Controls:

Digital Playground cut no corners when designing the handle. There are two rows of red gems circling the top and red designs on either side. It contrasts nicely against the solid black and gray. In the center there are three white buttons. The power button, which turns the entire toy on and off, is a circle in the middle, and then two arch shaped buttons circling that one.

The one on the left controls the buzzy vibrations of the Kraken. The one on the right controls the speed of the rotation of the shaft and beads. The clitoral vibrator has seven functions (low, medium, high, a roller-coaster, a slow pulse, a triple pulse, and a quick pulse.) The shaft has five functions (low, medium, high, a slow pulse and a fast pulse.) Even the low setting is pretty strong and it just gets better from there.

I really enjoyed the sensations of both the clitoral stimulator and the shaft rotation. My only issues are that you can only cycle forward through the functions. So if you find one you like and you move past it you'll have to go through all of them to come back to the one you like. There aren't that many functions so it's not too bad. Also, I wish you could turn one or the other off. As it is now you'll need to be pretty worked up to use it. By the time I was getting close to orgasm my vagina and clit were numb from the strength of the vibrations. If I had some time to work with the g-spot curve before I turned on the clit stimulator it would have been perfect. If you need that much horsepower to get you off this would be a great toy for you.

It runs on four AAA batteries and it is strong. The battery compartment is pretty easy to work with. You twist off the base and there is a small, clear, plastic container that you place the batteries in. Once the batteries are in correctly you slip the container back into the toy and twist the cap back on. There is a clear o-ring around the battery compartment to prevent water damage, but the packaging states it's only splash proof. I wouldn't submerge it in the tub, but it should be safe to wash it in the sink and even use in the shower, provided the cap is screwed on tightly.

Functions:

Pulsating / Rotating / Vibrating

Special Features:

Multifunction
Multispeed
Rhinestone accents
Splashproof

Control type:

Built in control pad

Powered By:

Aaa-4

Care and Maintenance:

Cleaning is pretty simple. Wash with anti-bacterial soap and rinse with warm water, or use a commercial toy cleaner. You can't really sanitize this toy for sharing, but if you wanted to clean it a bit more thoroughly you could wipe it down with a 10% bleach solution. It's kind of thick and awkward, but if you wanted to try it anally it should be safe to do with a condom. The Kraken will prevent it from being sucked into your butt hole. Use lots of lube, any kind you prefer, and be careful. You can, and should, store it in the pink-lined, black satin bag that came with it. Every sex toy should come with a good quality storage bag. I think I might have been more excited about the bag than the vibrator!