Best use:
Lia is an amazing silicone vibrator by Cal Exotics that you can use for thrusting like a dildo, or you can just insert it and let the strong vibrations do the work for you. I personally turn Lia on and let it do the work for me of course, because when you have a good vibrator, why thrust? I wouldn't recommend twisting this toy once inserted because it would feel awkward.
The vibrations on this rabbit are great and really stimulate the clit and, of course, the vagina. The vibrations carry through to the attachment and shaft, and it's amazing! The size of this toy is not intimidating, and there are multiple vibrations that would be satisfying for a beginner or advanced user. I think this would make a great gift for a beginner, because there are so many settings, it's cute, and it's not a huge toy. It's great for an advanced user because the vibrations are strong.
This toy does not have a flared base, so it's not safe for anal insertion. The head of this toy curves just a bit, and the vein is right by that curve, so it hit my G-Spot just right. Just remember, everyone's body is different. You can't use temperature play (since it's silicone), but you can use Lia for shower time fun.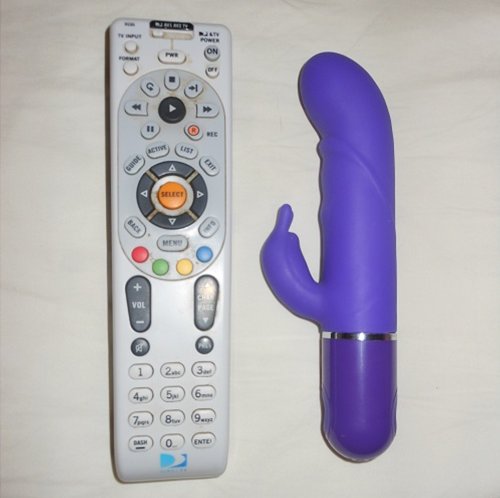 Material / Texture:

Lia is pure silicone, according to her packaging. Lia has no odor at all and doesn't retain odor, either. This toy feels really smooth, except for one vein on one side of the toy that runs half the girth of the toy. You can hardly feel the vein when it's inserted. There is no more texture aside from that, so this would be great for beginners. The vibrations are what make this toy for advanced users as well as beginners.

There is a slight curve to the head on this toy, so that makes it great for advanced users as well. This toy is flexible at the tip but I wouldn't bend it. Since Lia is silicone and can't be sterilized, I would not recommend sharing it unless you're using a toy cover. You can't use silicone lubricant on a silicone toy (because it will erode it), but you can use any type of water based or natural lubricant.

Material:

Plastic

/

Silicone

Material safety

Texture:

Smooth / Veined

Safety features:

Food-grade material / Hypo-allergenic / Latex free / Non-porous / Phthalates free

Design / Shape / Size:

Lia really doesn't look like the real thing because its head is not shaped like a penis. There is one vein, and it's small width-wise (and not long, either). Girth-wise this toy is 1 1/4 inch around. If you're a size queen, you may want something bigger. To the size queens, I say this: the vibrations are really strong, so this is still a smart purchase for you. Length-wise, this toy is 4 inches insertable. The shape worked great for my body, because there was just a tiny curve on the head so it hit my G-Spot just right.

The clit attachment sits right on my clit. The attachment does not come off. It reminds me of a butterfly without wings, and the antennae sit right on your clit snugly, in a sort of hugging fashion. Lia's size is not intimidating at all, so it would be great for a beginner. It's the vibrations that make it great for advanced users as well, though. You can tell Lia is a sex toy, so it is not travel friendly. Lia is not a huge toy, and it can easily be stuck in a toy bag and hidden. Lia only comes in the color purple.

Color:

Purple

Length:

7"

Insertable length:

4"

Circumference:

4 1/2"

Diameter:

1 1/4"

Clitoral attachment shape:

Other

Weight:

5.5 oz

Functions / Performance / Controls:

Lia is push button operated, so it's very easy to operate. There are two buttons; an on/off button, and another button to sort through the vibration/pulsation speeds. If you wish to turn Lia off, then you can simply press the on/off button once. You don't have to press the off button multiple times to turn it off. If you want to turn Lia on, press the on/off button once. Once the toy is on, then press the other button once each time to sort through the vibrations/pulsations.

Lia has ten different rhythms/speeds: vibrate (high), vibrate (medium), vibrate (low), gradient burst, intermittent, surge, inta-surge, even step, roller coaster speed, and pulsate. Vibrate (high) is my favorite. I also love gradient burst. The vibrations on this toy are really strong. The vibrations carry through the entire toy. You feel them in the shaft and clit attachment very strongly. You can hear Lia under the covers, but not outside a closed door. If your roommate doesn't actually live in the room with you, then Lia is roommate friendly. Lia is waterproof, so don't be scared to use it in the shower or tub.

Lia does not guzzle batteries, either. Lia is run on 3 AAA batteries that are a pain in the butt to insert! There are battery instructions, but what helped me was looking at the inside of the toy. On the clear part of the toy where the batteries go, it shows what way to insert the positive/negative ends of the batteries.

Functions:

Escalating / Pulsating / Vibrating

Special Features:

Multifunction
Multispeed
Waterproof

Control type:

Push button

Powered By:

Aaa-3

Care and Maintenance:

You can use any silicone safe cleaner on Lia. You can also use soap and water or toy wipes. Lia is NOT bleachable because it is silicone and will erode. Lia isn't hard to clean, just make sure you clean the clit attachment thoroughly. Do not use silicone lubricant on Lia, because silicone lubricant erodes silicone toys! You can safely use any water based or natural lubricant. Don't store Lia with Jelly toys. If you must, then make sure it has its own bag, so it doesn't come in contact with jelly. This toy doesn't attract any lint, hair, or dust.

Care and cleaning:

Soap and water

Packaging:

Lia comes in a clear box that describes the toy and its functions. It's definitely NOT discreet, so if you have little people hanging around that want to open mommy's package, make sure to be waiting up for it. Or, you know, you'll have some explaining to do. This toy has battery instructions, but I found it easier to look inside the toy and see how the positive/negative ends of the battery were placed. The writing is really tiny, though, so put on your glasses if you wear them. I looked at the battery instructions and thought, "How informative! I'm going to just look inside the toy." You can use the plastic box as a storage container if you like, though! I love this toy…