California Exotic Petite couture Amorous - Rabbit vibrator from California Exotic

Product Details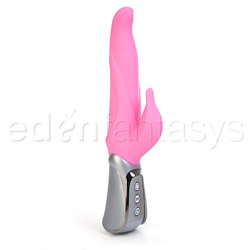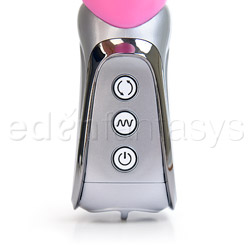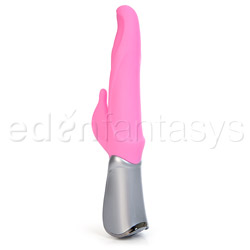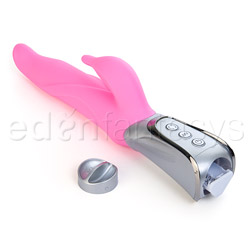 Summary:
My new found love! This is definitely a beginners vibe as well as a more advanced users vibe. The toy is made of quality materials, has a rotating shaft, as well as different modes of vibrations. The functions are great and the vibrations are more powerful than one would expect. Easy to care for and fun to use for a quick orgasm or simply to enjoy for a long solo session.
Pros:
Silicone, powerful, made me squirt, and it's pink!
Cons:
Rotation too light to be felt in the vagina, not really waterproof.
Best use:
The Amorous is a rabbit style vibrator for dual stimulation of the vagina and clitoris. It is meant to be used vaginally. It can possibly be used anally so that the vibrating part stimulates the perineum. It is safe to use this way since the toy will most obviously not be lost in the rectum.

The Petite Couture rabbit style vibes are for women who want a toy that has less girth and length than the regular Couture rabbit style vibes. So if you find regular rabbit style vibes too big for you this one might just work!

This can be used with a partner, he/she controlling the toys vibrations while you are laying back and just enjoying the sensations. It is a toy that can be enjoyed or used for a quick orgasm or simply to slowly build up an orgasm.
Material / Texture:

The Amorous is made of premium Japanese medical grade silicone and has a matte finish. It is quite soft and plush. It drags a bit so without lube it is really hard to insert this one. It has no smell or taste and the texture is smooth.

There are some ridges along the side of the shaft that connect at the tip of the shaft. During use they are barely felt. Personally, they didn't add or remove from the toy. The ridges are not extremely prominent so shouldn't be too hard core for those who are sensitive and tend to stay away from textured toys.

This rabbit style vibe can be for both beginners or more advanced users. I think anyone is able to enjoy silicone, which is a wonderful material whether you are just starting your collection or simply adding to it due to its wonderful properties of being phthalates free, nonporous and with adequate care can be shared.

Material:

Silicone

Material safety

Texture:

Ribbed / Smooth

Safety features:

Food-grade material / Hypo-allergenic / Latex free / Non-porous / Phthalates free

Design / Shape / Size:

This is a great vibe in terms of design for those who do not like toys with animals or insects on their vibes. The vibrating portion to me seems to be shaped like the bill of a duck.

The shaft stays pretty much the same width till about an inch and a half to the tip where it tapers in to a point. The tip sort of forms into a hook. The tip is about the width of my thumb where as the shaft is equivalent to two of my thumbs.

The dimensions for the toy are 9 1/2 inches long 4 3/4 of which are insertable and the diameter is 1 1/4 inches.

This toy is great for beginners but can also be just as good for a more advanced user who prefer less girthy toys.

Although it may be smaller than the regular couture rabbit vibes it is still a pretty big toy. This is probably not discreet enough to bring along for travel unless you have the space in your luggage. In terms of noise it is very discreet. It can barely be heard through my bed covers. It is less noisy than a 2 AA traditional vibe I use regularly. So for a rabbit style vibrator this is great, since they are usually very loud.

My partner thought it resembled a Star Wars light saber... I wonder what Star Wars movie he has seen because it doesn't look like one to me. He says the battery compartment makes it look like a light saber...her has a very beautiful imagination. However, I do think it has a futuristic look to it, especially with the blue LED lights of the buttons.

Color:

Pink

Length:

9 1/2"

Insertable length:

4 3/4"

Circumference:

4"

Diameter:

1 1/4"

Clitoral attachment shape:

Non-animal

Weight:

7.5 oz

Functions / Performance / Controls:

The vibrations are concentrated in the clitoral stimulator, the vibrations do not come from the base of the shaft but from the stimulator. The silicone transmits the vibrations rather well. During insertion while the vibrations of the clit stimulator work the silicone transmits the vibes so that they are felt on the clitoris as well as the opening of the vagina.

There are seven modes of vibration. The first three are constant vibes going from low, medium then to high. The four following modes are 1. pulsing 2. escalating vibration 3. quicker pulsing 4. three short pulses then a long pulse.

The end of the shaft rotates at three different speed levels which are low, medium and high. The rotations didn't do much for me. It might work for someone's g-spot but it didn't for mine. In fact I barely felt them. I attempted to clamp down on the shaft while it rotated but was afraid to damage it so I didn't clamp down hard enough to actually stop the rotations. I know that most nerve endings are in the first few inches of the vaginal opening so perhaps this is why it didn't do much for me. If you expect the rotations to be powerfully stimulating look elsewhere this toy will probably not satisfy you in that way.

The first button is a power button and will shut the vibe off quickly for instant discretion in case of emergency. Once its turned off and you turn it back on you must go through the modes back to your favorite setting. If you skip the mode you like you must go through them all to get back to the one you like. The second button controls the vibrations of the clitoral stimulator and the third button controls the shaft rotations. There are little patterns on the buttons so you know which is for what. So the controls are very easy to understand.

The battery compartment opens if you turn it about a 1/5 of a turn and inside is a little "EZ-load battery case" that can be taken out and put back in to change the batteries. It is fairly easy to do, I haven't had any problems there.

If the clitoral stimulator is used in conjunction to the rotating shaft the clit stimulator becomes less powerful.

Although it requires only 3 AAA batteries I found it was powerful enough for me, I usually stay away from 3 AAA batteries (they aren't as strong as 2 AA for me) since I don't have a recharger for this type of battery and I try to stay as eco-friendly as possible.

Functions:

Escalating / Pulsating / Rotating / Vibrating

Special Features:

Bendable
Light indicators
Multifunction
Multispeed
Waterproof

Control type:

Built in control pad

Powered By:

Aaa-3

Care and Maintenance:

This toy is easy to care for since it is made of silicone. Make sure to use only water-based lubes with this since silicone lube is a good way to destroy the toy (unless your intention is to destroy the toy).

The Amorous is said to be waterproof but it would be better not submerging the toy while cleaning it. Wash it carefully with the battery cap on and be careful not to get water on the handle of the toy as much as possible. It can be cleaned by using a 10% bleach solution. Otherwise you can keep it clean by using a mild soap or sex toy cleaner. I suggest letting it air dry since it will gather dust and hairs if you attempt to dry it with a towel.

It can be stored in the box it came in or simply in a little pouch if you have one. I keep it in my sex toy drawer in my bedside table.

Personal comments:

This is the first vibe I have ever tried with funky modes of vibration as well as a rotating shaft. It is the first rabbit vibe I have ever tried at all.

I haven't tried any as of yet because it is hard to find one that is made of silicone with all the little qualities that I am looking for. It is sort of scary to invest in something that might not work for your anatomy, which is another reason I have had a hard to choose what I want.

I am quite happy with the performance of this toy. It is overwhelmingly powerful (when the clit vibe only is used).

With a lot of reviews that I have read about the couture collection vibes similar to this one, I have recently found that water tends to get into the battery compartment. So I have not used it in the shower or bath. So buyer beware. If you are looking for a bath time buddy the Amorous is not a good option.

Experience:

I thought I would try it with my partner first but finally tried it on my own.

I was just shocked by how much pleasure it provided. I found that the silicone is thick enough and stiff enough that if you require more pressure you can simply push the stimulator harder on the clit. Or, if you like feathery type of stimulation you can pull it back a bit and let it flower the clit lightly.

The thing which surprised me the most was that it made me squirt like mad. I have never had a vibrator that could make me squirt without having my g-spot stimulated. I loved this toy right away. It took one use to know it was a new favorite.

I found that I preferred light feathery stimulation to squirt and required more pressure to orgasm. I tried the rotations and didn't enjoy them so I stuck with the clitoral stimulation only.

Also, I found that rocking the toy from side to side was really pleasurable as the toy moved from left to right over my clit.

This was my first rabbit vibe and it worked right away for me. It has quickly become a new favorite and my current go to vibe. I would definitely recommend this as a first dual stimulation vibe as it is easy to care for, the controls are easy to understand, but it's also made of quality materials. It is hard to find a powerful vibe that is not going to "kill" your vagina with chemicals.