California Exotic Precious Metal jewels the princess - Rabbit vibrator from California Exotic

Precious Metal jewels the princess videos
Product Details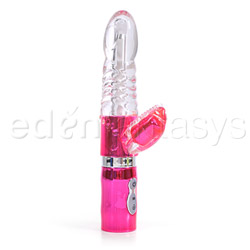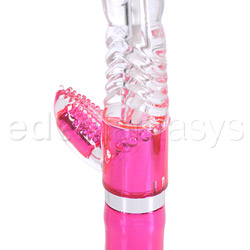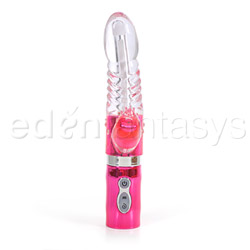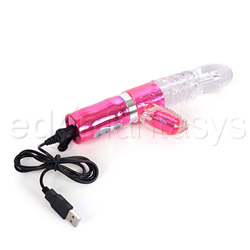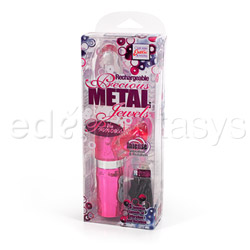 Summary:
While the Princess didn't work 100% for me, it is a great start to the world of rabbit vibrators. It isn't as powerful as I like, but the rotations feel great when the vibe is inserted.
Pros:
Rechargeable, affordable, multiple speeds.
Cons:
Rabbit arm was too short, buttons had a tendency to stick.
Best use:
This vibe is best used for internal stimulation. It has a small arm that could possibly be used for clitoral stimulation, but was just a tad bit too short for this reviewer. This toy would work best for beginners, since more experienced users of rabbit vibes might expect more than this particular vibe can give. This toy is a good start for those unsure of which rabbit vibe they need. It is affordably priced, the shaft rotates, and the vibe has several settings.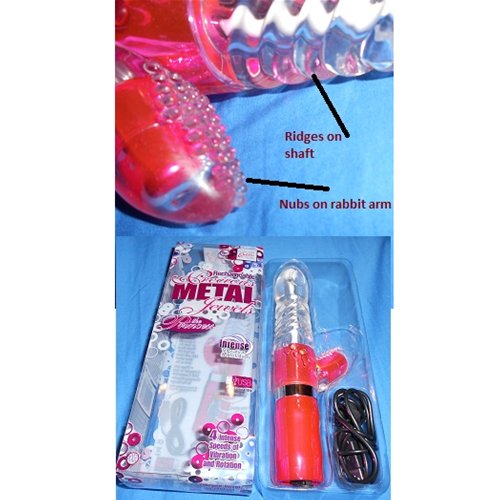 Material / Texture:

The Princess is made of TPR, which has a materials safety rating of 7. While this makes the Princess a safe toy, it is still recommended that when sharing that you cover the toy with a condom.

When this was retrieved from the box there was a slight smell to the entire toy. The smell was completely gone after washing it and allowing it to air dry. The material itself is very smooth. The shaft of the vibe has ridges and bumps, which were very hard to feel once the toy was inserted. This texture can be good for beginners or even experienced users, but this reviewer feels that it would work best for those who are sensitive to textures.

Material:

TPR

Material safety

Texture:

Nubbed / Ribbed

Safety features:

Food-grade material / Hypo-allergenic / Latex free / Phthalates free

Design / Shape / Size:

It had a somewhat realistic shape, while being artistic at the same time due to the ridges and bumps place along the shaft. The size and shape fit my body very easily. For those who are wary of using a rabbit for the first time, lube may help ease you into play with this vibe. The vibe itself is 8 1/2" long, with a 4 3/4" circumference. For those who have trouble picturing the circumference, look at a quarter and you have an idea of how round it is. With 4 1/4" of this toy being insertable, it should work for all users. The size of this vibe makes it harder to hide, but not impossible. This is not a discreet toy at all and may not be suitable for travel unless you have something to store it in.

Color:

Clear / Pink

Length:

8 1/2"

Insertable length:

4 1/4"

Circumference:

4 3/4"

Diameter:

1 1/2"

Clitoral attachment shape:

Non-animal

The set includes:

Weight:

0.5 lb

Functions / Performance / Controls:

The toy has very simple controls. It has 4 speeds of vibration and rotation. To turn the toy on press the power button and hold for a few seconds: it will turn blue. After this is done you can either press the top part of the second button which controls the rabbit arm, or the bottom of this same button which controls the rotations of the shaft. The buttons are easily reached, but the second button sticks a bit when pushing the bottom half to start or increase the rotations.

When the rabbit arm is turned on the vibrations are felt over the entire shaft, but are strongest at the arm itself. As you go up in levels on the rabbit arm, you can see that the tip moves more and more to stimulate the clitoris. The rabbit arm would have been better if the arm were a little longer; the shortness of this arm means it may not be usable on the clit for everyone. The arm has very buzzy vibrations that may not appeal to some people. The levels go from a low-low to low then to medium and high. It gave the sensation of skin crawling when placed directly on the clitoris without insertion on the highest level.The vibe is not waterproof, so be very careful when cleaning this toy. You should only use a water-based lubricant with this product.

The Princess is USB rechargeable. It can be plugged into any computer or USB compatible charging adapter to recharge. The packaging says 4 hours is recommended for a complete charge.

Functions:

Rotating / Vibrating

Special Features:

Light indicators
Multifunction
Multispeed

Control type:

Built in control pad

Powered By:

Rechargeable / USB

Care and Maintenance:

This is very easy to clean with soap and water, just make sure to completely clean the bumps on the rabbit arm to prevent any gunk from accumulating. Also, be careful not to submerge in water because it could cause the toy to malfunction.

Care and cleaning:

Soap and water

Packaging:

The Princess comes packaged in a clear plastic box with a plastic insert that houses the vibe. The packaging offers minimal storage options. There were instructions printed on the side of the packaging.

Experience:

After using this several times I have to say, as this is my first rabbit vibe, I am not impressed. While it does exactly what it is supposed to do, it was not satisfying for me at all. The rabbit arm is very buzzy and feels odd on my skin. The vibe feels great inserted, but I could not feel much variation in the rotations. I believe that if the rabbit arm were longer, as a whole the vibe would have worked so much better for me. While this particular vibe didn't exactly work as well as I had hoped, it won't stop me from looking for more rabbits that will work. I also had a problem with the bottom button sticking when I pressed it. I was able to get it unstuck after pressing it a few more times.

I am giving this vibe 4 stars instead of 5 because while it does work as it should, the rotations of the shaft have very little distinction between the levels, and the sticking buttons are a nuisance that could cause users to become frustrated with this vibrator.

Other