Evolved Serenity - Rabbit vibrator from Evolved

Product Details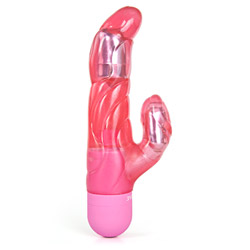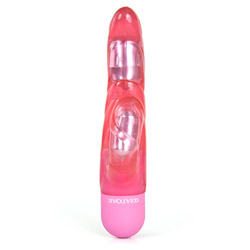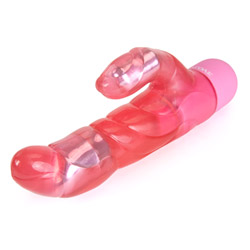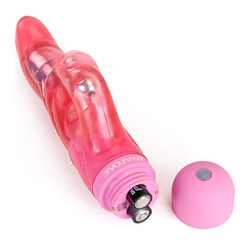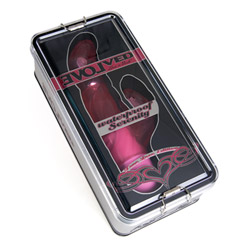 Summary:
The Serenity by Evolved Novelties is a dual action vibrator designed for simultaneous stimulation to your g-spot and clitoris. It's a bit on the girthy side with a diameter of 1 5/8" but the material is forgiving and not rigid at all. It's easy to operate and waterproof too! Not only does that make cleanup a breeze but it also makes for some interesting adventures in the pool, shower, bath, downpour, you name it! Just have fun doing it!
Pros:
Waterproof, phthalate-free, comfortable and easy to use.
Cons:
Lint and hair have a tendency to be drawn to this toy.
Best use:
Serenity is a rabbit style vibrator from Evolved's True Love collection. It's designed to stimulate your g-spot and clitoris simultaneously but the 5 inch insertable portion might make it hard for those with a shallow g-spot to achieve dual stimulation. In this instance, thrusting may prove to be more stimulating for your g-spot by allowing alternating stimulation from your g-spot to your clitoris.

Serenity is comfortable to use due to its flexible design which allows it to contour to your body. That means that this one would be suitable to use for some solo action or to allow your partner the privilege of using it on you. Either way it's sure to be a fun experience!
Material / Texture:

Serenity is made from TPR so it's flexible and soft which makes it feel surprisingly similar to Jelly. TPR lacks the chemically smell emitted by a lot of Jelly toys but it is not completely scent free. It does have a very light scent if you literally stick your nose to it, but it's not a bad one. It's a pretty inoffensive scent that isn't distracting at all and there is no taste to go along with the scent.

The shaft as well as the non-animal clitoral attachment of the Serenity, have a swirled design for added stimulation. The subtlety of the swirls combined with the softness of the material may not provide a very noticeable sensation for everyone. Those who are fairly new to toys or are very sensitive may be able to enjoy these swirls more than an advanced user would. The g-spot curve is very prominent and easily felt however.

Material:

TPR

Material safety

Texture:

Smooth

Safety features:

Hypo-allergenic / Latex free / Phthalates free

Design / Shape / Size:

The dual action design of Serenity allows for simultaneous stimulation both internally and externally via the curved g-spot design and well placed clitoral stimulator. With its 5" of insertable length and 1 5/8" diameter, it's sure to please a wide variety of users. It is a bit on the girthier side but the material is soft and pliable allowing it to have a generous amount of give when squeezed. That makes this one a good choice for those who are more familiar with toys but would like to try a larger size for the first time.

This one does have an overall length of 8 1/2" and weighs about a half a pound so it probably isn't an ideal choice for toting around in your purse but it can be concealed easily enough in a nightstand or dresser drawer. It is relatively quiet too because it's barely audible through a thick blanket and virtually silent from behind a closed bedroom door.

Length:

8 1/2"

Insertable length:

5"

Circumference:

5 1/4"

Diameter:

1 5/8"

Clitoral attachment shape:

Non-animal

Weight:

0.5 lb

Functions / Performance / Controls:

You will find no fancy bells or whistles with the Serenity but you will find an easy to operate toy that can accompany you into the shower or bath. That's because the Serenity has been designed to be waterproof. There is a thick O-ring were the battery cap screws onto the base and it does do an effective job of keeping moisture out of the battery compartment. It also floats, which is kind of neat, and also handy in the event that you happen to drop your toy. At least you won't have to go diving to retrieve it!

There are two separate vibrators to stimulate your g-spot and clitoris. There is one near the tip of the g-spot shaft and one in the clitoral stimulator. The one near the tip of the shaft is larger than the one in the clitoral stimulator and is also more powerful than the clitoral stimulator. The clitoral stimulator on the other hand, is quite a bit smaller and weaker but this could be a good thing for those with a sensitive clitoris. These vibrators work together and are not independently controlled. Also, there is no shaft rotation or rotating beads of any kind.

There is a single push button on the bottom of the battery cap to get things shakin'! You simply push the button to turn on the first level of steady vibration and push it again to cycle through the next two levels of speed. To turn it off, you simply push it a fourth time.

This vibe is powered by 2-AA batteries and the quality of the vibrations produced vary between the two vibration points. The bigger egg type vibrator near the g-spot tip produces a deeper vibration that isn't buzzy as opposed to the clitoral vibrator that leans a bit more toward the light and buzzy side. The battery life is good though and I haven't had to change them yet!

Functions:

Vibrating

Special Features:

Multispeed
Two motors
Waterproof

Control type:

Push button

Powered By:

Aa-2

Care and Maintenance:

Serenity is made from TPR which is less porous than cyberskin but more porous than silicone so it's recommended to always use a condom when sharing. TPR also cannot be sterilized so it should only be cleaned with antibacterial soap and water or your favorite type of toy cleaner. Only silicone and water based lubricants are recommended to use on your TPR toys.

You should probably store this one out of direct sunlight and protect it from touching other toys. That's easy to accomplish thanks to the included, metal storage container! It's such a neat way to store it! The lid is held closed by latches on each end. Undo the latches and the lid can then be lifted off. Inside, there is a nice padded, foam cut-out for your new vibe to await your next adventure together!

Care and cleaning:

Soap and water / Toy cleaner

Packaging:

The packaging for this one is fantastic because there's virtually no waste! That's because it comes packaged in its own metal storage tin! The only thing that gets tossed is a thin cardboard sleeve that covers this metal container. Of course, you could always recycle this cardboard sleeve so nothing ends up in the trash!

The case may not be entirely discreet because it has a cutout window that the Serenity is clearly visible through as well as several descriptive quotes about its functions but it will do an efficient job of protecting your new toy!

Personal comments:

Though this material is soft, please bear in mind that it is jelly-like in that it attracts hair and lint. It doesn't have a sticky texture, it's just more of a magnet for these things. At least it's easy to rinse it off because it's waterproof!

Experience:

My partner and I had a lot of fun with this one! He enjoyed using it on me and it never became uncomfortable, even when he wasn't getting the angle right. That's because the shaft is flexible allowing for some "error" during use. This is one that I've granted him permission to use on me because I know that it will flex if he gets a bit overzealous! I also found the girth to be very filling and enjoyable though some may prefer a smaller size. Just keep your body in mind and be aware of the size when deciding on a purchase to assure that you'll be happy with it!