California Exotic Spellbound stud double jack - Rabbit vibrator from California Exotic

Spellbound stud double jack videos
Product Details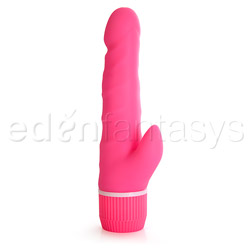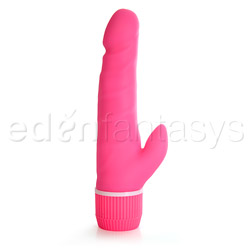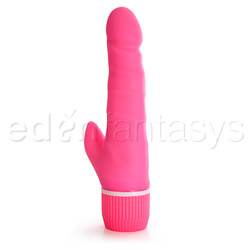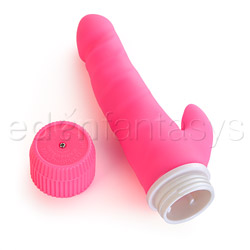 Summary:
Pretty rabbit 'studly' vibrator does the trick. The vibrations will have your hips a rockin'. It will cast its magical 'spell' upon you. A great vibration that gets the job done.
Pros:
Good amount of vibration, good for beginners, pretty colors.
Cons:
Not super silent, clit attachment not flexible enough for all, may not do it for advance users.
Best use:
This is a dual stimulator, rabbit style. It's best used for insertion and those who like vibrations both inside and on their clit. The toy is not overly large, so newbies would love this toy. There isn't a bunch of texture either, so I could see this working out really well for those who are looking for a good rabbit vibe. If the 'animal' clitoral vibrators that come on most dual vibrators creep you out, look no further. This has no animals.

The toy can be used during your special alone time, or if a partner likes to use toys on you.
Material / Texture:

The material is PVC, which has some drag, but is smooth. It is not sticky, nor does it pick up lint/hair. It is actually quite nice to touch. The smell/taste is a little off, but you have to have the product right up to your nose to smell it. The taste isn't bad enough to stop you from putting it in your mouth.

It isn't ribbed or anything, just a slight molding that makes the top of the insertable look like a penis head. Just slightly though, nothing that is scary looking. I would say that this would be a great addition if you don't like the realistic looking vibrators. The colors are bright enough to not freak you out if you dislike the fleshy colors that some vibrators/dildos are made with. The product says the texture is 'veined' but I didn't get the impression of veined.

Material:

Pvc

Material safety

Texture:

Smooth / Veined

Safety features:

Phthalates free

Design / Shape / Size:

This is a basic rabbit vibrator. It has a shaft and a clitoral attachment. It works for me, but I will say that the clitoral attachment may not work for everyone. It doesn't have much flex, so it may/may not work with your anatomy. I'm lucky that it happened to work with mine.

The size isn't intimidating. The measurements read as such-
Length: 7 1/4"
Insertable length: 4 1/4"
Circumference: 4 1/2"
Diameter: 1 3/8"

So it could definitely be used as a beginner rabbit vibe. It wasn't overly large to use, which is a huge plus. The turn dial which regulates speed is easy to get down for a beginner too.

The toy looks like a sex toy though, so no leaving it out on the bedside table when grandma's over.

As for travel? I don't see why not, it doesn't pick up things easily so just make sure you take the batteries out before throwing it in the carry-on.

Length:

7 1/4"

Insertable length:

4 1/4"

Circumference:

4 1/2"

Diameter:

1 3/8"

Clitoral attachment shape:

Non-animal

Weight:

4.5 oz

Functions / Performance / Controls:

The vibrations were pretty good. Nothing that will make the bed shake, but enough to get the business done. The vibrations travel really well through the shaft but I found that I had to turn the dial almost all the way to feel anything in the clitoral attachment. That wasn't a problem for me because I like strong vibrations, but if you like soft vibrations inside, you won't be getting clitoral vibration from this then.

The noise wasn't that bad for me. If you turned it on high without being inside of you, you can definitely hear the buzz. However once it is inside, the buzz is much lower. I doubt you could hear it through a closed door.

I personally don't like to use toys in the shower/bath, but I did submerge the toy and let it vibrate for a few minutes. It worked very well and no water leaked inside the battery compartment. So, feel free to go ahead and get wet and wild with this one.

Like I touched on before, the turn dial is simple and easy to use while actually using the toy. It doesn't have any special kinds of vibrations like some toys, just steady vibrations.

Functions:

Vibrating

Special Features:

Multispeed
Powerful
Waterproof

Control type:

Dial-base

Powered By:

Aa-2

Care and Maintenance:

Because this is made from PVC, feel free to use your favorite lube, water or silicone-based. Please use a condom if sharing since this toy cannot be sterilized, only cleaned. To clean it use warm water and some soft antibacterial soap. Really, this toy doesn't get very dirty so it is a dream to clean unlike some other products. The PVC is a wonder to clean!

I store mine in my toy bag. The packaging wasn't nice enough for long-term storage.

Packaging:

The packaging was simple, but this is a simple toy so I wasn't expecting anything magnanimous. It came with a small piece of paper that instructed you how to put the batteries in the toy. There wasn't any cheesy porn models on the box though which was nice. It was just a clear plastic box with the toy inside. Like I said above, nothing good enough to store long-term.

Experience:

Alright, to be honest I wasn't planning on liking this toy. The color intrigued me and that was pretty much the reason I got this. I am not a huge fan of rabbit style vibrators. The other one I own sort of turned me off of them. However I figured I would give this a shot and I am glad I did. I definitely advocate this to rabbit beginners. While I am not a newbie to sex toys, the rabbits just weren't that appealing. If you have felt the same, try this out and you may feel differently. I know I do. I think it is just about finding something that fits your anatomy. This fit mine really well. [Although, it may not fit yours. Remember, the clitoral attachment has some move-ability but not much.]