California Exotic The original personal pleasurizer - G-spot and clitoral vibrator from California Exotic

The original personal pleasurizer videos
Product Details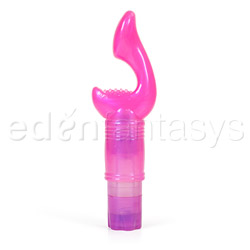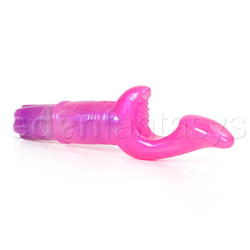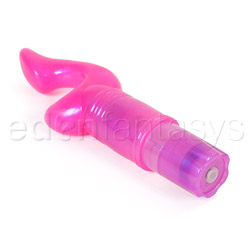 Summary:
Given the price, I wouldn't have expected much out of this toy. I was wrong, and pleasantly surprised by the powerful vibrations and the way it fit my body.
Pros:
Strong vibration, dual stimulation.
Cons:
Attracts lint, loud.
Best use:
The Original Personal Pleasurizer is intended for use by women, to provide internal and external stimulation at the same time. It is insertable and hits the G-Spot, and the textured area provides clitoral stimulation at the same time. It can be used alone or with a partner. It would work great for new and experienced toy users alike. Lately, I've been on a luxury toy kick, and I really didn't think this would stand up to any of the luxury toys, but I was very surprised.

We didn't try it, but the shape reminds me of some of the prostate massagers that I've seen. And given the shape of the toy it would be safe for anal use, so I don't see why that wouldn't be an option.
Material / Texture:

When I opened the package, the toy actually didn't look like what I'd expected from the pictures. A lot of them make the toy look almost translucent, and that is not the case. The functional part of the toy at the top is not translucent at all. The base is a little bit, though. The coloring of the toy is true to what the website depicts, but it's very iridescent, which is something I had trouble capturing in the pictures.



If you are new to toys, something like this might be a little intimidating, but it's very easy to use and provides a lot of stimulation. The part that provides the clitoral stimulation is nubbed, and the nubs provide a nice texture. The insertable part is about 2.75 inches, which is perfect for hitting your g-spot.

It's made of TPR which is slightly porous. It's recommended that if you are going to share this toy with someone else that you use a condom or toy cover. For cleaning, you just wash in warm water. It's compatible with silicone and water based lube. It's hypo-allergenic, phthalates free, and latex free. There is no noticeable scent or taste.

Material:

TPR

Material safety

Texture:

Nubbed

Safety features:

Hypo-allergenic / Latex free / Phthalates free

Design / Shape / Size:

I'll start by saying that I have a very hard time finding dual stimulation toys that actually work for me. If it isn't a size issue, it's a functional issue. That was another reason why I was skeptical about this toy. But this is a great alternative to the rabbit-type vibes that don't always have strong clitoral vibration.

The whole toy is about 7.5 inches long. As I mentioned before, the insertable part is about 2.75 inches, and the part that rests against your clit is about 2 inches long.



To me, this is a very universal size that would probably work as intended for most women. It's also flexible, but not floppy. It could stand up to firm pressure quite well. I actually had a hard time trying to hold the toy in this position with one hand in order to take the picture.



By no means is this discreet. I's very obviously a toy. It's small enough to hide, though, in a large purse.

Length:

7 1/2"

Insertable length:

2 3/4"

Circumference:

5 1/2"

Diameter:

2 1/4"

Weight:

0.3 lb

Functions / Performance / Controls:

There are three settings of vibration. On the vroom scale, I'd give them a 3, 4, and then 5. For noise, I'd give them all a 4. The vibrations are located in the handle, but up towards the toy. It's been a rare occasion that I've found a flexible toy that provided enough vibration to get me anywhere, but this one had such strong vibration throughout it that it did the job.

The toy operates on 2 AAA batteries, which you put in the base of the toy after unscrewing it.



It's operated by a button on the very bottom of the toy. You just push it up to 3 times to cycle through the various vibration settings, and then one more time to turn it off. It was a little harder to push it than I thought it would be, but it's better than on some other toys where you can accidentally push the button during play. That won't happen with this toy.

It is waterproof. I tested it in my kitchen sink, and then opened the battery compartment and it was completely dry.

Functions:

Vibrating

Special Features:

Multispeed
Powerful
Waterproof

Control type:

Push button

Powered By:

Aaa-2

Care and Maintenance:

One of the down sides to this toy is that it collects lint and fuzz almost as well as a Swiffer. Normally I keep things like this in a plastic bag, to keep them clean and separated from my other toys, but I had such a hard time getting it in the bag due to the nature of the material that I've just ended up tossing it in with the other toys. I have to clean it before each use.

Care and cleaning:

Soap and water

Packaging:

It came inside a box, and then was also inside a plastic bag. A little instruction sheet came with it, with an explanation on how to insert and remove the batteries.

Here is the front of the box:


Here is what it says on the back:


This is the bag it came in:


I had a really hard time getting that plastic off, because it was sticking to the toy. The box is fairly flimsy, and I don't think it would stand up to the test of time if you decided to use it for storage. There is no way I'm fighting it back into that bag to store it, either.

The package is not discreet in any way.