Fully customizable functions for more pleasure

Product Details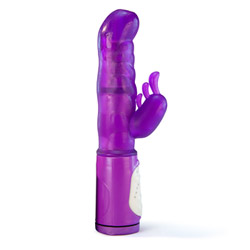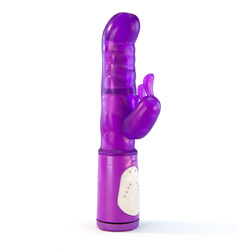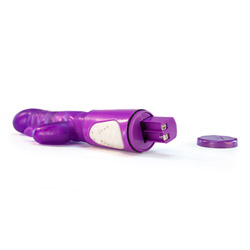 Summary:
This rabbit is not for the shy or timid. Experienced users or highly adventurous beginners will find something pleasurable with all the delightful features whether it's girth, multiple speeds, multiple functions, power, performance, LED light controls, or waterproof feature. The shaft's powerful speeds and rotating patterns is where Triple Tickler shines for me. And for all the power queens, look no further than this rabbit's clit stimulator - I promise!
Pros:
powerful; lots of variety; waterproof; LED illuminated controls
Cons:
clitoral stimulator noisy at speed levels 3 & 4
Material / Texture:

As noted in the product details, the vibrator is made of TPR which ranges from below average to just above average in material for body safety. The firmness ranges from soft and pliable to firm, rigid. TPR is somewhat porous, Phthalates free, non-toxic, latex free, and hypoallergenic. I highly recommend using condoms when sharing toys made of TPR because it's somewhat porous.

The purple material of Triple Tickler's shaft and clit stimulator is smooth and translucent. You can see the four rows of beads in the shaft and the bullet enclosed inside the clit stimulator. The tip of the shaft is solid and has a very slight give when squeezed as does the whole shaft. The the construction of the shaft under the surface material is rigid, it keeps the shaft firm so we can feel that shaft exquisitely rotating, and rotating, and rotating........

There was a very strong drag, pull on my skin as I tried to glide the vibrator across my arm. To stop friction, use lots of lube.

The rabbit's lower section is made of hard plastic and is smooth and shiny. Hard plastic is Phthalates free and non-porous.

There is no odor from the rabbit or the base/handle material. And both materials are not sticky to the touch. However, the material on the rabbit is a bit tacky. So lint, feathers, dust, bits of this and that, icky stuff - you get the picture, will stick to it.

Material:

TPR

Material safety

Texture:

Smooth

Safety features:

Hypo-allergenic / Latex free / Phthalates free

Design / Shape / Size:

Triple Tickler girthy shaft is designed with a rounded almost bulbous head angled at just the right degree for a slight bend. About 1 1/2" in length, the head is perfectly shaped to target your G-spot. Or, aim to pleasure your A-spot. The head is tapered at the tip which allows for ease of insertion.

There are very slight rolling bumps across the rotating beads evenly spaced on the front and down the length of the shaft, the same side the clit stimulator is attached to. I don't feel them at all. I think they are intended more for appearance than stimulation.

I measured the shaft:
Length: 9 3/4"
Length Insertable: 4 1/2"
Circumference: 5"

The body of the clit stimulator is a rather fat looking piece shaped around the encased bullet. Placed on the top along the length are three ticklers rising up, each increasing in size and length from the bottom of the stimulator moving up toward the top. So whether your clit is close or not so close to your vagina, one of them is sure to reach your pleasure spot.

The lower third of Triple Tickler is the handle and is where the controls and battery compartment are located. Unscrew the battery cap at the very bottom to insert 4 AAA batteries into a battery sleeve. Also, you'll see the O-ring that provides a waterproof seal between the battery compartment and the vibrator.

Tickler is a girthy rabbit with powerful multiple speeds and functions. The 5" girth may be too much for a beginner. All the various speeds and functions plus operating 2 separate controls may be more than a new toy user would want to begin their toy exploration with.

Color:

Purple

Length:

9 1/2"

Insertable length:

4 1/2"

Circumference:

4 1/2"

Diameter:

1 1/2"

Clitoral attachment shape:

Non-animal / Other

Weight:

12 oz

Functions / Performance / Controls:

The controls are located on the handle/base, and you will become familiar with them when exploring the delights of your rabbit. And it is fun! Both the shaft and clitoral stimulator have their own dedicated controls and have the same operations:

+ button to turn on and to increase 4 incremental speeds
- button to decrease speed and turn off
\/\/\ button to change functions

LED lights flash at the pace of each speed level and keeps beat with each rotation and vibration pattern.
And this is where the similarities stop.

Shaft - 4 rows of spinning beads rotates the shaft in 7 rotation patterns as follows:
1. right > left
2. reverse
3. short burst right > full rotation left
4. medium burst right > full rotation left
5. full rotation right > 2 full rotations left
6. 1/4 rotation right > full rotation left
7. 1/2 rotation right > full rotation left

Clitoral Stimulator - 7 vibration patterns as follows:
1. vibrating
2. pulsating very slow
3. pulsating slow
4. pulsating fast & rumbly
surging patterns are a combination of
varied pulsating patterns & bursts patterns:
5. surging pattern 1
6. bursts
7. surging pattern 2

The shaft rotations are strong, even at the first speed. And yes, I do feel a 'rotating sensation' - woo hoo! The clit stimulator vibrations are exceptionally powerful and intense. Any power queen is sure to love it. My sweet bits are very sensitive and even the first speed is too much for me unless I just lightly tap my bits. The rotation speeds are rather quiet while the vibrating speeds can reach a noisy level at 3 & 4. And if you're concerned about how loud it is, just turn on the stereo or TV.

Functions:

7 vibration patterns / Escalating / Pulsating / Rollercoaster / Rotating / Surging / Two direction rotation

Special Features:

Clit attachment
Light indicators
Multifunction
Multispeed
Powerful
Pulsating
Rotating beads
Waterproof

Control type:

Built in control pad

Powered By:

Aaa-4

Care and Maintenance:

Wash with warm soapy water and let air dry. You can also use toy cleaner or cleaning wipes made for sexy play clean up. Both water based lubes and silicone lubes can be used.

Be sure to store the rabbit separately from other toys to prevent any possible chemical reactions among materials. Other materials melting or bleeding color on Triple Tickler will leave it unsafe to use and should be tossed out. And be sure to store away from direct sun and heat.

To ensure the life of your batteries, be sure to remove when storing.

Care and cleaning:

Soap and water / Toy cleaner

Packaging:

Triple Tickler arrived in a solid shipping box with no identifying information that the package was from an adult products company.

Triple Tickler was shrink wrapped without any padding. There was no instruction booklet or product information.