California Exotic Wild orgasm pierced lover - Rabbit vibrator from California Exotic

Wild orgasm pierced lover videos
Product Details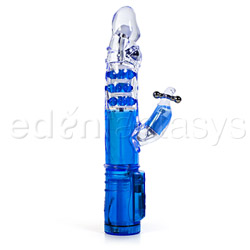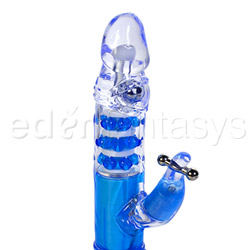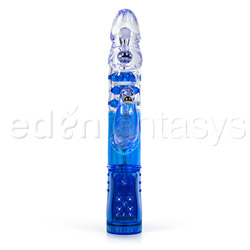 Summary:
All in all the Wild Orgasm Pierced Lover is a delight, even with the "floating" bullet it delivers functionality and strength. The beads are pleasurable and non-jamming to ensure years of fun!
Pros:
Strong rotations and vibrations. Lots of functionality and a sturdy design.
Cons:
The bullet isn't attached and might not send enough vibrations where you need it most.
Best use:
The Wild Orgasm Pierced Lover by Cal Exotics isn't your basic rabbit vibe. It's that one dangerous rock and roll bad boy you've been dreaming about since you were a teenager. He'd pick you up on his Harley even with the constant disapproval of your parents you couldn't help but want him.

If you're interested in a rabbit vibe with a little extra or you think the idea of vibes with piercings is kinda hot, you won't be disappointed in this one.
Material / Texture:

The sleeve of the vibe is a TPR which is a rubber polymer mixture. Out of the box there was no smell and it was soft and pleasing to the touch. I couldn't keep my hands off of it! It also had a slick feeling without being tacky or causing too much fiction on the hand. The material has a lot of "give" so it would be preferable for beginners and is heavenly with lube.

Within perhaps 5 minutes out of the box it did begin to attract lint and hair but wiping it down with a damp cloth remedy the situation immediately. This vibe is waterproof so a quick bath wouldn't hurt it one bit.

It features the classic rabbit head as well as a soft ridges and bumps on the shaft, nothing too hard or irritating and just enough to add to the experience.

Material:

Plastic

/

TPR

Material safety

Texture:

Beaded / Smooth

Safety features:

Food-grade material / Hypo-allergenic / Latex free / Phthalates free

Design / Shape / Size:

The Wild Orgasm Pierced Lover stands at 10" tall (WOW!) but only 5 and 1/4" of that is insert-able. It is 5" inches in circumference which roughly translates to 1 and 1/2" in diameter making it a "happy medium" or average toy. It seems very well crafted and is probably the best vibe and most high quality I own so far.

Being a rabbit vibe it is rather intimidating to non-toy owners and newbies but I believe it's a classic with a little bit of nod to the "alternative style" toy lovers. IE. The pierced and tattooed toy owner.

The head has some give and isn't too rigid which allows for EASY insertion shouldn't be a problem or catch or anything upon thrusting but I don't really thrust my vibes as much as some.

My one qualm with the toy is that the bullet free-floating in the TPR material so it would need to be held down for any strong vibration. If it was more attached I feel the toy would have been a complete home run. But this might not affect you at all, we are all made differently.

Color:

Blue

Length:

10"

Insertable length:

5 1/4"

Circumference:

5"

Diameter:

1 1/2"

Clitoral attachment shape:

Non-animal

Weight:

0.6 lb

Functions / Performance / Controls:

It features 3 amazing functions. Rotation, Vibration and my favorite of all Pulsation. It also features "anti-jamming" beads which I see as AMAZING, since my earlier rabbit died due to the beads jamming and burning out the motor. Oh, and speaking of motors, this one has TWO! It's a dual motor vibrator. Like all rabbit vibes it includes a bullet in the "rabbit" portion for clitoral stimulation and the standards beads and rotation.

This vibe offers so much more! It features a large bead in the shaft which targets a light g-spot stimulation along with the rotation adding a bit more "pressure" to the sensations. The rotation motor seems pretty sturdy.

Going to the plastic base with the remote, it features a standard on/off button as well as its 5 control buttons. The left and right arrow buttons on the vibe control the vibration and rotation levels going from 1-8 and with each level the "F" or function button cycles between:

1. A clockwise-counterclockwise medium alternation in rotation and a matching pulsation from the bullet.
2. The same as above but with a slower alternation.
3. The "default" setting which is a constant rotation and vibration.

The vibration and rotation levels can be adjusted to fit your needs. I think the rotation alone is amazing, the head hits all the right spots and the beads tend to tickle and massage you into sedation. Speaking of the levels the rotation motor is pretty strong but also can get quite loud and mechanical sounding at that high level of rotation. The vibrations on the other hand at best are nothing but a subtle hum. Nothing too clunky about it. Strong vibration and rotation.

Batteries are seated in what I would like to lovingly call a little "cart" which slides out as you open the compartment. It seats 3 AA batteries and seems to be very gentle with them, a little goes a long way. The battery case also includes a rubber O-ring which makes sure you won't get water into the compartment. My vibe also featured a very tight cap. Once its on you might have a bit of trouble getting it off, especially if you're like me and have a bit of a "death grip".

Functions:

Pulsating / Rotating / Vibrating

Special Features:

Multifunction
Multispeed
Powerful
Quiet
Two motors
Waterproof

Control type:

Built in control pad

Powered By:

Aa-3

Care and Maintenance:

Cleaning of this vibe is very simple. A nice bath of mild soap and warm water before your initial use and after playtime will suffice. It is compatible with water and silicone based lubes. It cannot be sterilized so please use a condom if you are interested in sharing this toy with a friend or just to keep the vibe prettier for longer.

The material is slightly porous and "slick" but not tacky. I keep mine in the original packaging barring me getting off my butt to make some toy bags. I don't even let my toys "play" with each other so I'd take caution if you're just going to throw him to mingle in the sock drawer.

Care and cleaning:

Soap and water

Personal comments:

I really enjoyed this toy personally and I can tell it will be my favorite. It is really beautiful and well made and the sensations and orgasms are out of this world! I was down on rabbit vibes but now I'm pretty interested in learning more.