Doc Johnson Crystal jellies ballsy super cock 7" - Realistic vibrator from Doc Johnson

Product Details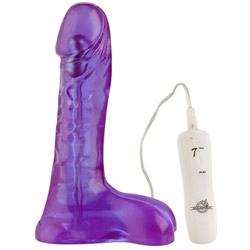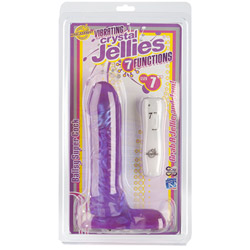 Summary:
Much like the 7" ballsy super cock, this toy is worth the buy. The thickness might be a bit much, but if you are ok with that, this toy is for you. It accepts universal controllers, it's powerful, it has multiple patterns of vibration, and really helps pleasing that part deep down you have trouble getting to. It is a good toy and it would be perfect if they just modified a few things. The purple color, I really liked because it's my favorite color. It lost one star for overall design flaws.
Pros:
Great functions, realistic, veined, universal plug, vibrates
Cons:
A bit big on the width, will not stand on its down, no suction cup to mount with, bad cord placement
Best use:
This toy is designed mainly as a toy to be used by a woman for solo enjoyment. It is best used on a flat, hard surface so when you get it inserted, it will stay upright and not accidentally bend and fall out. Being that the vibrations are located close to the tip of the toys head, the vibrations travel down the shaft pretty well and hits the inside areas pretty good. The vibrations weaken a lot about 3/4 the way down. This toy could be used anally as well, being that the molded balls keep the toy form going in too far. If you go anal with this, make sure to use a toy cover. Potentially too, this could be a good couples toy without the 3rd person.
Material / Texture:

The toy is comprised of "Sil-a-Gel" which makes it highly resistant to bacteria, but has a very strong chemical odor to it. Although it is a bit porous, it is generally a lot easier to take care of than some other toys, but it does attract a lot of dust. The feel of it is very flesh like, rigid, veined, and thick. Being veined, the overall texture is definitely a feature here because it adds in extra stimulation. Being that it combines in vibrations, this toy can be a lot to handle. I would say someone with a bit more experienced would enjoy this toy more.

Material:

Sil-a-Gel

Material safety

Texture:

Veined

Safety features:

Anti-bacterial property / Latex free / Phthalates free

Design / Shape / Size:

This toy does share the same design as another toy that I previously received, which is the 7" ballsy super cock. The shape of the actual cock with the veins and head of the cock is well done, so I have to give them credit there. The couple things I did not like was the thickness and design of the cord coming from the cock. The girth on this toy is a lot more than normal and that is why someone with more experience would enjoy this toy more than someone who just began. The cord, being the second problem, comes directly from the base of the cock and is poorly placed. If it ran out from the side or the base of the balls, the bottom of this toy could have a suction cup that could make it much easier to mount to a flat surface. The wire, in turn, makes it so the toy cannot stand on its own. Length from base to tip is 8", 7" being insertable, so the packaging is correct on that. Lastly, the width is 1 3/4", but the vein on the cock that runs from the balls to the head of the cock on the underside makes it a bit over 2", so be careful if girth is an issue for you.

Length:

8"

Insertable length:

7"

Circumference:

6"

Diameter:

1 3/4"

Weight:

1 lb

Functions / Performance / Controls:

The functions on this were great. The jack from the cock is universal, so you could, in theory, use other controllers with different patterns and controls with this toy. The controller itself has an easy on/off switch that also has a mode button as well. When you push this, it will alternate through several different patterns. They include several low to high vibration patterns, pulsing patterns and escalation patterns. The controls are really easy to use, too. Click and go. I will say, though, that this toy does put out a fair amount of noise, but it is pretty strong, so that is to be expected. Additionally, it is not waterproof, so no playing in the water. Runs on 3 AAA batteries, too, and burns those pretty quick.

Functions:

Escalating / Pulsating / Vibrating

Special Features:

Multifunction
Realistic design

Control type:

Control pack

Powered By:

Aaa-3

Care and Maintenance:

Sil-a-gel is an antibacterial toy, but attracts a lot of dust, so it is recommended that you clean it before each use and use condoms or toy covers for extra protection. Cleaning is easy with some warm water and mild soap. Works just fine with water and silicone based lubes. The packaging makes for a good storage case too, so I would hang onto that part as well.

Care and cleaning:

Soap and water

Personal comments:

This was actually posted to us to be reviewed by the admin, out of the blue. I liked the color (love purple) and decided I wanted it. Upon receiving it, I found that it was identical to the 7" ballsy super cock in every way except for the toy's color and packaging. Still though, it's not a bad toy and I do like playing with both, either by myself or with my boyfriend watching or using them on me. I don't normally write personal comments on here, but I felt it was important to state that both are the same and that I linked the similar product to this one.