California Exotic Little black panty - Vibrating panty from California Exotic

Product Details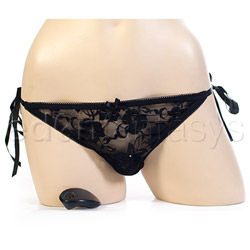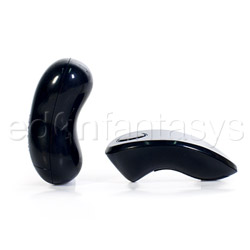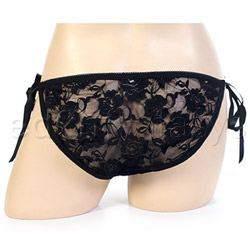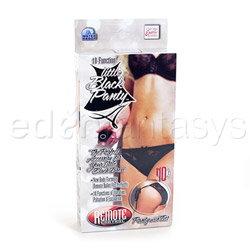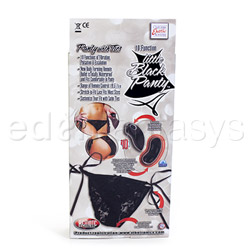 Summary:
Overall, I really like this set. The remote control range is a joke, but the panty is great with or without the bullet and the black color with tie sides really makes this set sexy. Even with its shortcomings, this toy is worth having for at-home foreplay.
Pros:
Tie-side panty, bullet can be changed, panty is great with or without the bullet, one size fits most
Cons:
"Totally waterproof" (if you avoid water), poor range/signal strength
Best use:
This sexy little number is great for adding another level to your foreplay. But, for those of you who are looking for a vibrating panty to wear out of the house, this is not going to work for you, at least not with the wireless bullet that comes with this panty. The great thing about this panty, though, is that you can always switch the bullets when you find a better working one in the future.
Material / Texture:

These panties are made of 90% nylon and 10% spandex (exclusive of the trim). The vibrating bullet and controller are made of black, smooth plastic.

Material:

Lycra

/

Nylon

/

Polyamid

/

Polyester

/

Spandex

Safety features:

Latex free / Phthalates free

Design / Shape / Size:

The black lace panty is sexy black with rose designs all over. This stretch-to-fit lace ties using 20 inch satin tie strings and will fit most women.




It has a built-in pocket that holds the bullet in place pretty well, unless your partner is like me and gets too eager to touch down there. It cannot turn sideways inside the pocket and will stay in place for most situations, but it is possible to slide the bullet up and out of the pocket if you or your partner rubs too aggressively.

The vibrating bullet is curved in a shape similar to a bean and measures about 3 inches from tip to tip and about 1 ½ inches wide.



The controller is a small curved shape that is slightly longer and wider than my thumb with one big round button that illuminates around it when pressed. The bullet takes 2 AAA batteries (not included) and the controller takes 1 small 12v battery (included).



Color:

Black

Length:

2 3/4"

Circumference:

4"

Size:

One size fits most

Weight:

0.1 lb

Functions / Performance / Controls:

This body forming bullet has 10 different vibration patterns and the noise level will vary depending on which pattern you are using. You would probably hear the bullet through jeans in a quiet room, but not in a room with a decent amount of background noise. The different patterns are:

- Constant strong vibrations
- Constant medium vibrations
- Constant weak vibrations
- Escalating quick pulsing bursts
- 6 Different pulsing patterns

The controls are simple. To turn the bullet on you push the button once. Each quick push of the button will cycle the bullet to a new vibration pattern. To turn the toy off you simply hold the button down until the bullet shuts off. It's that easy. The next time you turn the bullet on it will be on the next pulsing/vibrating pattern, so if you finished on a pattern you like it will be on the next pattern after that one next time you turn it on. You will have to cycle back through to your favorite pattern.

This bullet is wireless, but really it might as well be wired. It is supposed to have a range of 19.5 feet, but that is about 18.5 feet off in my experience. When I hold the bullet in one hand and the remote in my other, the bullet will receive the signal up to about 1 foot away. That is only the case if nothing is between the two and you are pointing the remote directly towards the bullet. You can forget about using this item through jeans or a skirt. The panty itself is not very thick and I still had to hold the remote right up against the pocket that holds the bullet for it to get a signal. This is fine if you're using this item at home during foreplay, but probably won't work well outside of the house (unless you like your partner holding a remote against your crotch in public for most of the night).

Functions:

Escalating / Pulsating / Vibrating

Special Features:

Multifunction
Remote controlled
Removable bullet
Waterproof

Control type:

Remote control

Powered By:

Aa-2

Care and Maintenance:

The tag recommends to hand wash in cold water. The panty appears to be made as well as any other pair of lace panties my wife has. I would personally not be afraid to throw them in the washing machine in cold water, but if you are worried about them lasting a long time I would stick to the tag recommendations.

The box claims that the bullet is "totally waterproof". This is definitely not the case. It seemed to hold up fine to a brief splash test but failed "totally" when I held it under running water for about 5 seconds. There was even water underneath the batteries inside the unit and since there is a small square of the circuit board visible under the batteries this is a surefire way to kill your toy. There is no waterproofing of any kind on these parts. If you need to clean either I would use a toy wipe or a damp cloth if you are careful (avoid the battery compartment seams if possible).

After putting the toy under running water, I dried off all the water both inside and out. I then turned the toy on and back off and checked the battery compartment. There were new water drops underneath the batteries, which means water probably got down around the circuit board. The toy is still working fine, but I cannot stress enough to be careful with this toy around liquids.

Packaging:

The packaging is nice, although not discreet. There are pictures all over the box showing the item in use as well as the features of the product. There's nothing really special here with regards to the box (which is fine), so you can store your toy inside it when not in use or just dispose of it.

The items are packaged separately inside the box and the company also includes instructions for the vibrating unit/controller and a copy of the unit's test report.

Personal comments:

My wife and I really like this product. It's not really all it claims to be, but it works on enough levels to make up for its shortcomings. The panty is very sexy and will probably get a lot of use in our house whether we continue to use the vibrating bullet or not. It's nice that the bullet can be changed if we find a good wireless one in the future. With 10 different vibration patterns you're bound to find one that will work for you. It's not the strongest vibe we own, but really this toy is meant to be a warm-up for the main event. I had to take off a star for the terrible execution in a wireless toy and for claiming it was "totally waterproof". I really don't know how companies can come up with this stuff when in reality the product didn't even come close to meeting either of those two claims. I really wanted to take off more stars, but this toy works well enough despite these two failings and I know it will get plenty of use.

Other