Media Craft Inc Dr. Vibe attachment for fairy mini - Vibrator Accessory from Media Craft Inc

Dr. Vibe attachment for fairy mini videos
Product Details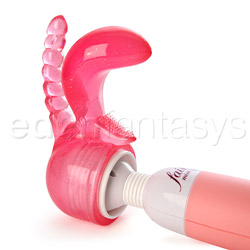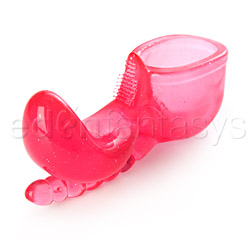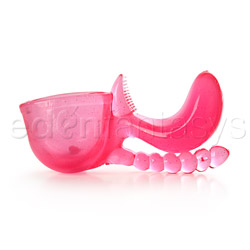 Summary:
The Dr. Vibe is one quirky and clever attachment that is ONLY compatible with the Fairy Mini Wand Massager. Although the Fairy Mini Wand is great on its own, the Dr. Vibe Attachment makes it all the more fun and interesting. You have all in one attachment a clit tickler, a set of anal beads, and a sort of g-spot stimulator. Don't mind its strange appearance; it aims to please and this Dr. does it so well.
Pros:
Unique, for DP lovers, spices up the Fairy Wand Mini, pleasures the anus, clitoris, and vagina
Cons:
This attachment is ONLY compatible with the Fairy Mini Wand Massager
Best use:
If you own a Fairy Mini Wand Massager, and need something to spice it up a little, get your hands on a Dr. Vibe Attachment. It is one quirky attachment. When looking at it you can't help but think that it looks like a kind of alien with a curved bulbous head, a rattle-snake like stinger, and a dome with a tongue-like tickler on it. I once even thought that it looked like a pipe! Well, as strange and possibly intimidating as it looks, it really is quite a clever piece of instant gratification.

You push the attachment on the head of the Fairy Mini Wand Massager, and then turn the Massager on and watch this little guy buzz and vibrate along with the Mini Wand. The bulbous curved head is for vaginal penetration, the "tongue" is for clitoral stimulation, and the "stinger" acts as a set of anal beads that you insert into the anus. So basically it aims to stimulate you in every pleasure zone, all in one attachment piece, while you use the Fairy Mini Wand Massager as you would normally. What's not to like about that? This attachment is perfect for when you are in the mood to turn your Fairy Mini Wand into something extra orgasmic and powerful!
Material / Texture:

The material is silicone, but it feels more like jelly, and even smells like it too. It feels smooth to the touch, which enhances the stimulation. The charm of this toy is how it seems to have different textures; the anal beads is naturally ribbed, the bulbous curve is smooth, and the clit tickler ("the tongue") is soft with its prickly nubs.

Material:

Silicone

Material safety

Texture:

Beaded / Bulged / Ribbed / Smooth / Studded

Safety features:

Food-grade material / Hypo-allergenic / Latex free / Non-porous / Phthalates free

Design / Shape / Size:

The design is ingenious! As mentioned, the Dr. Vibe is a pretty strange and quirky looking attachment, but once you realize how this Dr. Vibe works, you can't help but marvel at the creativity of its shape, design, and function. This toy is perfect for those who enjoy double penetration. The size of the bulbous curve was surprisingly bigger than expected; I had to use a bit of water-based lubricant to squeeze it in my pussy. I naturally also had to lubricate the anal bead section as well.

I would say that the size of the bulbous curve was no bigger than having three fingers inserted vaginally, and the anal beads were no bigger than having a finger inserted anally. Both my holes enjoyed the pleasure of the bulbous curve and the anal beads along with the loud and powerful vibration of the Fairy Wand Mini. The size, no doubt, can be suited for both beginners and more advanced users. What's also nice about the Dr. Vibe is that it is easy to hide anywhere you'd like, or you can just leave it hanging out on your desk; nobody is really going to figure out what it is meant for unless you show them.

Color:

Pink

Length:

5"

Insertable length:

2 1/4"

Circumference:

4 1/4"

Diameter:

1 1/2"

Weight:

4 oz

Functions / Performance / Controls:

When you top the Fairy Wand Mini with the Dr. Vibe, and play with the vibrations, you can feel every bit of the vibrations from the tip of the anal bead stinger, the bulbous curve, and especially the clitoral tickler. I found that each part of the Dr. Vibe functioned perfectly; you can feel instant orgasmic pleasure when the clitoral tickler buzzes on your clitoris, and ooh and ahh with the anal beads and the bulbous curve as you pump the Fairy Wand Mini with an in-and-out motion. The attachment itself doesn't make any noise, and it never slips off of the Mini because it is suctioned on so tightly.

Care and Maintenance:

Since this attachment is made of silicone, you can boil it, bleach it, or throw it in the dishwasher. Store it in your toy bag, place it on your work desk, put it under your pillow, store it anyway you like! Always be sure to use water-based lubricant for this toy.

Care and cleaning:

Bleachable / Boilable / Dishwasher safe

Packaging:

Unfortunately, everything on the package is written in Japanese, with no booklet or translations on the instruction box.