California Exotic Intimate foreplay kit - Vibrator kit from California Exotic

Product Details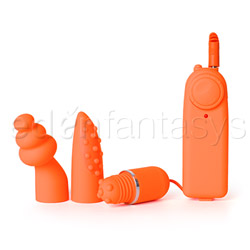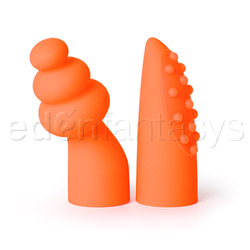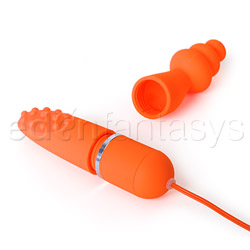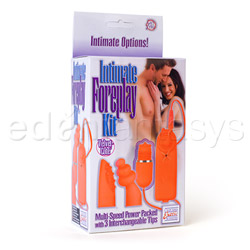 Summary:
This is a great bullet toy with stimulating attachments. It's a toy that can be used to achieve orgasm and isn't just for foreplay. It would be suitable for those who enjoy light or strong vibrations.
Pros:
Light weight,stimulating attachments, excellent vibration (both light and strong).
Cons:
Flimsy battery case, not waterproof
Best use:
This intimate foreplay kit by California Exotics is a great toy for couples but is also great for solo use. It comes in either purple or orange. The level of vibrations offered by this toy would be suitable for those who like the lighter side and for those who appreciate the heavier side. Although this toy was mostly designed to be used on a woman's intimate parts, it can also stimulate areas on a male (perineum, nipple play if desired, etc). This toy is not waterproof so it is not suitable for water play. It also takes two AA batteries.

The cord connects the controller to the bullet vibe and comes with two separate attachments. The box does say that it comes with three interchangeable attachments but technically that's not true. The bullet itself is encased with a nubby attachment and then you are provided with two additional attachments that you can interchange.

If you look at the picture of the toy on this web site, you'll see the bullet to the far left. It has some nubs on it and is considered to be one of the three interchangeable tips. Next to the bullet (towards the right) is the controller box. The two tips that can be interchanged are next to it. The first tip is what I call the ice cream cone and the second tip is the nubby "finger" tip.

This toy is great for clitoral stimulation (top notch) and can also be used for light vaginal insertion with one of the interchangeable tips.
Material / Texture:

This kit is made out of abs plastic with velvet-cote, which offers a nice "silky" feel to it. There is also TPR on the nubby "finger" tip. The silky soft texture of this toy definitely adds to the experience. I did not notice any smell from this toy.

The color is purple which is light and appealing. I don't usually care for purple toys but this one is a nice shade of purple.

Material:

PU coated plastic

/

TPR

Material safety

Texture:

Nubbed / Ribbed

Safety features:

Food-grade material / Hypo-allergenic / Latex free / Phthalates free

Design / Shape / Size:

I found the design to be very appealing and comfortable to use. The controller easily fits into the palm of your hand. A small red LED light turns on as you begin to turn the dial to switch the vibrations on. The vibrations increase as you turn the dial. There are notches on the controller that might suggest that each notch is a different setting but that is not the case. I've used this toy quite a bit and paid particular attention to how many settings there are and I've come to the conclusion that there are basically three: low, medium and high.

For a bit of spice, you can easily and quickly interchange the two attachments or use the nubs that were built into the main attachment. The attachments screw on and off with ease. Each attachment transmits vibrations slightly differently, which I will explain below:

The nubby "finger" attachment: This one seems to transmit a lower vibration than the other two, but is still plenty strong. It's my favorite for clitoral play.

The ice cream cone attachment: This attachment transmits the vibrations well, but if you wrap your fingers around the tip where the swirls are and then at the base (near the cord) you can tell that the stronger vibrations are towards the bottom (towards the base). It has three swirls, kind of like an ice cream cone - hence the name I chose for it.

The main attachment (the bullet): This one has the most powerful vibration but I don't like it very much. The nubs are not TPR like with the finger attachment and I found them too hard to provide pleasurable stimulation (for me).

Length:

4"

Insertable length:

2 1/2" / 4 1/2" / 4"

Circumference:

3 1/4" / 3 3/4"

Diameter:

1 1/8" / 1"

Weight:

0.3 lb

Functions / Performance / Controls:

Do you like it loud? I hope so, because this toy packs a powerful noise, especially so at the highest setting. I laid it on the bed on the highest setting and strolled out of the room to the adjacent room. Could I hear it? You bet. It would make someone wonder "What are those crazy kids up to now?" I even closed the door and could hear it over the murmur of the A/C. Shame!

If you need something that's discreet, you may not want to turn this toy on its highest setting. The lowest setting (which is my favorite) is barely audible in an adjacent room if the door is open. It's definitely not a toy that you could use discreetly, if that's an issue. It's a noisy one but it comes with rewards.

The nubby "finger" tip is great at stimulating the clitoris, even without the vibrations. I also found that I could tuck my finger into this attachment and the ice cream cone attachment and use them on my fun parts, so they are multi-purpose attachments! The ice cream cone attachment also stimulates the clitoris and can be inserted into the vagina (when attached to the bullet).

Personally, I prefer the lowest setting and found the highest settings to be numbing to my fingers while holding it, plus incredibly loud.

The cord is about 22 inches long, which makes it lengthy enough to maneuver effectively. I never experienced the cord not being long enough but it's pretty thin so it doesn't get in the way either.

Functions:

Vibrating

Special Features:

Attachments
Light indicators

Control type:

Control pack

Powered By:

Aa-2

Care and Maintenance:

This toy is not waterproof, so I am careful to just wipe off the attachments with a washcloth that has a little bit of soap and warm water. I store it in a dresser draw since it gets a good bit of use. I don't place it in a bag, but that would be a great way to store this toy. I also don't use lubes with this toy, but you could use water-based or silicone. Since it's plastic, it could also be compatible with oil, though I would not recommend it.

This toy conveniently breaks down into four pieces because the cord can be unplugged from the controller. You could wrap each piece separately if needed to protect it during travel.

Packaging:

You'll find this toy packaged within a plastic sheath inside of a box. The box has a picture of a couple embracing along with a picture of the toy and the interchangeable tips. The box details that the material is velvet-cote. No directions are found inside of the box.

Experience:

One thing I noticed before trying out this product was that the battery compartment is flimsy, but not so much so that it would come open. Just keep in mind that this product was not designed to be waterproof so be careful when cleaning it!

Our favorite ways to use this toy is for a bit of foreplay fun but also for masturbation. My husband enjoys watching me use this on myself as much as he enjoys (or more) using it on me. It's also great for intercourse, depending on which position you prefer. The attachments are really too bulky to be used in the missionary position (especially since I enjoy the feeling of my husband's weight on me). It works great for other positions like doggy style or even reverse cowgirl. I can also tuck one of the attachments into a harness so it vibrates during our pegging sessions.

I also wanted to mention the bumps on the nubby "finger" attachment in case you are concerned about them catching hair. Although I only trim my hair, it has not pulled or aggravated what hair I do have in that area.