Best use:
Ophoria combo pack is a set of two vibrators by the manufacturer
Lover's Choice Inc.
. The set includes a finger vibrator in pink and a vibrating love ring in blue. These two individual toys may be used together for additional stimulation, or separately. Both provide specific vibrations to targeted locations.
The pink finger vibe is targeted at women who enjoy clitoral stimulation. Though this toy may be used for other areas of the body for external stimulation, such as the nipples or outside of the anus, its primary function is to deliver direct vibrations to the clitoris.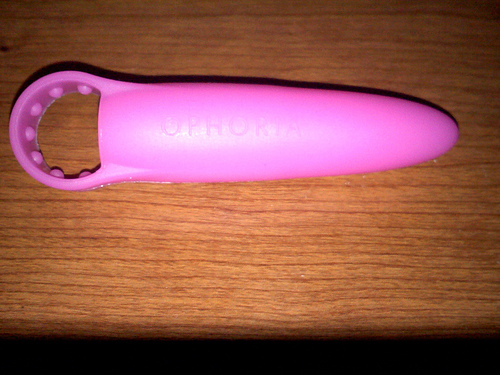 The blue ring is, in contrast, is targeted for men who enjoy vibrating cock rings and are searching for a toy to allow for longer erection.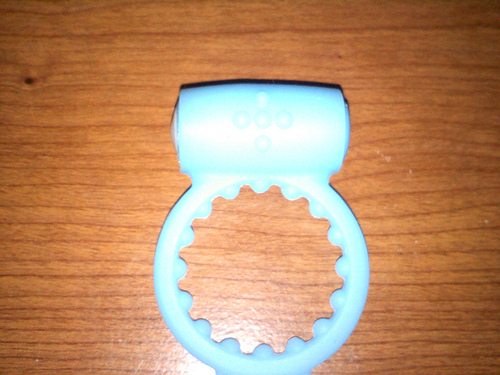 Material / Texture:

Both pieces to the set are made out of 100% pure silicone. To the fingers, it feels rubbery and during use without lubrication there is drag against the skin. This can be easily fixed by incorporating lubricant to your session. Water based lubricants are recommended, as silicone based lubes will cause degradation of the materials in the toy.

The vibrating ring is mostly smooth and velvety aside from a couple of places on either side of the bullet. On one side, "OPHORIA" is printed on the bullet sheath, and a series of 5 bumps is on the other side. The letters do not add anything to play time, though you will notice that the bumps can be felt on occasion. This added texture does add a certain look to the toy, though it is not going to add much to the way it feels while in use. On the inside of the love ring, applying some texture to the penis are 16 bumps going around the entire circumference of the ring. This does add some pleasure to the wearer, but mainly helps with keeping the ring in place.

The finger vibe is also mostly smooth and velvety, aside from the same "OPHORIA" logo on one side of the bullet. Inside of the loop that you insert your finger are a series of bumps similar to the ones on the love ring. There are 7 total and they allow for a better grip of the toy.

Because of the silicone's texture, there is added stimulation with both toys due to the small amount of drag. These toys are both very easy to use, making it great for those new to finger vibes and love rings. The silicone allows for a great deal of flexibility in the toys, and there is a small amount of give as well to allow for added comfort.

There is a light odor to both toys which goes away after the first couple of washes. It smells similar to a rubbery substance, but is so faint you barely notice it unless you're putting it right up to your nose. There is no taste or aftertaste to the toys.

Material:

Silicone

Material safety

Texture:

Nubbed / Smooth

Safety features:

Food-grade material / Hypo-allergenic / Latex free / Non-porous / Phthalates free

Design / Shape / Size:

Each piece to the set is very simplistic in design. The love ring consists of a blue round ring that measures 5 3/4" in circumference unstretched, and stretches to almost 6.5". Sitting on top of the ring is the sheath that holds the removable bullet. This is 1 1/4" long and 3/4" wide.

The finger vibe, on the other hand, is an almost cone-shaped pink piece measuring 3.5" total, 2.5" insertable from tip to handle. The handle allows you to slip your finger inside for grip if you'd like to insert this toy vaginally. The bullet is removable and is inserted at the widest part of the toy near the handle. At its widest, the vibe is only 2.5" in circumference, so there should be no problem with insertion even for those new to insertable toys. This is, however, best used externally.

Because of the designs of these toys, neither is meant for insertion into the anal cavity. The toys are small enough to be put into a purse or pocket, though one would easily know what they are.



Color:

Blue / Pink

Length:

3 1/2"

Insertable length:

2 3/4"

Diameter:

1 3/4" / 3/4"

Weight:

0.1 lb

Functions / Performance / Controls:

All Ophoria toys are incredibly easy to use and turn on. For these particular toys, you simply press down on the button to the bullet (located at insertion point for the bullet into the sheath) and it turns on. There is only one speed, and to turn the toy off simply press the button once more.

The bullets are powered by two watch batteries which can be replaced by simply unscrewing the two pieces to the bullet. Each toy should last about 30 minutes at full power, begin to gradually weaken until you've reached 50 minutes at which point there will be a more noticeable difference in power and then die roughly an hour after you've begun to play. This means that enthusiasts who like much longer sessions may not be able to finish with just one set of batteries, but those who like shorter or half hour sessions will be happy.

There is very minimal sound with both of these toys. Below covers no sound could possibly be heard by someone even if they are inside the same room. This makes them excellent for those with room mates or in shared living situations.

The Ophoria set is splash-proof, which means that you should not submerge the toy in its entirety. This toy is best used where the bullet portion will not become too wet. Bodily fluids are safe, however you will not want to leave the toys sitting in water.

Functions:

Vibrating

Special Features:

Batteries included
Powerful
Removable bullet
Splashproof
Wireless

Control type:

Push button

Powered By:

2 watch batteries

Care and Maintenance:

As this toy is 100% silicone, you should take caution when storing. Avoid all other silicone toys coming into contact with this toy, because silicone interacts with silicone. On the same note, you will want to also avoid silicone-based lubricants. When silicone touches silicone, it begins to degrade the materials and eventually texture is affected; they may become ruined or difficult to clean and breed bacteria. If storing in the same location as other silicone toys, because these toys are so small you may just wrap them in some type of cloth or store in a toy bag prior to putting them away.

To clean, avoid harsh solvents such as isopropyl alcohol as they will ruin the finish. The easiest way to clean the toys are to remove the bullets which are not waterproof and clean the silicone pieces with antibacterial soap and water or boil them for just a few minutes. To clean the battery, you may wipe it off with a toy cleaner or toy wipe. Because silicone repels water, the pieces should not take long to dry. Once they are fully dry, place the bullet back inside of the sheaths and store! It's that simple!




Care and cleaning:

Soap and water

Packaging:

The set will come in a plastic shell casing which must be cut open. Be careful so as not to cut or tear the instruction manual located inside of the shell. Though the packaging is not reusable, the instructions are useful and don't leave many questions left to be asked!

The packaging is not discreet, but it is about the height of a 20fl oz bottle of soda, so it is easy to hide away. This package could even be placed in your lover's Christmas stocking it is so small!



Experience:

Personally, I did enjoy this set. The ring was able to fit my lover just fine. It was not intense enough to provide much stimulation for him, but did feel very good on my clit during use. The finger vibe was easy to use but was not powerful enough to make me orgasm. The toy worked very well, but was simply not powerful enough for my taste. I require very strong vibrations to orgasm, and this was about the level of intensity as my cell phone would have - definitely not enough for me!

I did, however, love to pair these toys up and use them to assist in intercourse, which was excellent for both of us! It allowed us to enjoy sex but still have that added bonus!

I rated these toys 3 out of 5 stars because the level of Vrooms was not up to what I'd have liked, and the texture of the love ring did not add anything extra for my partner. Also, the batteries died a lot sooner than I'd have liked, and it takes watch batteries on top of that.