Whipspider rubberworks Orchid - Vibrator Sleeve from Whipspider rubberworks

Product Details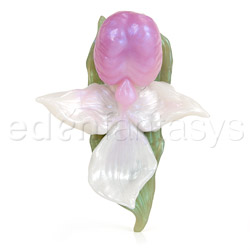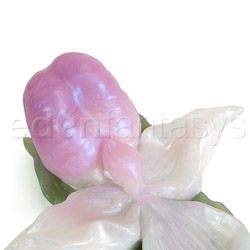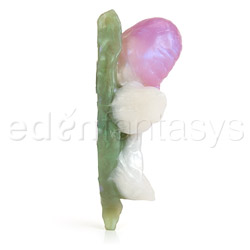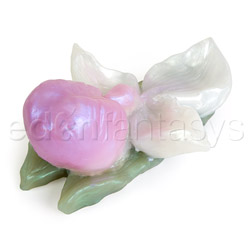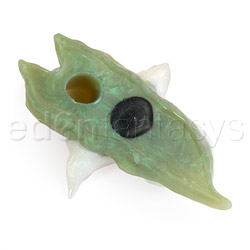 Summary:
The Orchid is a beautifully sculpted piece of erotic art from Whip spider that definitely fits the bill of "art with benefits". It's made entirely of a pearlescent, silicone so it's not only beautiful to look at but hygienic too. While it may look completely innocent resting atop your dresser, it can be used in a much more nefarious manner like grinding your vulva all over those awesome petals! So, the next time you give flowers as a gift, don't forget about Orchids!
Pros:
Silicone, beautiful, unique and comfortable to use.
Cons:
The vibrator hole could be a bit longer.
Best use:
The Orchid is hand sculpted by Whipspider rubberworks and like all of their products, was inspired by nature or fantasy. Obviously the Orchid could easily fall into either of these two categories but the best thing about this erotic art is that it's functional too.

The pearlescent green base contains a hole on the bottom to accommodate a small egg or bullet. This hole is located just below the bulbous purple part of the Orchid for added stimulation but vibration is not required to enjoy what this one has to offer! With or without vibration, the soft pliable silicone is sure to feel fabulous grinding against your entire vulva! This can either be accomplished by gripping it in your hand or sitting on top of it. Either way, you can cover and stimulate the entire region to carry you into orgasmic oblivion!
Material / Texture:

The Orchid is hand crafted from beautiful, pearlescent silicone in greens, whites and purples for a beautiful presentation. However, this is one flower that you'll be glad is scent free! There's also no taste from this gorgeous creation either.

The silicone of the Orchid is a soft and pliable variety that you can actually squeeze in your hand unlike some of the stiffer silicones out there. While the stiffer silicones have their place, this softer variety allows you to ride like the wind without the fear of blunt force to your clit and I'm sure most of us know what a turn off that can be!

The Orchid also sports a wide variety of textures from ridges to bumps and even pointed tips on the petals to assure stimulation to whatever they touch! This allows for multiple stimulation points throughout the vulvar region. The stimulation to these points can even be increased by slipping a little bullet vibe into the bottom of the Orchid. No bullet is included though so the amount of power produced will rely solely on which bullet you decide to use.

Material:

Silicone

Material safety

Texture:

Smooth

Safety features:

Food-grade material / Hypo-allergenic / Latex free / Non-porous / Phthalates free

Design / Shape / Size:

The design of the Orchid, if you haven't guessed already, is just absolutely adorable! It's designed to look like a lady slipper Orchid and Whipspider has done a fantastic job of recreating that look! So well in fact that this one could probably pass as a paper weight or decorative accent. Only you will know its true abilities!

The Orchid consists of a bulbous, purple petal that does somewhat resemble a penis head but that's really the only phallic resemblance area of this little flower. The white petals that branch out from the base of the purple bulb are completely innocent looking and so is the green base.

The Orchid measures about 5 3/4" long and 4 1/4" wide. It also measure about 2 1/2" tall overall with about 1 1/2" of that being the purple petal. These measurements don't really allow for penetration from this toy but the purple petal is able to stimulate the vaginal opening or the clitoris depending on which way it's turned.

When the Orchid is flipped over, the base is flat so that it will stand up easily. There's also a black Whipspider logo here as well as the hole beneath the purple petal to accommodate a very small bullet. I've yet to find a bullet small enough to fit completely inside of this orifice because even my smallest bullet sticks out. Just to give you an idea, I've tried the smallest bullet on the Xtreme kit, the micro orb, a bullet from a Tantus toy as well as a couple different cock ring bullets. None of them fit completely inside of this hole. This hole is only about 1" deep though and I'm not sure they make a bullet that small. It can be used with the bullet sticking out of the whole but you may have a problem with bullets that have an on/off button on the base because it's easily depressed into the off position when riding this toy. On the upside though, the bullets are very easy to remove from the sleeve when you're finished.

Color:

Green / Purple / White

Length:

5 3/4"

Width:

4 1/4"

Weight:

0.4 lb

Functions / Performance / Controls:

The functions and controls of this vibrator sleeve are going to vary depending on what type of bullet or egg you're using with it. There is no bullet or egg included so you'll have to use one from you personal collection if you wish to enjoy any vibrations.

The Orchid will also only be as loud as the bullet or egg you decide to use with it. They can vary greatly among these types of vibrators so you should keep that in mind too. You also might want to keep in mind that the Orchid, on its own, is waterproof but this will also vary with whichever bullet/egg you decide to use.

Care and Maintenance:

The Orchid is crafted from silicone which means it's nonporous, phthalate-free and latex-free! It also means that it should be cleaned with antibacterial soap and water or your favorite toy cleaner. Of course, you could also decide to share this one with a friend which would mean that you should sterilize it in between partners. This is easily done by boiling it for three minutes, wiping it down with a 10% bleach solution followed up with a good rinse, or you could even toss it in your dishwasher on the top rack with no soap. Either way will assure that the Orchid is ready whenever you are!

When cleanup is all done, remember to store the Orchid away from other silicone toys to eliminate any possible reactions with other toys. Silicone sticks to silicone so it's a good idea to wrap the Orchid up in a soft cloth before storage to eliminate any unfavorable interactions when you're not looking!

It's recommended to only use water based lubricants with silicone toys but silicone based lubes should never be used! This could also cause an unfavorable reaction that might permanently damage your toy.

Care and cleaning:

Bleachable / Boilable / Dishwasher safe

Packaging:

Whipspider is a small company located in Maine and they don't waste your money on expensive packaging. Their typical packaging is a regular zip lock style baggy that includes a care card for your new product. Regardless, their products are beautiful and speak for themselves without the need of over-priced, plastic boxes.

Personal comments:

Honestly, I was a bit confused by this product at first and while I thought it was lovely, I wasn't sure it would work out for me. I'm glad to report that I was wrong! I never realized how fun it could be to sit in front of my partner and grind against the Orchid while he watched! It was such an erotic experience that we were both worked into a frenzy in no time flat!

Experience:

I enjoyed this toy the most when I was actually sitting on it and grinding against it. Either end felt great too but both provided their own unique sensations. When using the purple petal on my clit, I could feel the bottom white petal stimulating my anal areas. When switched around, the purple petal would stimulate my vaginal opening while the white petal end would hit my clitoral area. Both were quite pleasurable for me but keep in mind that it should be sterilized after contact with the anal areas. Otherwise you could wind up with an infection and that's not fun for anyone! So play safe and have fun!