Doc Johnson The ultimate mini massager set - Vibrator kit from Doc Johnson

Product Details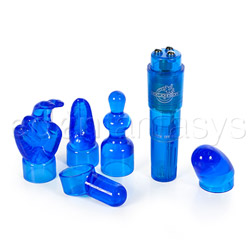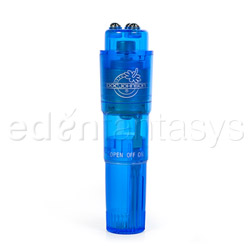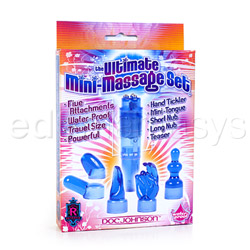 Summary:
I think everyone should have a pocket rocket in their toy box. To have a pocket rocket that comes with five accessories for differing stiumlation is just outstanding. I think this kit has something for everyone.
Cons:
May not be powerful enough for some
Best use:
As a pocket rocket it is designed as a clitoral stimulator, but can also be used on other erogenous zones that enjoy stimulation. However, the nice thing about this kit is it includes five interchangeable heads that allow the pocket rocket to change into a vibrator that can stimulate internally as well.

It is great to use alone or with a partner. You could hold this while being intimate with your partner or use during foreplay as a warm-up to bigger things.

I think beginners and advanced users alike would appreciate this pocket rocket. It is not intimidating, so beginners would like this feature. It has a variety of choices for different stimulation.

I find it best for those who do not require a lot of power to achieve climax or those that just want to add something unique to their collection.
Material / Texture:

The pocket rocket is made of ABS plastic which is an 8 on Eden's safety scale. The five attachments are made of PVC, which is also an 8 on Eden's safety scale.

The pocket rocket has a ribbed area at the base of the toy for gripping. It also has three silver metal balls for added clitoral stimulation that are cold to the touch if you wanted to use some temperature play.

The five attachments are each unique and hard to the touch. The long nub looks like a pawn from a chess set and the nubs add some texture to the toy. The hand tickler has distictly defined ridges forming the wrist and fingers of the hand. The short nub and teaser are both smooth and rounded. The mini-tongue has a smooth back with a slight indent on the front.

It does not have an overwhelming smell to it at all, which is wonderful. My husband noticed when he opened the package that it had a light plastic smell that faded after opening. It does not have any taste to it at all.

Material:

Phthalate Free PVC

/

Plastic

Material safety

Texture:

Smooth

Safety features:

Food-grade material / Hypo-allergenic / Latex free / Phthalates free

Design / Shape / Size:

The pocket rocket without any attachments on it is 4" long and has a 3" circumference. The picture below will show it up against a mini-flashlight.



The hand tickler is designed like a hand with the pointer and middle fingers sticking up. They would make a great scratching device; but, do scratch so it is best used with the fingers down. It is 2 5/8" long and is 4" around at its widest point. The two fingers that stick up only have a 1 1/2" circumference.

The long nub looks like a chess piece. It has a small, thin ring at the top and a larger ring in the middle. It is 2 5/8" long and the first nub is 1 7/8" wide. The second nub has a circumference of 3".

The mini-tongue is designed like a tongue and is about the size of my thumb. It is 2 1/4" long and has a circumference of 2 1/2".

The short nub doesn't really look like anything. It is thicker than the other attachments and slightly curves. It is 2" long and has a circumference of 3 1/2".

The teaser looks like a magnifying glass. It is 1 3/4" long and has a circumference of 2 1/4".

The picture below shows the size of all the attachments together along side their battery.



Overall, the pocket rocket and interchangeable heads are light weight, relatively small in size, and fit easily in the palm of my hand.

The pocket rocket and accessories are a very pretty deep blue that you can see through. The pocket rocket has the Doc Johnson logo imprinted in white on the front as well as open, off, and on around the battery cap. You can see the battery through the blue colored plastic as well as the motor.

The small, compact size of the pocket rocket and interchangeable heads make this kit perfect for travel. As always, it is best to take the battery out while traveling; but, if you didn't, I don't see how it could accidentally twist itself on. You can easily slip this into your jeans pocket, purse, bag, etc. for travel.

Color:

Blue

Length:

4"

Circumference:

3 1/4"

Diameter:

1"

Weight:

0.3 lb

Functions / Performance / Controls:

The controls are very simple, straight forward, and easy to use. To turn on, you twist to the right. To turn off, twist to the left; simple as that. Be careful when twisting though, because I have had the battery compartment fall off.

It requires one AA battery, not included. To insert the battery, twist all the way to the left and pull down. Open, Off, and On are imprinted on the toy, so it wouldn't be too hard to figure out anyway. The minus side goes down into the case and the plus side is up closest to the toy.

It only has one speed and the buzzy vibrations are felt throughout the toy. If using the pocket rocket without an attachment, you can feel the vibrations at the base. It does make my hand numb and tingly if used for long periods of time. The vibrations are strong for such a small toy, but not overwhelmingly powerful.

When you attach the interchangeable heads, the vibrations can be felt at their end, but can still be felt at the base of the toy.

The pocket rocket can be heard by others in the room while in use, but not under the covers and most definitely not through the door or walls.

It is waterproof and has a clear o-ring around the battery compartment to keep the water out. This allows for fun in the shower or bath and gives you more mobility instead of being just stuck to the bedroom.

To attach the interchangeable heads is a pretty simple process: just choose the accessory you want to try and slide it down onto the pocket rocket. Make sure that it is down on all sides for a perfect fit. I did not have any issues with it connecting sturdily and it stayed in place while playing. To take off, just pull or twist the attachment off. They make a popping sound when you take them off.

Functions:

Vibrating

Special Features:

Attachments
Travel
Waterproof

Control type:

Built in control pad

Powered By:

Aa-1

Care and Maintenance:

PVC toys should be cleaned with warm water and antibacterial soap or toy cleaner.

This can be stored virtually anywhere due to its small size. I keep mine in my lingerie drawer.

You can use silicone or water-based lubricant with this kit.

Care and cleaning:

Soap and water

Packaging:

The pocket rocket and attachments came in a pretty cardboard box and were cased in plastic that held them in place. The following pictures will show the front, back, and plastic case.





One side mentions for warranty information and product registration. The other side mentions The Ultimate Mini Massage Set is a powerful mini waterproof vibrator with five attachments in ABS plastic in five languages. The bottom mentions to close the cap tightly and that it uses 1AA battery that was not included.

Personal comments:

If you have another Doc Johnson pocket rocket, the attachments should fit. I have the I-Vibe pocket rocket and they fit on there easily.