Evolved Thick vibrator enhancer - Vibrator Accessory from Evolved

Product Details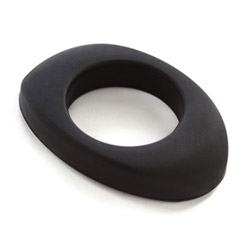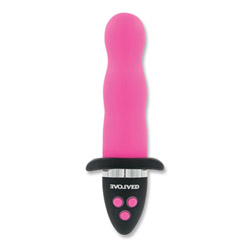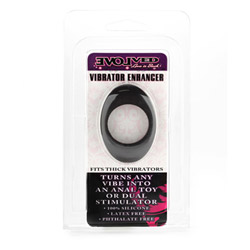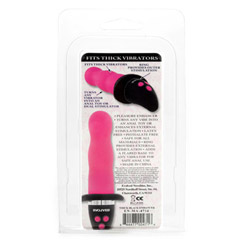 Summary:
Do you have a favorite toy that you just love so much, but it doesn't have a flared base, making it unsafe for anal play? Look no more: the Vibrator Enhancer by Evolved Novelties prevents any toy from slipping too far by providing a flared for your favorite toy. It also carries vibrations from a vibrator wonderfully and provides stimulation around all sides of the enhancer. It's very easy to use; all you have to do is gently slide it over your toy.
Pros:
Silicone, can be used with any material.
Cons:
Will be too large for slimmer toys.
Best use:
Evolved has come up with a great idea to turn any vibrator into an anal toy or dual stimulator by bringing us the Vibrator Enhancer. It slides easily onto your favorite toy, and acts as a flared base for toys that do not have a flared base, allowing them to be used anally. It can be used with dildos that do not have a flared base to provide them with the ability to be used anally, as well.

Due to its silicone material, it allows the vibrations from your vibrator to travel through the enhancer and provide some stimulation to your clitoris or perineum. It does not vibrate on its own, but carries the vibrations from a vibrator to other areas to be stimulated.

It is safe for all materials, so you don't have to worry about the silicone degrading other silicone toys. I have used it with my silicone toys and have not had any adverse reactions in doing so.
Material / Texture:

The Vibrator Enhancer is 100% silicone, which rates a 10 on the Eden safety scale. Silicone is body safe, non-porous, latex free, and phthalate free. It is very easy to clean and can be sterilized and sanitized, which allows it to be shared among partners.

It is very smooth and soft to the touch and is very stretchy.

It has a light silicone smell to it, but it is not anything overpowering.

Material:

Silicone

Material safety

Texture:

Smooth

Safety features:

Food-grade material / Hypo-allergenic / Latex free / Non-porous / Phthalates free

Base:

Silicone

Design / Shape / Size:

The Vibrator Enhancer comes in two colors, black and purple, and the design reminds me of a cock ring. It has a hole cut out in the middle, with material all around it. It is not meant to be used as a cock ring on a partner, but instead like a cock ring on your favorite toys. This allows the toy of your choice to have a flared base to use safely anally.

From side to side it measures 2 1/4", and up and down it measures 1 1/2". The inside circle measures 3 3/4" in circumference. However, it stretches very easily; I was able to stretch it over a door knob that had a circumference of 6 3/4".

It is too loose to use on slimmer vibes, such as Uma or Mona, but it is perfect for medium to larger sized toys, such as Evolved's Seduction and Roulette line, or Fun Factory's G4 Tiger. It's easier to slide on toys that do not have texture, but it is not impossible to slide over textured toys as well.


Due to its small size, the Vibrator Enhancer can be carried along with you everywhere in a purse, bag, or pocket.



Length:

2 1/4"

Diameter:

1 1/4"

Width:

1 1/2"

Weight:

1.15 oz

Functions / Performance / Controls:

The Vibrator Enhancer does not have any vibrations, but instead takes the vibrations from a vibrator and carries them to areas to be stimulated. The vibration strength will depend on what toy you are using, but the vibrations can be felt on all sides of the vibrator enhancer. The vibration intensity diminishes a little bit from the vibrator you are using to the Vibrator Enhancer, but not much.

The Vibrator Enhancer is waterproof, so it can be used in any water setting that you wish, as long as the toy you are using it with is waterproof.

Care and Maintenance:

The Vibrator Enhancer is very easy to care for. You can easily clean this with anti-bacterial soap and water, a 10% bleach solution, in the top rack of the dishwasher, or you can use toy wipes or toy cleaner.

It is best to use water-based lubricant with this toy.

You can store this in the blister pack that it came in or, to save room, store it in a bag with other toys.

Care and cleaning:

Bleachable / Boilable / Dishwasher safe / Soap and water

Packaging:

The Vibrator Enhancer is packaged in a plastic blister pack that can be seen through the package. It did not have any instructions included with the product, but it is very simplistic to use and did not need detailed instructions.



Experience:

Evolved was very innovative when they designed this toy, and I'm giving the Vibrator Enhancer 5 stars because I don't have any complaints with this at all. It works on most toys, provides a flared base, and carries vibrations like it is supposed to. I've stretched it with all my might and have not had any issues with it wanting to tear or break. The silicone is a perfect material, and it is safe to use with all toys.