Spartacus Purple fur line paddle - Paddle from Spartacus

Purple fur line paddle videos
Product Details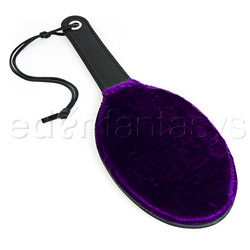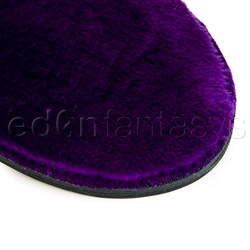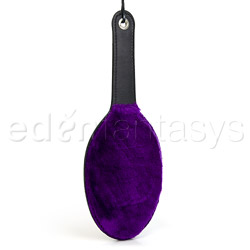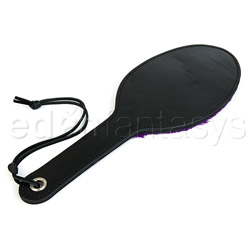 Summary:
The Purple fur lined paddle by Spartacus is a very well made and large paddle sure to suit your needs. Sure, it's stiff, stingy and it means business but it has a softer side too. That softer side is just what you need for a good warm up of what's to come, or for those who are more inexperienced with paddling. The fur pads it so it takes quite a bit of force to make it hurt. It's firmer side is completely the opposite though. Just a flick of your wrist will get your point across!
Pros:
Beautifully crafted, provides two different sensations, and is very well made.
Best use:
The Purple fur lined paddle by Spartacus is a beautifully crafted addition to anyone's bedroom. It's especially appealing to those who prefer variety in their toys because there's two sides to this paddle. One side is soft and dull while the other gives you a nice, stingy slap. It just really depends on how bad you've been as to which side you'll get!

I really can't think of anyone this paddle wouldn't work out for because if you don't like the stinging slap of a leather paddle, you can simply turn it around and use the fur lined side instead for a duller sensation. Both sides feel very different against your backside to offer their own unique statement. It just depends on who's wielding this paddle as to how punctuated that statement will be!
Design / Craftsmanship / Size / Material / Features:

The Purple fur lined paddle is a bigger paddle in that it isn't a long, thin rectangle. Instead, it's big enough to practically cover your entire bottom during use. It's kind of an oval shape that measures about 5.75" wide at the middle of the paddle itself. The paddle itself (the part that smacks your butt) is about 9.5" long so there's plenty of area to cover with this one!

This paddle measures 15.5" long in its entirety. 6" of that make up the handle which is also 1.5" wide. There's even a thin leather wrist/hanging strap on the end of the handle that measure about 11" long. I told ya it was a big one!

It's made very well so there shouldn't be any problems with it standing the test of time. It's crafted from two pieces of leather that have been stacked on top of each other and stitched together meticulously. There's barely any seam! This process results in a .25" thick piece of leather with just the right amount of weight and flex. But Spartacus didn't stop there! They added even more flare to this paddle by meticulously stitching an additional layer of dense, plushy, deep purple fur to one of the sides. This not only adds a bit of padding for more sensitive users who may find themselves on the receiving end, but fit eels great being rubbed along your skin too!

I noticed no scent coming from the dark purple fur at all. The only scent I noticed at all was the faint leathery scent emitting from the leather itself.

Material:

Faux fur

/

Leather

Material safety

Color:

Black / Purple

Length:

15 1/2"

Width:

5 3/4"

Weight:

0.5 lb

Performance:

One of the great things about this paddle is that the fur lined side can be used as a warm up for what's to come. It provides a duller sensation that's more padded than the opposing side, and it really takes quite a bit of force before it hurts. It also didn't produce much redness to my backside from the blows.

The all leather side, however, is much more aggressive. Only the slightest amount of force is required for you to feel the sting. Redness was easily produced to my poor butt with this side, but no cuts or scrapes were created. There was also no bruising from either side. That's not to say bruising or scratches couldn't occur, I just didn't want to withstand trying to accomplish this because it would have probably required a very, very strong blow.

When I finally got the opportunity to wield this paddle too, I noticed how great it felt in my hands and it really gave me a sense of power due to its size. I did have a small issue with the handle being a bit too large for my hand, but my partner had no complaints about it. I just have small hands so that really was no surprise to me.

Care and Maintenance:

This paddle is comprised of genuine leather and faux fur. If any of the leather components become dirty, they can be cleaned with a damp cloth and mild soap if needed. You could also opt to use a leather cleaner/conditioner to help keep it from drying out. Unfortunately, there's really no way to sterilize it so it's probably not a good idea to share your paddle if there's a chance it could come into contact with bodily fluids of others.

As far as the faux fur goes, a damp cloth and some mild soap should also work well to remove any dirt that may accumulate here. Just remember to go easy on the soap though because it can be hard to get it all out of faux fur!

Packaging:

There's no instructions included with the Purple fur lined paddle, but it's not like they're really required. You just take the paddle, find a willing participant and begin spanking. It's really that simple! Okay, it sounds simple but the willing participant part could get a little tricky.

The packaging is really simple too. It's simply a clear plastic bag and that's it. It's really simple to open too. I bet you already figured that out though. Seriously, I do appreciate simple packaging though! It's just so simple!

Personal comments:

I just read my inspirational example on this one and I literally shuddered when I read the suggestion to add water or lube to your butt in order to intensify the effects of the paddle. Although this would most definitely work, I'll be running out the door in fear of the sting that would be produced with this one! So if you really want extra stinging power, try that! I don't think I will be though. I'm a wuss!

Other

Lining:

Faux fur

Safety features:

Phthalates free