Mmmm Mmmm Good
Whether you want a light erotic spanking or something with more kick, the Purple Fur Line Paddle will deliver. The fur side offers a delightful muffled thud and the leather side grants the sting. It would be great for beginners or experienced BDSM players. It's one of my favorite sensory toys. I can't get enough of it.
Published:
Pros:
Versatile
Well made
Durable
Muffled Thud or Sting
Cons:
None
This is a great versatile paddle from Spartacus. It has faux fur on one side for a delicious muffled thuddy spank and leather on the other for a still delicious but intense stingy spank. It's perfect for beginners and veteran spankos alike. It can be used in lots of different ways. The fur side could be used as a warm up or a cool down with the leather side providing an intense spanking. The fur side could be used exclusively for a mild erotic spanking. It can also be used as a massaging tool. Dragging the fur along the body is nice for soft sensations. The leather side can be used exclusively for a more intense or even punishment type of spanking. Alternating the blows can keep the spankee guessing. Whichever way it's used, it is sure to delight.

Disclosure: My husband and I enjoy light erotic spankings. We are not into intense pain at all. So our use of this is mainly with the fur side. Occasionally a harder smack from the leather side is delivered. If you want to know just how much pain this can deliver, read a different review. I have no idea and don't want to find out.

It resembles an oversize ping pong paddle or a hand held oval mirror. The paddle portion is 9 inches long and 5.5 inches at its widest point. It's large enough to strike an entire cheek in one swipe. The handle is 6 inches long and 1.5 inches wide. The handle is easy to hold. It is somewhat flexible which gives makes it easy to deliver swats. The paddle springs back and hits its target effortlessly. It also has a strap for hanging that is 10 inches long. It can be stored hanging from a hook if desired.

It's an attractive paddle. The leather is black and the faux fur is a bright purple. The leather has that unmistakeable leather scent. It's not overpowering, just a light pleasant scent. The fur is plush and soft. It works very well to muffle the swats. It's obviously a paddle, so not discreet at all. If you don't mind who sees it, you can hang it up, otherwise it stores just as easily in a drawer.

The paddle is very well made. The stitching is neat and meticulous. The fur is attached very securely. It's not flimsy at all and should last a very long time. I have had mine for 6 months. It's seen a good amount of use, and it is still good as new. It is a very good value for the price.

It is easy to clean. Don't get lube or fluids on the fur side. It's best to use it before anything else is needed. Leather can be cleaned with a damp cloth or a leather cleaner. It has a strap so can be hung from a hook.
Experience
My first paddle purchase from Spartacus was the Fur Slapper. It was my favorite paddle until I bought this one. We have had hours of fun with that one and I recommend it. I didn't think anything would surpass that until I bought the Purple Fur Lined Paddle. This one is twice as much fun because it is thuddier and covers a larger area. I still like the other one, but this is now my favorite.
I love the way the spankings are muffled and thuddy. I don't mind when the spankings go on and on and on. It never fails to rev up my engines. If you enjoy light erotic spankings this is a must have.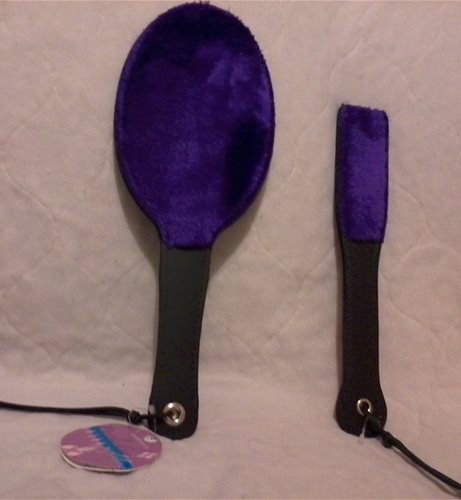 This content is the opinion of the submitting contributor and is not endorsed by EdenFantasys.com

Thank you for viewing
Purple fur line paddle
review page!