California Exotic Colt power drill balls – beads from EdenFantasys

Product Details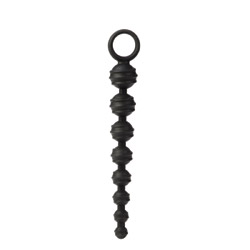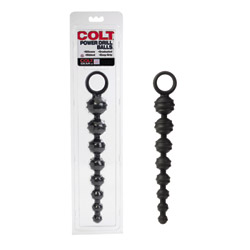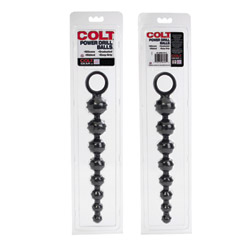 Summary:
The Colt Power Drill Balls are not to be mistaken for anal beads. They are like beads on steroids. Their increasing size, to a whopping 1 3/4 inches, makes for a filled up feeling that may be elusive to average, beginner, and even some advanced users for several tries. The drill bit pattern gives some seriously powerful pleasure when screwing them into your ass. They also may help a couple open the door to their BDSM fantasies, or maybe just help you stretch your limits to new lengths.
Pros:
Drill bit pattern, provides a very full feeling, increasing size.
Cons:
For advanced users.
Best use:
Colt products usually have a way to help a man (or woman) push their limits. They tend to offer toys that are meant to help you take your pleasure to depths not felt before. The Colt Power Drill Balls are no different. Their quite large size makes them not for the average user; in fact, unless you are advanced, I would say these big silicone balls are not for you. However, if you are attracted by the look and want a toy that will help you get to where you want to be, then by all means, feel free to jump right onto these bad boys and take your time getting to the whole thing. Word to the wise: buy a gallon of lube for your efforts. The balls will get bigger in size with each one being inserted into you, so when you feel like you have taken on all you can, you will probably be wise to stop.

BDSM fans may also want to consider these moan-inducing beasts.
Material / Texture:

The Power Drill Balls are made of an equally powerful material...silicone. Silicone is a very durable, rugged, and slightly forgiving material that allows the user to disinfect with boiling water. At first unpackaging there was no smell/odor and, as with any anal "beads" (there is nothing bead like about this set of balls), they do not tend to look all that realistic to anything found naturally. They will give way to your insides, rather than forcing themselves into you, and the drill bit pattern will make you feel like the drill that is screwing you is perfectly charged.

Material:

Silicone

Material safety

Texture:

Ribbed

Safety features:

Food-grade material / Hypo-allergenic / Latex free / Non-porous / Phthalates free

Design / Shape / Size:

Anal beads are not usually this long. The insertion length on these is 11 inches, and even more mouth dropping is how large the beads get, making insertion on the last couple balls near impossible for someone who hasn't been appropriately opened up beforehand. The last ball is about 1 3/4 inches around, and the first one is about the size of my middle finger (For those who don't know, I have small hands). My initial thought when I read the size of the last ball was that I could take that easily, but I forgot to realize I would already be about 7 balls deep before I even got to that one, making it a tight squeeze for me. I got it in, but it took quite a bit of patience. Screwing the balls to get them in won't be very effective, and if you have a hairy hole it may even cause a little pulling, but inside the screwing made my bottom lip quiver.

There is a loop at the end of all the balls to help you pull it out and hold onto the balls, so you don't "accidentally" slip them all inside you with no way to get them out. Its large stature, though, will make traveling with this quite awkward, if not impossible.

Length:

13"

Insertable length:

11"

Circumference:

5 1/2"

Diameter:

1 3/4"

Weight:

0.4 lb

Performance:

I'd be lying if I said that I didn't tear up a little when I took the last ball, but I would also be lying if I said I went at it alone. I had my boyfriend carefully and gently try to get this one inside me and go for a couple's adventure with it. He is generally pretty loose compared to me, but even he had trouble with the last ball, and he has taken some pretty large things up into his ass. Watching him take all but the last ball and trying to get the last one, but not being able to, was quite the turn on for me, and so I had to take control of the balls and give them a little twist to make him shout.

Care and Maintenance:

These beads are made of silicone, making them quite sturdy. Silicone is smooth and not porous at all. You can boil it for a few seconds to completely disinfect it and make it ready to use. Also, unlike my pots and pans, it is dishwasher safe. Put it in the top rack and put it on a heated dry.

The use of soft soaps such as a dish liquid is perfectly fine, and if you intend to wash these in the dishwasher I would suggest hand-washing them first, just in case there is excess matter on them.

I keep them in my drawer beside my bed with all my other toys, and they don't require a whole lot of other care. I have seen no reactions with these or other silicone materials, or with other materials in general, as well as no erosion or wear because of contact. Storage of these tends to be trickier because my drawer is not designed to hold a 13 inch long item, but they are bendy enough to fit inside without any problem.

Use with water or water based lubes only.

Care and cleaning:

Bleachable / Boilable / Dishwasher safe / Microwave safe / Soap and water / Toy cleaner