Feelztoys Giletti - Beads from Feelztoys

Product Details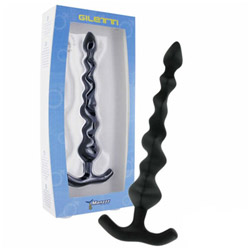 Summary:
For anyone looking for a butt plug that you can easily forget that you have in, this is the one for you, for some with maneuverability issues this may be hard getting started due to its flexibility.
Pros:
The shape and design are terrific, the plug moves when we do.
Cons:
Extreme flexibility may be hard for some to get started.
Best use:
This is the Giletti butt plug by Feelztoys. I thought that I'd seen it all, that all butt plugs were the same. Boy was I ever wrong; this is an amazing concept, one that I was blown away by.
This looks like something out of a messed up dream, with its deliciously misshapen form and its tapered head. Theis plug makes insertion easier and gradually swells larger at its base where it meets the w shaped handle.
Material / Texture:

This has an amazing silky smooth feel to it any level of anal player could appreciate. This is a great starter plug for beginners and an opener for more advanced and even for those who are getting ready for larger toys. The body of the plug is firm yet bendable so it moves with your body instead of fighting against it. There was no smell or taste upon recieving it and a check a few days later gave the same results; with the wiping, boiling, and alcohol rub downs it is still in mint condition.


Material:

Silicone

Material safety

Texture:

Bulged

Safety features:

Food-grade material / Hypo-allergenic / Latex free / Non-porous / Phthalates free

Design / Shape / Size:

Unfortunately this only comes in black; with a length of 8 ¾" of which 8" is insertable the Circumference is 4" at the largest point. For something being that long I expected it to be heavier that it was, but it is extremely light weight. Now because of the whimisical shape of this I would and have taken this on several road trips, as long as I don't have to go through an X-ray machine noone knows that I have it. If you have a large purse then you can slip the case and all in it or if you would like you can fold the plug in half and use a smaller purse for it.

Color:

Black

Length:

8 3/4"

Insertable length:

8"

Circumference:

4"

Diameter:

1 1/4"

Weight:

0.3 lb

Performance:

I found this butt plug to be my favorite one (so far), although it was hard for me to get into position for the initial insertion. After a few tries I finally got it started and was able to keep it from bending. Once started it slid right into position and it was a welcome feeling. The base was large enough to keep it from slipping out while I wore it everywhere for the past week. The handle on it curved just right where it basically fit like a g string almost. It moved with me instead of it staying in place, there was no pain with vaginal intercourse, and I was open enough for anal when the plug was removed.

Care and Maintenance:

Since this is a silicone product it is smooth and non porous and is very easy to clean. This can be cleaned with a toy cleaner, boiled for 3 minutes, also be put on the top rack of a dish washer, and it can be cleaned with hot water and antibacterial soap. Also since this is made from silicone only a water base lubricant can be used with this.Normally toys can be shared but I feel that with this particular design and its pointed tip a condom would not only be very awkward but I fear that it may break, so I would suggest that this be a one person toy.

Care and cleaning:

Bleachable / Boilable / Dishwasher safe / Soap and water

Packaging:

The origional package that is in the picture is perfect for continued storage. I like to put my toys in one of two places, ones for continued use end up in my suitcase on rollers except the ones that I like to insert for the ride, then I have them in a bed stand beside the bed (still in the package).