JoyDivision Joyballs anal wave small - Beads from JoyDivision

Product Details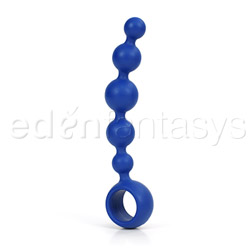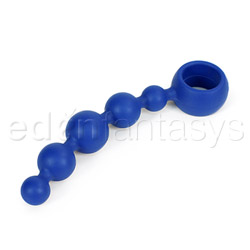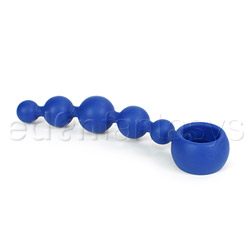 Summary:
It's easy to use, care for and clean, and is the most comfortable anal toy we've ever had the pleasure of using.
Pros:
Well designed, Great material safety, Excellent design.
Best use:
We've found that this particular little toy works best when used in conjunction with a clitoral stimulator or other vibe. It's not quite perfect, and using it on its own isn't enough to provide stimulation for a truly mind-blowing orgasm, but if you use this, another vibe, fingers and other organs, well, "Wow!".

This anal toy is easily one of the best we've ever used. Over the last couple of years, we've experimented with a variety of different anal plugs and toys. We've used a very nice beginner's plug quite regularly, but while it's good, it's not great. This one doesn't suffer from any of the common design flaws or problems with material safety or feel that the others do.

Given a thorough coating with a good water based lubricant, a couple of minutes' gentle teasing of your partner's bottom, and slipping the little balls in one by one is guaranteed to be a very pleasurable experience for them.
Material / Texture:

The first thing we noticed about this toy was the softness. In sharp contrast to our regular anal plug, this one's incredibly soft to the touch. It's not squishy, though. If you can imagine a very firm center surrounded by a soft, pliable, rubbery skin, you've got the right idea.

There are five balls of varying size connected by a firm, rubbery link. The toy is molded as a single unit rather than as individual balls connected by string or whatever, as we've seen in the past.

The middle ball is the business ball, so to speak. It's small enough to be inserted without excessive stretching, but big enough to provide a really nice sensation of fullness. The balls on either side are sequentially smaller, so insertion and extraction of the toy is a joy, so to speak.

There's also a very handy ring on the end that allows you to take a firm grip when pulling it out. It might not sound like much, but trust me, when your hands are covered in slippery lube, you need it.

Last, but not least, the material is virtually odorless.

Material:

Silicone

Material safety

Texture:

Beaded

Safety features:

Food-grade material / Hypo-allergenic / Latex free / Non-porous / Phthalates free

Design / Shape / Size:

As mentioned earlier, we really like the design. It's very sensible and practical, from the sequential increase and decreas in ball size to the inclusion of a ring to pull out the plug with lube-coated hands.

In terms of size, it's small enough not to deter anal newbies, but not too small to give you a real anal thrill.

Color:

Blue

Length:

7"

Insertable length:

5 1/4"

Circumference:

3 1/2"

Diameter:

1 1/8"

Weight:

6.5 oz

Performance:

You can probably use this on its own, just to add a little extra stimulation while you're fucking your partner, but quite honestly, if you're going to use a toy you may as well make a night of it.

We used this (repeatedly) along with the Magic Slim Intimate Glider and the Jelly Flex Cliterrific vibrator. In combination, these three made sure that the wife was a quivering mass of orgasmic joy by the end of the evening.

One thing to note is that if you're going to be playing with multiple toys, you should probably insert the anal toy last, just to make absolutely sure you're not going to do an anal/vaginal transfer which could wind up being a little problematic.

Care and Maintenance:

It's really easy to care for and maintain this. In the packaging, there's a small bag, made from a sliky material, with a cord tie to close it. Store the toy in it in your toy box.

As far as lube goes, only use a water based lubricant with this one, and after a thorough wash with warm soapy water, use something like a before and after toy cleaner to make sure it's properly sanitized.

Care and cleaning:

Bleachable / Boilable / Dishwasher safe / Soap and water

Personal comments:

We really, really, really like this toy. While it's not as big as the others we've experimented with, it's by far the most comfortable to use, and it's now a firm favourite.