Sportsheets Sex and Mischief anal beads - Beads from Sportsheets

Product Details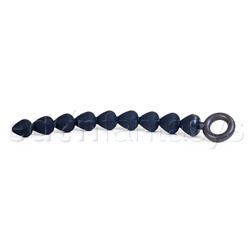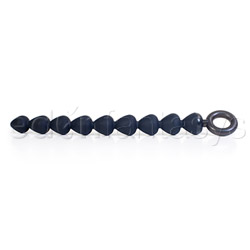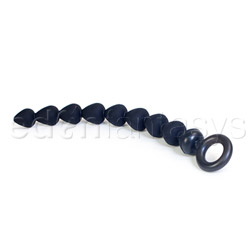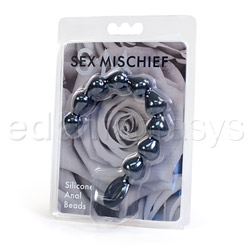 Summary:
If you are in the market for something to spice up your anal sex, these beads are for you. Their increasing size and smooth flexible features make them the perfect pal to get you so horny you'll want someone to fill you and take advantage of your ass. With the 8.5 inches of beads ready to fill you up, they will reach every place you want them to reach, and rub all the right places at the right time.
Pros:
Increasing size, easy to clean.
Cons:
Could be too small For advanced users.
Best use:
The Sex and Mischief Anal Beads are designed to be used for anal pleasure by having increasingly larger beads enter the narrow sphincter. I think that this could be pleasurable for those with a vagina for vaginal insertion; however, these are definitely intended for anal use.

To use, lube up with water based lubricant and slowly insert the beads; enjoy the pleasure as the beads pop inside. Once the beads are in, pull the beads out and push them back in with the little handle at the end. These beads are definitely better for those with a prostate, since that provides extra stimulation and a more powerful sensation.

I used this in preparation of sex with my boyfriend to get my ass ready and help get me even more in the mood. It worked. Generally speaking, I don't think any anal beads that I have experienced are travel friendly, but depending on how much room is left in your suitcase and the reason you are traveling, all could be different.
Material / Texture:

These beads did not have an odor, and generally anything that goes in my ass doesn't go in my mouth. They are made out of silicone, which is quite sturdy and retains heat. Silicone also repels dirt and bacteria, making it easy to still get some pleasure, even on your messiest days. The beads are firm and smooth, making the penetration more pleasurable than some of the more bumpy things out there, and more solid than some of the softer jelly beads I've heard rumors of.

The texture is pretty standard for everyone, and the sizes of the beads are not all that large, making these beads nice for users of all stages.

Material:

Silicone

Material safety

Texture:

Smooth

Safety features:

Food-grade material / Hypo-allergenic / Latex free / Non-porous / Phthalates free

Design / Shape / Size:

I did like the design. The slightly ovaled beads increase in size as you insert more and more of the insertable 8.5 inches into your ass, making it more like a work up rather than going for the gusto. Like I said above, I used these to help get me all revved up and ready to go, and it worked. If they were all large one-sized balls going into my ass, I may not have enjoyed it as much, and it may not have worked to help build the sensation.

The size is nice and average, making it perfect for the average user. Not realistic in the sense that it's not shaped, or colored, or intended to feel like a dick.

Color:

Black

Length:

9 3/4"

Insertable length:

8 1/4"

Circumference:

2 3/4"

Diameter:

7/8"

Weight:

0.2 lb

Performance:

In my expert opinion, I feel like the best use of any anal bead is to help get you going, to put you over the edge, and get you open. This toy accomplished that. For more advanced users, a larger bead may be more important, but generally speaking these are the perfect size. They go in smooth and come out just as smooth, gliding over all the right places.

Care and Maintenance:

These beads are made of silicone, making them quite sturdy. Silicone is smooth and not porous. You can boil it for a few seconds to completely disinfect it and make it ready to use. Also, unlike my pots and pans, it is dishwasher safe. Put it in the top rack and put it on a heated dry.

The use of soft soaps such as a dish liquid is perfectly fine, and if you intend to wash these in the dishwasher, I would suggest hand-washing them first, just in case there is excess matter on them.

I keep them in my drawer beside my bed with all my other toys, and they don't require a whole lot of other care.

Use with water or water based lubes only.

Care and cleaning:

Soap and water