Doc Johnson Bubble butt dicky - Butt plug from Doc Johnson

Product Details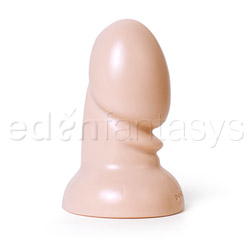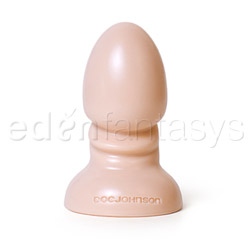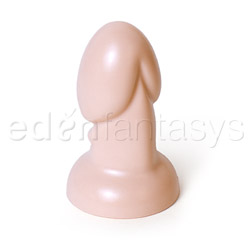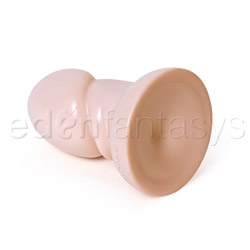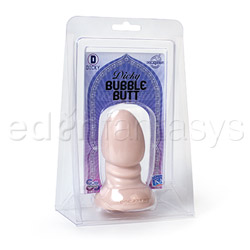 Summary:
The Dicky is a great toy if you know what you're getting into. Don't buy it if you're looking for a butt plug you can pop in and keep inserted; there are better solutions. If that almost ethereal moment of entry is what you're striving to recreate, then it'll get the job done with minimal bulk and easy cleanup.
Pros:
Antibacterial
Compact Design
Makes for a satisfying quick fix
Cons:
Tends to slip out
Could use a narrower waist to better serve as a plug
Best use:
The Dicky isn't really ideal for lots of high energy movement; it is, after all, a short little guy with a suction cup base. Due to its shape though, it's quite fun for slow action. Either hold it or stick it to a surface and the flared head lets you take it slowly until it gives way with that nice satisfying pop and a sudden sense of fullness.
Material / Texture:

Now, PVC isn't my material of choice, but this little guy does a good job with what it's been given. It does have a very light odor that's really only noticeable if you've got your nose inches away from it (in which case you're probably using it wrong). The material is slightly porous, but also antibacterial and nontoxic. If you're looking for something just a bit stiffer than the real thing, it fits the spot, with a good amount of rubbery give.

Material:

Pvc

Material safety

Texture:

Smooth

Safety features:

Anti-bacterial property / Latex free / Phthalates free

Design / Shape / Size:

It's a really cute little toy. Its got a semi-realistic design that fits nicely with the short length of 3 insertable inches. I wouldn't quite recommend it for a beginner, as it's just a tad too wide and the base doesn't ease up like a standard butt plug would, but the shape lends itself to a nice quick treat for a slightly experienced user. It's not particularly discreet, as there's no mistaking it for anything other than a mini dong, but it could easily be carried along on any weekend trip.

Length:

3 1/2"

Insertable length:

2 3/4"

Circumference:

4 3/4"

Diameter:

1 1/2"

Neck diameter:

1 1/4"

Weight:

4.8 oz

Performance:

While it may be billed as an anal plug, the Dicky really doesn't quite do a good job of "plugging." It lacks any sort of waist, so it pops out quite easily when you try and use it that way. Really, it works best as a sort of teasing toy. How you make the most use of the nicely sized head and the pretty strong suction cup base, is to tickle all the delicate areas by moving your own body just so. It's that satisfying "pop" when you make it past the head and the sense of fullness it gives you, even with a fairly short length, that really make it stand out.

Care and Maintenance:

Since it's made of PVC, the the Bubble Butt is compatible with both silicone and water based lubricants. In fact, Sil-A-Gel material is antibacterial, meaning toy cleanup is as easy as giving it a scrubbing with some soap and water. The only tough-to-clean nook is the Doc Johnson logo along the bottom, but fortunately it stays out of the action and flexes enough to get your cleaning supplies right in there. Thanks to the big flat base and the short stature it's really easy to store standing up in your "fun drawer." Just make sure to give it a little wash beforehand as it can attract dust.

Care and cleaning:

Soap and water