Icon Brands Buttman bishop - Butt plug from Icon Brands

Product Details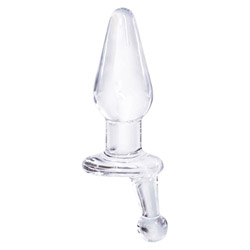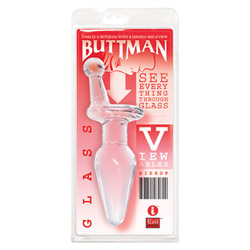 Summary:
The Buttman Glass Plug is something very spectacular. The tip makes it easier for insertion and it grows wider as you get closer to the neck. What is so spectacular about this butt plug, is the fact that you can view internally, giving a whole new view of anal foreplay.
Cons:
May be to big for some, does not have hole in the middle of the base
Best use:
The Buttman Plug is specifically designed for anal use. Although this plug could be used vaginally also but I would not recommend it, since it is glass it may hurt the vaginal tissue with the thrusting. I would stick to its original use which is for anal use.

This plug can be used by men or women. This Plug is for more advanced anal users. The BUTTMAN Plug is best for partner play especially with the clear view.
Material / Texture:

The Buttman Plug is made of ultra-hygienic borosilicate glass. This glass is a very strong glass so for instance, if one drops it several times by accident this glass will not shatter to a million pieces. With the Buttman plug one must be careful so that will not happen.

The Buttman Glass Plug is a clear color offering the best view of everything.

This glass plug has no smells, no taste, and is non-porous. The plug is smooth throughout the surface. My recommendation of this product is more for advanced users do to the size. This being a glass plug, I would not recommend for long term use due to the fact of being uncomfortable after long term use or wear.

The material being glass actually does take away from the experience, because one can not have it in for a long time. Also, with the circumference being big, it would be very uncomfortable for long term use unless of course one is an advanced/expert anal user. With that being said, one does not enjoy it as much due to the fact that one can not use it long term.

Material:

Borosilicate glass

Material safety

Texture:

Smooth

Safety features:

Food-grade material / Hypo-allergenic / Latex free / Non-porous / Phthalates free

Design / Shape / Size:

This plug starts off like most butt plugs, narrow at the tip and gets wider as you get closer to the neck and base.

The Buttman Plug is about 7 1/2" with an insertable length of 4 1/2" and the circumference of 2". As you can see with the measurements this plug is thick, so that is why I would say this toy is for more experienced users. For people fairly new to anal play, the Buttman Plug is not a toy you would like to experience first.

This plug is so very not discreet, but it is travel friendly.

This Glass butt plug has a very wide base for viewing everything clearly and best of all, it is all glass. The handle is also glass so you can hold onto it for perfect viewing.

Color:

Clear

Length:

7 1/2"

Insertable length:

4 1/2"

Circumference:

6"

Diameter:

2"

Neck diameter:

1 1/4"

Weight:

0.75 lb

Performance:

-The best thing about this product is that it is clear and has a wide neck for viewing everything.

-This product is for experienced anal users.

The down side is that it does not have a hole in the middle of the base and neck. Honestly, in my eyes, it would have been a much better product if it did. Although it does not have a hole in the middle you at least get a completely different view.

This product does do its job very well. It extremely satisfies ones needs and your partner does have a blast with this toy. This product when inserted correctly, will give you an exceptional experience.

Care and Maintenance:

-This being made of borosilicate glass it can be boiled.
-This product is dishwasher safe.
-It can be cleaned with hot water and soap.
-You may use toy cleaner also or wipes.
It just depends on the preferences of one for the method of cleaning.

This product can be stored in a drawer or in a toy box. I keep mine with all my toys. The only thing is you have to be careful in storing for the fact that this is glass, of course this being borosilicate glass it is harder to break and will not break into a lot of pieces, but just store in a place where it will not be damaged or banging against something that could possibly break it.

This product can be used with lubes which I highly recommend. It can be used with any type of lube; water, oil or silicone based.

Care and cleaning:

Boilable / Dishwasher safe / Soap and water

Packaging:

The Buttman Glass Plug came in plastic packaging. I have to say the packaging really caught my attention. There are big letters in the front that say "BUTTMAN". It also shows a man viewing through the butt plug. It states the manufacturer, which is Icon Brands. The packaging also has some information on how to clean and it states that the butt plug is viewable, with it being clear glass.

Personal comments:

Personally if you are an expert or novice at anal you would totally love this product.

Experience:

Honestly, this was my first time using a glass plug and I have to say my husband and I both liked it. The best thing my husband liked was the view of course.

Although I am not an expert at anal, and I would say I am intermediate, this plug was too much for me. Although it was easy to insert, I could not handle it. I do hope to keep on practicing and hopefully will be able to handle it later on due to the circumference being very large.