California Exotic Colt pumper plug medium – butt plug from California Exotic

Product Details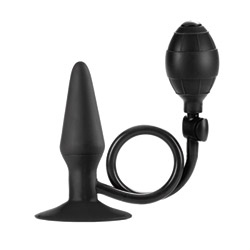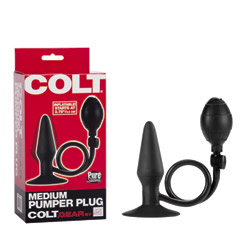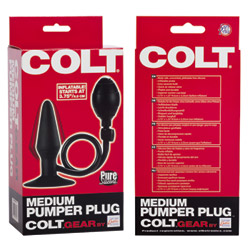 Summary:
If you are looking for your first inflatable toy, this is probably a good one to start out with. It's fairly durable, and everything is attached, so there is less worry about having to put it together, and making a mistake. The inflated size is great in how large it can be, and definitely a plus for those interested in fisting. This item is a good training tool for anal, whether to enable yourself to take larger toys, or to just experience it for the first time, and see what your limits are.
Pros:
*Easy to Inflate
*Large as a man's fist
Cons:
*No instructions or safety precautions included.
Best use:
This toy has a variety of possible uses. For those who enjoy the occasional enema, it can be used to seal the liquid in place for a period of time, without fear of any leakage. It can also be used in bondage scenarios, where one partner has control of the bulb, while the plug itself lies within the other.

There are no instructions on using this item, nor cautions to be safe with it. Make sure you test the toy out before actually inserting it.
Material / Texture:

The material itself is fairly simple in design. It is smooth all over, so the material doesn't really add anything to the stimulation. It is somewhat soft when deflated, because the part you inflate is wrapped around a smaller plug. Given it's initial size, a beginner should easily be able to handle it.

Material:

Silicone

Material safety

Texture:

Smooth

Safety features:

Anti-bacterial property / Food-grade material / Hypo-allergenic / Latex free / Non-porous / Phthalates free

Design / Shape / Size:

The design is fairly rudimentary, as butt plugs go. It's slender, so when the time comes to remove it, you shouldn't have any trouble. It does get better once you start to inflate the balloon chamber, however I noticed that when I deflated it inside myself, the balloon part did not fit down against the smaller plug like it did while outside. Instead, it deformed somewhat to the side, and I had to pull out on the tip to get it to fit back into it's proper place.

This toy really isn't suited for travel, because of the attached pump and tubing. Since you cannot remove these, it makes for a rather bulky item.

Length:

3 3/4"

Insertable length:

3"

Circumference:

4"

Diameter:

1 1/4"

Weight:

5 oz

Performance:

The fact that this toy is inflatable is a plus with me. You can make it as large, or as small, as your body prefers. You can use it to gradually increase the size of the toys you take within yourself, if you want. There is a suction cup base attached to the plug, but I honestly have a hard time seeing why you would need it.

The only scenario the plug would be a bonus in, is in a BDSM-related coupling, where one partner made the other hold a position. If that is the case, the suction cup did perform remarkably well, with a sturdy grip.

Special Features:

Inflatable
Premium
Waterproof

Care and Maintenance:

The plug is silicone, so you need to only use a water-based lubricant, per the instructions printed on the box. You also have to be careful in where you store the item, so that the plug itself is not nicked or scratched. This could cause a weakening in the inflatable membrane, leading to the toy popping a leak. Not something you want to happen while it is inside you.

The easiest way to store it would be in a small box, with the tubing wrapped around the plug. Care should be taken so that the toy doesn't come into contact with others, to avoid any negative reactions.

Cleanup is rather easy, in that you should be able to use any toy cleaner that is safe for silicone. Or if you don't have that, a simple paper towel and water will clean it as well. Though you want to make sure to clean it thoroughly to avoid any contaminants remaining on the item.

Care and cleaning:

Soap and water / Toy cleaner

Experience:

I found my experience to be an overall rewarding one. I like the feel of it inside me when it is expanded. One thing I can recommend to any that get this product, is the need to test it before you use it. There were no instructions in my box, just the item itself. This concerns me because an item like this seems like it could cause internal damage if you aren't careful.

For my part, I affixed the suction cup to my desk and pumped it up, making sure to keep track of the number of squeezes, as well as just how tight the material got. I found that 25 squeezes of the bulb were enough to get fairly close to it's maximum size. I could be mistaken in this, but for fear of it blowing up on me, I chose to stop at that number.

The toy's size, at that many pumps, was somewhat larger than my fist, so I believe it should be at the limit for most people.