Xhale Enterprises Double plug - Butt plug from Xhale Enterprises

Product Details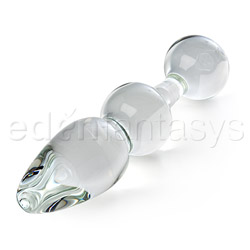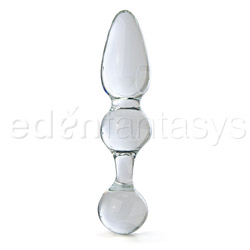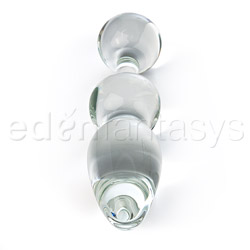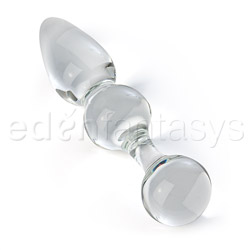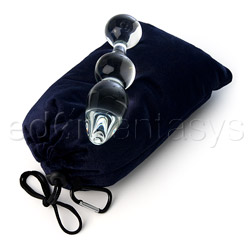 Summary:
Xhale doesn't create butt plugs and dildos. They create works of art that double as sex toys. And the double plug is no exception. The only problem with it is that being glass and having substantial girth means that it isn't easy for most people to be able to handle anally. The handle end also makes a great G-spot dildo.
Pros:
Beautiful, borosilicate glass, strongly felt, handle end works great on the g-spot.
Cons:
The length, girth and the fact that it's glass could make it hard to handle for most people.
Best use:
The Xhale Double Plug is a beautiful piece of glass that's meant for your ass. Yes this is intended to be used as an anal plug. But be warned, I would only recommend this for the more advanced user. And possibly someone who's used to a more intermediate sized anal plug might be able to use it with sufficient warm up. Once inserted it is very noticeable and even the slightest movement of this plug can be strongly felt. Due to the fairly large ball shaped base this is not the type of plug that is meant for extended wear.

The bulbous handle end also works pretty nicely as a g-spot dildo. Though care should be taken when thrusting it since it's glass.
Material / Texture:

Xhale Glass is a company famous for their hand blown glass creations. They take great pride in making sure that their products are as flawless as possible.

The Double Plug is no exception. It is made of borosilicate glass which is similar to Pyrex. The texture is extremely smooth which helps it to glide in easier and requires less lubricant. It is also wonderful for temperature play. Glass can be heated or cooled for sensations. And it also warms up to your own natural body temperature fairly quickly.

One possible drawback to glass toys is that they are rock hard and tend to feel larger than softer toys of the same size and girth.

Material:

Pyrex glass

Material safety

Texture:

Bulged / Smooth

Safety features:

Food-grade material / Hypo-allergenic / Latex free / Non-porous / Phthalates free

Design / Shape / Size:

The design of the Xhale Double Plug is just gorgeous! It looks more like a work of art than a butt plug.

The top third of it is teardrop shaped. The tip is somewhat pointy but smooth, which makes inserting it easy, at first. But the base of the teardrop is 1 1/2 inches diameter and not easy to handle anally. The second section is a ball shape also 1 1/2 inches diameter and also not easy to handle anally. The last third of it is the neck and base or handle. The neck at only 1/2 inches diameter is nice and slender and the ball shaped base/handle works well to prevent the plug from going in too far.

The overall length of this plug is 7 inches with 5 of those being insertable. And the plug weighs a whopping one pound, which is a significant weight for a toy like this.

Color:

Clear

Length:

7"

Insertable length:

5"

Circumference:

5"

Diameter:

1 1/2"

Neck diameter:

1/2"

Weight:

1 lb

Performance:

The Xhale Double Plug is meant to be used as a butt plug, obviously. And as such, I found it too large and unyielding for mine or my husbands bodies. Used on the right person, meaning someone who can handle it, this will be a wonderful anal plug.

So I tried using the ball on the handle end as a dildo for G-spot stimulation and found that it worked great for that.

Care and Maintenance:

Because this is solid borosilicate glass cleaning is very easy. You only need to wash it with warm water and soap. And it can be sterilized by boiling it for three minutes.

Also any type of lube can be used with this or any glass toy.

Packaging:

The packaging on this was phenomenal! It came in a padded velvet drawstring bag. But this was no ordinary padding. It was so thick that it was more like a padded bubble than a bag. And the drawstring is made of a strong nylon cord with a push button type plastic piece that you slide down to tighten. I was as impressed with the packaging/storage as I was with the toy itself.

Personal comments:

I hate to say anything negative about this plug because it is so gorgeous! But, neither my husband or I could handle this toy anally. Now I'm not too surprised that I couldn't but my husband can usually handle a pretty girthy anal toy. And 5 inches insertable and 1 1/2 inches diameter is not an extremely large toy. As a matter of fact, I have silicone plugs that are this size or larger and can handle with no problems.

What I didn't realize before I used this is those dimensions in unyielding glass feel much different than they do with soft bendable silicone. My first problem was getting the base of the teardrop in. I did finally get past that but I was never able to get the middle ball shape in. It felt like part of the problem is that my insides are curved and the plug is basically straight and hard as a rock. So I consistently felt like I was hitting something and that it just wouldn't go any further. There were times that I really enjoyed it and times that it felt uncomfortable.

So do take that into consideration before purchasing this plug. But if you can handle it, this is an amazing toy! And I haven't given up yet. I will try it again someday when I feel I am ready for it.

But in the meantime, I will definitely continue to use the other end for G-spot stimulation. Because exactly what makes it so difficult for me to handle anally makes it fell amazing vaginally. The weight and solidity of the glass works great on my G-spot! The combination of that with a vibe on my clit gave me an incredible orgasm.