NS Novelties Jolie pleasures - Butt plug from NS Novelties

Product Details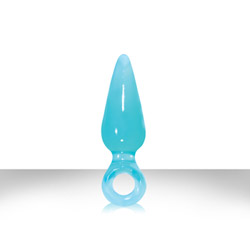 Summary:
I love how the material feels, even someone who has never done anal can use these, I highly suggest it!
Pros:
soft and squishy, yet firm enough to use
so smooth and easy to slip in
comfortable
Best use:
This beautiful toy makes anal play simple and pleasurable. I own it in crystal clear and in 3 sizes and all 3 of them are easy to use and squishy enough that the pointy tip doesn't hurt at all. It can be worn during sex with a partner or while playing with yourself, and is quite comfortable to walk around with. The loop handle is perfect for pulling or pushing. Just be careful not to get it too slippery with lube or it gets a bit hard to manipulate. That same slickness is perfect for sliding it in or out. The flare of the loop on the smallest size popped inside a partner once though, so if that is a fear of yours be sure to string something through it for retrieval. The other sizes don't have this issue however, I think it's just because that one is so small.
Material / Texture:

This material is so soft and squishy. There is no discomfort getting it in, and it has no smell at all and doesn't absorb scent.
These are my favorite anal toys because even the largest one is so comfortable I can wear it throughout an entire session. If you want to wear it around town though, I suggest medium since the large is a bit long and might bother you.
I've had these for quite a few months now and 2 of them are still crystal clear, but one of them clouded a bit. I think it's because I had Vaseline on my hands before I played that night, so be careful of that.

Material:

TPE

Material safety

Texture:

Smooth

Safety features:

Hypo-allergenic / Latex free / Phthalates free

Design / Shape / Size:

These toys are beautiful and a sure fit for anyone. I suggest getting all sizes because each one is a perfect warm up for the next. It is so smooth and thin that anyone can grow to love these. No matter how new you are to anal these will make you love it.
I am sure they would travel well too. They wouldn't expand or compress during flight, so take them everywhere you go, you won't want to leave them behind.

Color:

Aqua marine

Length:

3 1/4"

Insertable length:

2"

Circumference:

2 3/4"

Diameter:

3/4"

Weight:

0.2 lb

Performance:

This shape is really the perfect shape for anyone who is new, or even an advanced anal enthusiast. This was my first toy and I loved it so much I bought every size and am now quite a fan. The rings are also fun to put a vibrator through for extra fun. The smallest one fits my pen vibe perfectly and the largest would probably fit an egg sized vibe. I haven't tried that yet though, because I am usually too distracted to even think of it 'til after I've had my fun!

Care and Maintenance:

This material is simple to clean and washes with just soap and water and is good as new. Do not boil this material. I don't think I want to experiment with that. I just throw them in my drawer and wash them before and after each use and haven't had any trouble. Plus, I love hand washing them because they are just so nice and squishy to the touch.

Care and cleaning:

Soap and water

Packaging:

The package was simple box with the product on it looking like a lovely jewel and the item suspended in a plastic holder. Not much in the way of instructions on it, but it really is self explanatory. I personally liked the package, simple and pretty without any raunchy looking naked ladies on it. As classy as an anal toy can look without being a plain box.

Personal comments:

I really can't say enough about this toy; I want everyone to have one. Even my boyfriend managed to get the small one in him, and he can rarely take even as much as my pinkie. I am convinced ANYONE can use these if they want to try anal.

Experience:

This toy has quickly become my favorite. I can now accept other toys with ease because of the confidence I have from learning with them. I have 3 sizes of the Jolie plugs, and I want more of their other bulb shape now. I never thought I would be craving bigger toys. These are just so easy to use and firm, but perfectly giving and squishy. A whole new world of possibilities has opened up.