Xhale Enterprises Liberty plug - Butt plug from Xhale Enterprises

Product Details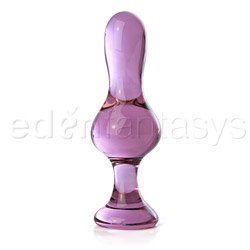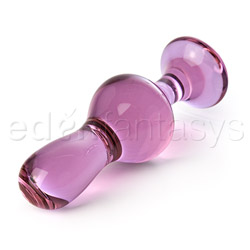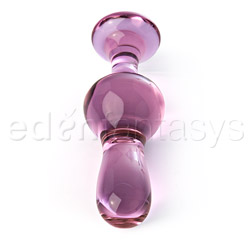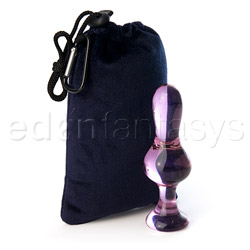 Summary:
There are a lot of factors to consider when choosing anal toys, but the Liberty addresses most of them. It's smooth, nicely shaped and sized and easily sterilizable. As long as you're okay with the rigidity of glass, it's pretty hard to go wrong by choosing it.
Pros:
Smooth and sexy, the Liberty boasts every beautiful benefit of glass.
Cons:
The rigidity of glass might put some people off. Anal experts might want something larger.
Material / Texture:

The Liberty is made of a single, smooth piece of solid glass. It's got no seams, no rough spots - it's as smooth as George Clooney in a vat full of Nair. The glass is unyieldingly rigid - which may be a positive for some people, or a negative for others - and transmits vibrations beautifully.

The business end of this elegant product is about the width of a man's thumb. That gently tapers out to a bulge that comfortably 'pops' into place inside your ass. To keep the plug in place, a flange at the end prevents it being 'swallowed.'

The smoothness makes it ideal for anal play, as there is nothing to get in the way of a smooth insertion.

Material:

Pyrex glass

Material safety

Texture:

Bulged / Smooth

Safety features:

Food-grade material / Hypo-allergenic / Latex free / Non-porous / Phthalates free

Design / Shape / Size:

The Liberty is a modestly-sized butt plug. It fits comfortably in your fist, and correspondingly fits equally comfortably inside your ass. More experienced anal aficionados might want something bigger, but novices won't be overly intimidated.

My only reservation is the flange - which is as wide as the widest point of the plug itself. Although I'm sure it's perfectly safe, one can't help but wonder how your ass can swallow the bulge easily, but won't pass the equal-diameter flange.

Length:

4 1/2"

Insertable length:

4"

Circumference:

5"

Diameter:

1 1/2"

Neck diameter:

1/2"

Weight:

0.5 lb

Performance:

The best part of this beautiful toy is its simplicity and elegance. Xhale have produced a really classy object here and it's safe and easy to use. Glass is totally sterilizable, smooth and sexy and maintains heat (or cold) perfectly. It also transmits vibrations with delicious intensity.

Care and Maintenance:

Glass is perfect. It's totally sterilizable by boiling it or using bleach. It's compatible with any type of lube you can imagine. You can share it, swap it, suck it... As long as you're happy with the rigidity and feel of glass, it's one of the easiest materials to look after.

Packaging:

The Liberty comes in a beautiful padded velvet bag, which is the perfect place to store it. Just another sign of the thought Xhale put into this classy product.