Orion Plug of lust small - Butt plug from Orion

Plug of lust small videos
Product Details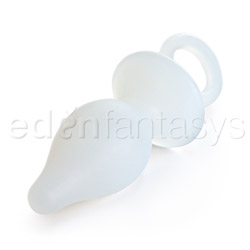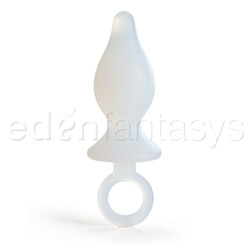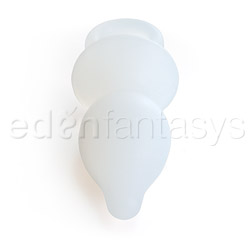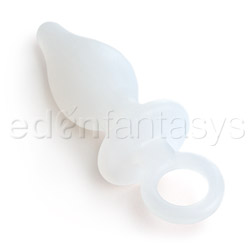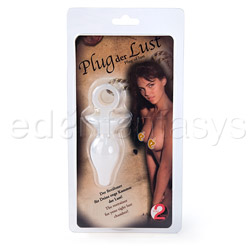 Summary:
For the lover who has always wondered about anal sex, but has been afraid of the big toys comes the Plug of Lust small; a tiny butt plug about the thickness of one large finger. Made of 100% silicone, the Plug of Lust is perfect for that person looking to experience how anal penetration feels for the first time. With its retrieval ring and narrow neck, the plug will stay in place, allowing wandering fingers to explore other parts of the body.
Pros:
Perfect size for anal virgins, all silicone.
Cons:
So small it might slip out a bit.
Best use:
There are many people in the world who have never been penetrated anally, because they've never even wondered what it felt like. Yet there are other people in the world who are quite curious about what it might feel like to have a finger, or a dildo in their ass, but are so terrified by the gargantuan toys displayed on many store shelves that they've run hiding into a corner. Enter the Plug of Lust, identified on its packaging as "The restrainer for your tight lust chamber!" ...Hilarious.

In any case, the Plug of Lust small is an itty bitty butt plug for the most virgin of virgin asses. When I say itty bitty, I don't mean just smaller than your average plug. I mean roughly the thickness of one big finger (or two slender ones), at its thickest point. With its flared bottom and retriever ring, it resembles a pacifier more than anything else, so should be stored out of the reach of small hands.

Its small size makes this a fantastic toy for the folks out there who have been looking to ease into more ass play. It provides just the amount of pressure that might leave an anal virgin excited and begging for more and more than likely will soothe the fears of those folks who believe all anal penetration hurts.

You might be wondering why, if it's only the thickness of a finger or two, it's worth using at all. Why not just use fingers? See, that's the beauty of a plug. With its flared base, this little guy will stay in place, allowing your or your partner's fingers to play entirely different games.

Not only can your partner's fingers be busy stimulating your cock or clit or nipples, but having a plug in allows for, say, double penetration of female bodied folks in a variety of positions. Furthermore, for those folks playing alone (and what a fine past time that is), the Plug of Lust provides penetration without being forced to fold into a pretzel to get off the way you want.

Use this plug with water based lube for extra smoothness going in.
Material / Texture:

The Plug of Lust is made of pure silicone. The silicone is pretty firm, which is necessary for a good anal toy since the sphincter is a tough ring to push through. With that said, the tip is small enough that I would have appreciated even a little bit more firmness. The plug is designed to be as simple as possible, without texture or other fanciness. The idea seems to be to provide a no frills introduction to anal penetration.

Because the Plug of Lust is pure silicone, you should only use water based lube; silicone based lubes will make it gummy. If you do want to use silicone based lubes, use a condom with them.

Material:

Silicone

Material safety

Texture:

Bulged

Safety features:

Food-grade material / Hypo-allergenic / Latex free / Non-porous / Phthalates free

Design / Shape / Size:

As I wrote about above, this is a truly tiny butt plug. In so many ways, that is a major benefit to the toy, since it provides an opportunity for penetration that will suit even the most terrified of virgins to butt play. For the player who is at all experienced, however, this is a less ideal toy, as it really isn't big enough to prepare you for play with any average sized toy.

The one place that the size doesn't seem to work well, even for the beginner, though, is that I did worry a bit about the Plug of Lust popping out, if I didn't have my ass checks clenched or at least squeezed together. Though the plug has a (comparatively) wide base that narrows into a tiny neck and then widens out again to the plug's bulb, the plug itself is so small that it was starting to slide out when I spread my legs.

Color:

White

Length:

3 1/2"

Insertable length:

2"

Circumference:

3 1/2"

Diameter:

1"

Neck diameter:

1/2"

Weight:

0.2 lb

Performance:

Butt plugs really aren't Hollywood performers. You pop it in, it either stays or doesn't. You take it out when you're ready to have it out, or have something else put in. Except for a brief moment when I was afraid the Plug of Lust would slide out due to its size, it performed all its roles splendidly.

Care and Maintenance:

As a fully silicone toy, you can wash the Plug of Lust with soap and water, or sterilize it by popping it into boiling water for ten seconds.

Care and cleaning:

Bleachable / Boilable / Dishwasher safe

Packaging:

The Plug of Lust comes with simple plastic packaging and a picture of a naked woman looking seductively at you. I like to think that she is the one who came up with the phrase "the restrainer for your tight lust chamber" which is also on the packaging, and they gave her a front page photo to thank her for that flash of brilliance. The plug is pictured on the packaging with a gold chain running through its retrieval ring, which is a great idea: butt plug jewelry!