Orion Plug of lust large - Butt plug from Orion

Plug of lust large videos
Product Details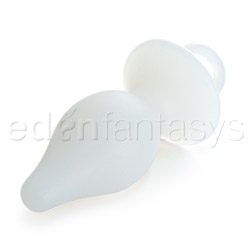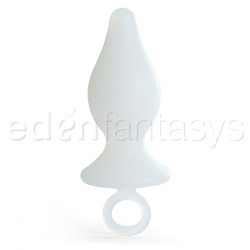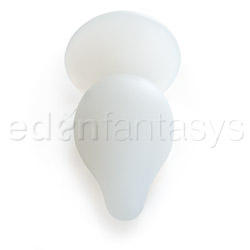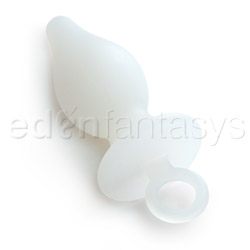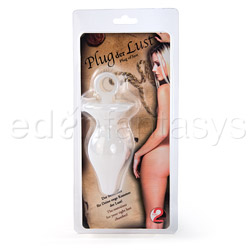 Summary:
The Plugs of Lust large is a good choice for someone who is newer to anal play, but has outgrown very small plugs. The price coupled with the quality can't be beat for a medium-sized plug.
Pros:
Silicone, good shape, stays where it is put.
Cons:
Only offered in white, handle could be annoying when worn under clothing.
Material / Texture:

Since the PLL is 100% silicone, it is non-porous and perfect for an anal toy. The silicone itself doesn't have much give to it, but it is very smooth and silky somewhat like Fun Factory Silicone. Since it's smooth, you shouldn't have any problems with it irritating you.

Also because it is silicone, you want to make sure you use only water-based lubricant with your toy. Silicone lubricant could make the surface permanently tacky and render it unusable.

Material:

Silicone

Material safety

Texture:

Smooth

Safety features:

Food-grade material / Hypo-allergenic / Latex free / Non-porous / Phthalates free

Design / Shape / Size:

The PLL has a great design. In addition to having a nice pointed-dome taper (think the roof on the top of a tower in an old mosque), it has a great little handle to help pull the plug out when you're done. I personally always just lightly grasp the base of my plugs and then push them out with my ass muscles, but if you would rather pull the handle is there at your service.

The base is round. Before receiving the plug I did have a slight prejudice against its base since other reviewer friends had told me they really don't like round bases in their toys. I've never had a plug with a round base before this, so I was hoping my opinion would differ. I was pleasantly surprised to find out that the base is comfortable.

As far as size, the PLL is definitely not a beginner's plug, but with a little warm-up someone with some experience will have no problem popping the PLL right in.

Color:

White

Length:

4 3/4"

Insertable length:

3"

Circumference:

4 3/4"

Diameter:

1 1/2"

Neck diameter:

3/4"

Weight:

0.5 lb

Performance:

The PLL is really one of the simplest toys you can get your hands on. It only has one purpose, to chill out in your ass. And I'm pleased to report it does this quite well. Popping out wasn't a problem after it was inserted and the design is filling without being overstimulating. I really don't have any complaints about the performance of this plug.

Care and Maintenance:

Since the PLL is 100% silicone care of it is incredibly simple. You can either boil it for a few minutes, put it in the top rack of your dishwasher with no soap for a cycle or you can wipe it down with a 1 part bleach, 9 parts water solution. All of these methods will completely sanitize your toy, which for me is a must with anal play since you don't want bacteria hanging out on your plug and then making you sick. Also, sharing it is perfectly fine. Just make sure you sanitize it one or more of the ways above before and after each use between people. If you treat it with care, the PLL should last you a lifetime.

Care and cleaning:

Bleachable / Boilable / Dishwasher safe

Packaging:

The packaging is the most lacking part of the PLL. It comes in a plastic shell which opens up easily because it snaps together instead of having to be cut apart. The insert on the PLL includes very little information other than the plug is made of silicone in Germany. The front of the insert has a naked blonde woman facing away. It's not the tackiest packaging I've ever seen, but it's definitely not classy. They would have been better off putting it in a thin plastic box or something of the like that's equally cheap.

Personal comments:

My first impression of the Plugs of Lust Large was that it looks shockingly similar to, in all senses except color, to another store's "Pop" plugs. I went to the store and read the online reviews, which were overwhelmingly positive, so I got even more excited to receive the Plugs of Lust Large. It definitely met my expectations.