Summary:
Beginners will adore this simple, safe anal plug. It can be comfortably worn during daily happenings or during sex play. Cleaning it is a little bit tough, but it can be fully sterilized if need be. It is just one in a line of various plugs. If you like this style, but the size isn't quite right, check out the Renegade III's bigger brothers!
Best use:
The Renegade III is the third in a series of five anal plugs by NS Novelties. The Renegade line is designed to appeal specifically to men, with their sleek black color and their luscious silicone material, but, being that we all have booties, these plugs will work for anyone of any gender. Among the Renegade family, Renegade III is the littlest brother. Renegades I and II are larger, with a rippled, almost bubbly, texture, while Renegades III-V are mostly smooth, with three small ridges near the tip.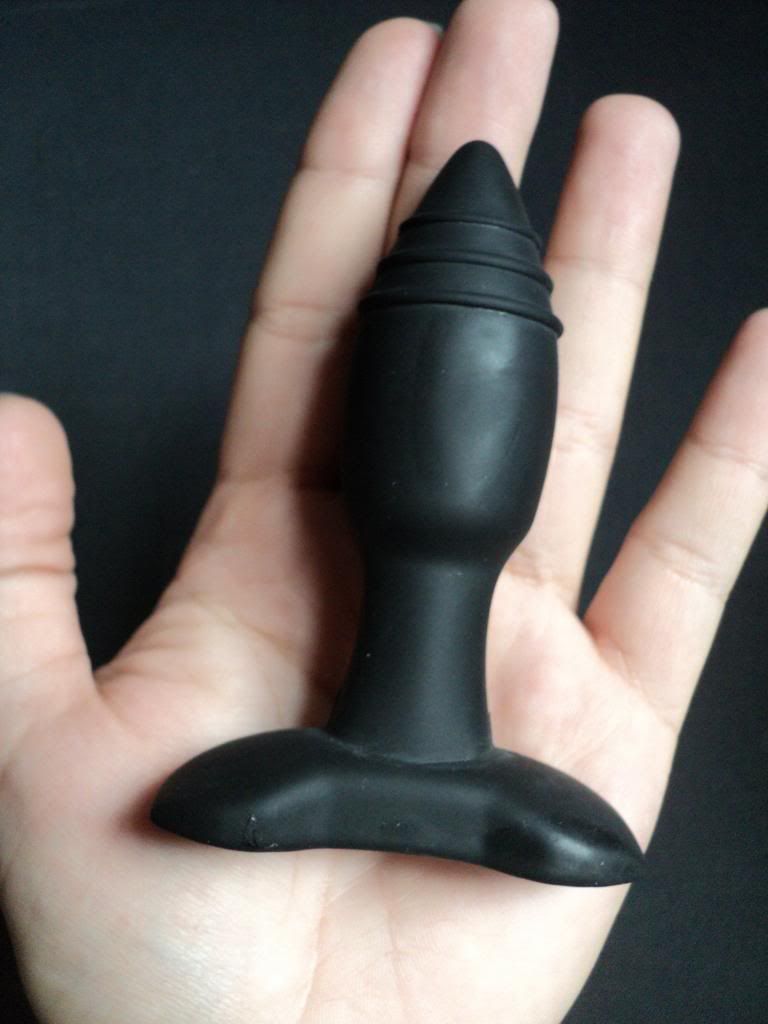 Plugs are intended to be inserted anally and worn about. They can be used to warm up for larger penetrations, or they can be an experience in and of themselves. Renegade III is most definitely a beginner's plug, with its diminutive stature and tapered tip. Beginners will get a little extra stimulation from the subtle ridges. Teasing the ridges in and out a few times can help to encourage the muscles to loosen as they pleasure the receiver. For a more advanced user, the bigger brothers, Renegades IV and V, may be a better fit. The Renegade III is well-suited to either solo or partnered play. It stays in place well when worn alone and also when combined with vaginal penetration. There is no fear of losing it because of its secure base.
Material / Texture:

The Renegade line is made of a lovely, velvety black silicone. It is nearly odorless, unless you bring it right up under your nose, and has no taste. Aside from feeling absolutely delicious, silicone is a very body-friendly material. It is non-porous, hypoallergenic, and latex- and phthalates-free. In addition, this item can be fully sterilized, so you can share the fun with friends! (More on that in the Care and Maintenance section.)



The texture is almost all smooth, with the exception of three ridges that encircle the tip. These ridges provide a little extra stimulation, without being overwhelming. Honestly, more advanced users may not even notice them when in use. They are very subtle, and can only really be felt if you are inserting the toy very slowly. There is also a small seam along the edge of the toy, but you cannot feel it.



The material is quite firm, with only slight give when you squeeze it. The neck of it is bendable enough to wear and maneuver comfortably, without being flexible enough to make insertion difficult. This is a small and sturdy toy that is durable enough for any user.

Material:

Silicone

Material safety

Texture:

Ribbed

Safety features:

Food-grade material / Hypo-allergenic / Latex free / Non-porous / Phthalates free

Design / Shape / Size:

The design of this toy is very simple. It is a very basic, small plug, with three little ridges near the tip. The Renegade line was designed for men, but none of the plugs are curved to stimulate the prostate, or designed with any qualities that would make them particularly good for men. Apparently, making a toy in black silicone automatically makes it manly. The toys can be used by women as well. Plenty of women like the color black, right?

One unique aspect of these plugs is that they have an indented space on the bottom of the base, which houses a metal ring. In theory, you're supposed to be able to tuck the ring up into the space, so that you can comfortably wear the toy until you want to use the ring to remove it. Honestly, this is a bit superfluous. You can simply grip the base and pull the toy out like any other plug. Also, the ring does not stay tucked into its little alcove while you are wearing it. It pops out and makes sitting down a bit awkward. Fortunately, since the ring is actually just a metal key ring, you can easily unhook it from the base.

Top left: Ring not inserted, no pressure applied to base.
Top right: Ring inserted, no pressure applied to base.
Bottom left: Ring insterted, slight pressure applied to sides of base.
Bottom right: Bendability of base.



If you choose to leave the ring attached to the base, you can push it into the indent when you're using it. However, when you insert the toy, it is very likely that your cheeks will press on either side of the base, causing the ring to pop out with only slight pressure, depicted above. The base is sturdy, but bendable, as you can see in the final picture.

The size is slightly smaller than two fingers, which makes it an excellent toy for warming up. You can start with a finger and then work up to the plug and so on. The toy measures about 4" long from base to tip, with approximately 3 1/4" of insertable length. It is just over 1" in diameter. This size is perfect for beginners, and great for travel since it is so small!



Here is a size and design comparison between a few beginner and intermediate plugs. From left to right: FunFactory Bootie, NS Novelties Renegade III, Tantus Rider, and FunFactory Booty.

Color:

Black

Length:

4"

Insertable length:

3 1/4"

Circumference:

3 3/4"

Diameter:

1"

Weight:

0.2 lb

Performance:

In summary, this toy performs quite well. It is a great beginner plug that stays in place well. It is small and tapered for easy insertion, but is somewhat difficult to clean when removed. It is easy to remove as well. Its small size means that, even if your muscles return to their previous state while wearing it, you can remove it without much effort. Take your time and go slowly. The removal ring on the bottom is rather pointless, and is actually more of a hindrance than a help. It can be taken off if you so choose. Wearing the plug for an extended period of time is perfectly comfortable, whether you are simply sitting, walking around, or even having sex.

Care and Maintenance:

This toy is made of pure silicone, with the exception of the metal rings on the bottom. It can be boiled, soaked in a 10% bleach solution, or placed in the top rack of the dishwasher to be fully sterilized. Be sure not to use silicone lubricant with this toy, as the two are not compatible and the lube may cause damage to the toy. Choose water-based lube! The smooth, silky silicone is easy to keep clean. It may pick up some lint, dust, or other odds and ends, so be sure to rinse it prior to playing with it. I just store it in a drawstring bag in my drawer.

The instructions on the box say: Wash toy after each use with liquid anti-bacterial soap and water. Pat dry with soft, cotton towel and allow to air dry completely. For maximum pleasure, use lubricant with this product.

Care and cleaning:

Bleachable / Boilable / Dishwasher safe / Soap and water

Packaging:

The toy comes in a cardboard box, with a plastic shell inside.



The image on the front of the box is true to the size of the toy, as you can see in the photo below.



The box also has a small sample of the material on the outside, so that you can feel it prior to opening the box. The side of the box also has brief care and cleaning instructions.



Personal comments:

Personally, the ridges did nothing for me. I'm not much for texture in my toys, preferring them sleek and smooth. Also, they're a pain in the butt (no pun intended) to clean! I have to wash the toy two or three times before all residue is removed, and that is not really okay with me when it comes to anal toys.